Sweet Potato Gratin Recipe
Sweet potatoes - we love them baked, cut into sweet potato fries, or topped with marshmallows in a classic casserole. There are so many ways to enjoy this delicious tuber, but you haven't tried everything yet! This sweet potato gratin recipe combines the Hasselback slicing method with a cheesy, garlicky topping to create a new twist on potatoes au gratin. It's a comforting dish that will look beautiful on your holiday table or any time of the year you crave sweet potatoes!
Jump to Recipe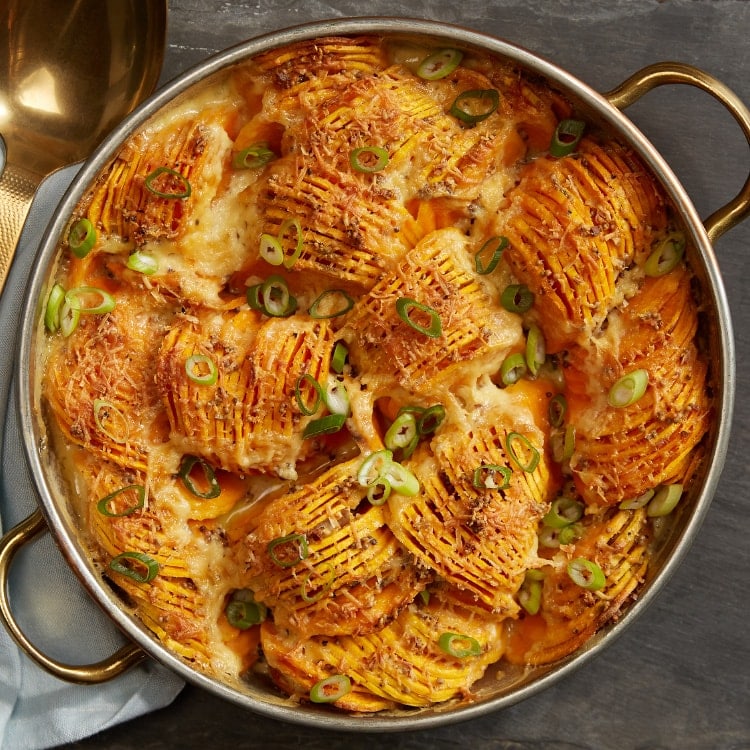 What Are Hasselback Potatoes?
Hasselback potatoes are prepared with a unique slicing method that creates a fan-like shape. It makes an attractive presentation, and it allows the thinly sliced potato to cook up evenly and absorb ingredients. To make Hasselback potatoes, start with a freshly washed potato and make deep slices about 1/8" to 1/4" wide. The key is to stop slicing before you cut all the way through and leave the bottom of the potato uncut. Once all the slices are made, the potato will fan out. Top the potato with seasonings, butter, or cheese and bake it in the oven just like a regular baked potato. Or try our Hasselback sweet potato gratin recipe below!
Why Is it Called a Hasselback Potato?
Hasselback potatoes get their name from a Swedish restaurant called Hasselbacken. The first Hasselback potatoes were introduced at Hasselbacken in the 1940s.
What Does Au Gratin Mean?
When you see au gratin on a menu, it usually means the dish is topped with cheese and bread crumbs, then broiled until it's golden brown. Potatoes au gratin is a popular dish that's made with thinly sliced potatoes, a butter and cream mixture, and a cheesy topping. Our gratin potato recipe is made with sweet potatoes and Manchego cheese for an elevated take on a traditional potatoes au gratin.
What Is Manchego Cheese?
Manchego cheese is a Spanish cheese made from sheep's milk. If you can't locate Manchego, you can subsitute with gouda or mild cheddar cheese.
Make it Vegan
You can make this dish completely vegan with a few substitutions. Use a plant-based butter like Earth Balance instead of the butter. In place of the heavy cream, use unsweetened coconut milk from a can. Skip the cheese topping entirely, or use your favorite melting vegan cheese.
---
Sweet Potato Gratin
Whether you call them sweet potatoes or yams, you can impress your guests with this unique Hasselback sweet potato dish. Use the Hasselback method to slice sweet potatoes into thin sections that will become crispy as they bake but remain tender on the inside. Try this recipe with a different type of potato like the Japanese sweet potato for a new twist on old traditions.
Recipe by: Ronne Day, WebstaurantStore Food Stylist
Total Time: 120 minutes
Ingredients
3 1/2 pounds (about 10 medium or 7 large) sweet potatoes, peeled
2 Tablespoons unsalted butter, room temperature
1 cup heavy cream
2 Tablespoons garlic, minced
1 Tablespoons mustard seed, toasted
1 Tablespoon prepared horseradish
1 1/2 teaspoons kosher salt
1/2 teaspoon black pepper, freshly ground
1 lemon, juiced
1/2 cup (about 1 ounce) Manchego cheese, finely grated
2 Tablespoons scallions, thinly sliced
Directions
Heat oven to 375°F and position a rack in the center.
Coat 3-quart baking dish with butter.
In medium bowl, combine cream, garlic, mustard seed, horseradish, salt, and pepper.
Cut tapered ends off sweet potatoes and discard. To create a Hasselback cut, thinly slice potatoes crosswise into 1/8" slices, but don't cut all the way through. Leave the bottom of each slice intact. When you are finished slicing, the potato will have a fan-like shape.
Place Hasselback sweet potatoes in baking dish. You can place them side-by-side until the pan is full, or arrange them in a circular pattern (see our image).
Sprinkle potatoes with fresh lemon juice.
Evenly pour cream mixture over potatoes and top with Manchego cheese.
Place baking dish on a rimmed baking sheet and transfer to oven. Bake until golden brown and bubbling, about 1 to 1 1/2 hours.
Remove from oven and allow to cool for 10 minutes. Top with scallions and serve.
This recipe serves about 6 to 8 guests. If you're catering for a large holiday party or high-volume kitchen, try our recipe resizer tool.

Posted in:
Recipes
| By Michale LeRoy