Holiday Marketing Ideas for Your Restaurant
The holiday season is upon us, and with it comes a fantastic opportunity for you to market your business. Stay ahead of the curve and release holiday promotions early so prospective customers can incorporate your restaurant into their seasonal plans. Our creative holiday marketing tips will help draw attention to your restaurant or bar this winter. Below, we've listed nine restaurant holiday marketing strategies that are sure to boost your end-of-year sales:
Restaurant Holiday Promotions
Holiday restaurant promotions are a fantastic way to stand out from the crowd. Whether they're traveling to see family or playing it safe at home, many won't feel like cooking their holiday meals after another stressful year. Creating special restaurant holiday promotions attracts customers looking to unwind over delicious food and drink throughout the season. Successfully integrating these holiday promo ideas will attract new customers and ensure that business is booming throughout the holiday season.
1. Offer Holiday Catering Promotions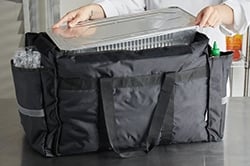 Offering catering options simplifies customers' hectic holiday plans. A curated holiday menu allows patrons to tailor your offerings to their party size and their guests' flavor preferences. Add a field to your order form where customers can indicate when they will need their order. You want to make sure your customers' holiday party meal arrives hot and ready to serve, so stock up on catering supplies to package each element of the meal appropriately.
2. Add Holiday Specials to Your Restaurant Menu
Help your guests relax, unwind, and enjoy the season by offering a holiday-themed menu. Try serving a spin on classic holiday dishes like deep-fried ham or incorporate some unique holiday cocktails on your drink menu. Remember to stick with the general theme of your establishment, but don't be afraid to get creative with your holiday ideas.
You can diversify your entree offerings by adding some traditional Hanukkah recipes to your menu for those celebrating the holiday. Remember that many guests would rather enjoy your meal at home, so choose items that are suitable for delivery and pickup orders. Creating an alternative holiday menu that people with dietary restrictions can enjoy gives your business a competitive edge.
3. Send Out a Restaurant Holiday Card with Coupons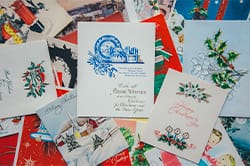 Sending your customers (or potential customers) a restaurant holiday card in the mail is an easy and inexpensive way to remind them about your business. Feature appetizing pictures of your signature entrees or cocktails with a classic holiday greeting to catch their eye. Including a coupon or special offer on the card as a holiday promotion can motivate customers to place an order. If you send out e-cards, you risk your promotion getting buried or deleted before it's opened.
4. Host a Virtual Holiday Party
You can keep the holidays festive this year without crowding your bar or restaurant. Use a live stream or video chat group to host holiday trivia or a New Year's Eve countdown watch party. You can also create a fun event like a virtual ugly Christmas sweater competition and offer a prize for the guest with the ugliest sweater. Many people make their holiday plans months in advance, so promote your event as soon as possible.
5. Promote Restaurant Gift Card Sales
Gift cards and certificates offer an easy way for your customers to gift your delicious food to their loved ones. An easy method to improve gift card sales during the holidays is to offer customers an extra incentive. For example, you can sell cards at a discounted rate ($50 gift card for $45) or offer a free $10 gift card with each $50 gift card purchase. It's hard to resist free food, so guests may end up buying these for their friends, family, and even themselves!
6. Provide Meal Kits or Take-Out Specials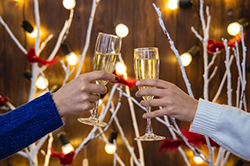 Although the restrictions and limitations on hosting gatherings have been relaxed in recent months, hosting holiday parties or large groups may not be an option for your business. Help your customers take the festivities home by offering meal kits they can order from your restaurant for either pickup or delivery. The meal kit should include all the portioned ingredients they'll need to make a delicious dish from your menu at home. Don't have time to assemble meal kits? Offer a holiday cocktail kit for delivery or pickup!
7. Give Back to Your Community
The spirit of giving is in the air during the holidays, and customers are more likely to support your business if they know that their meal contributes to a worthy cause. Try choosing a specific menu item, like a special holiday dish, and let customers know that a percentage of the profits from those dishes will go to a specific charity. Alternatively, you could devote a whole evening to giving and promise to set aside a portion of the night's proceeds for your favorite cause. Giving back to your community will put your customers in a cheery holiday mood and encourage new business.
8. Decorate Your Restaurant for Christmas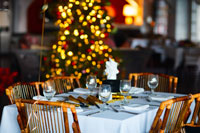 Attract walk-in customers and increase holiday spirit by decorating your restaurant for Christmas. Windows and doors adorned with Christmas lights, wreaths, and ornaments capture the attention of passersby. Bringing the decorations into your dining room and ordering counter creates a warm and inviting interior. Whether your customers are dining in or grabbing a meal to go, holiday decor will lift their mood. A positive seasonal experience will encourage repeat business year-round.
9. Promote Your Holiday Specials on Social Media
If you're putting forth the effort to create special holiday promotions and events, let your customers know about them on your social media accounts. You can either advertise your in-house specials on Instagram or offer separate deals specific to social media. For example, you could create a post that says, "Show this post when you pay for your meal for 10% off your bill." Social media is a free tool that allows you to reach many people, so it's always a good idea to share your special offers and promotions.
Holiday restaurant promotions are a low-cost way to attract new customers to your business. Coupons or gift cards encourage untapped customers to give your establishment a try, and your existing clientele will appreciate your efforts to reward their loyalty. Whether you decide to transform your restaurant into a winter wonderland or establish new holiday sales, you can create a memorable dining experience this season with our holiday restaurant marketing ideas.

Posted in:
Holidays
|
Advertising & Marketing
| By Janine Jones