How to Get Smoky Flavors without a Grill
Whether you don't have access to a grill or winter weather has made it difficult to cook outside, you may find it challenging to achieve the smoky flavor associated with some of your recipes. However, this doesn't mean they need to be taken off the menu. There are several alternatives to smoking foods on a grill that allow you to achieve a similar flavor. Continue reading below to learn how you can add smoky flavor to your most popular dishes year round.
How to Achieve Smoked Flavor
Whether you're investing in new kitchen equipment or adding ingredients to your existing recipes, there are many different ways to achieve a smoky flavor. It's important to note that there isn't one perfect way to do so. Depending on your menu, your kitchen, and your staff, each method can have its own set of benefits. The most popular ways to achieve smoky flavor without a grill include:
1. Indoor Smokers and Smokehouses
Indoor smokers, sometimes referred to as smokehouses, are used to smoke meat in a variety of different foodservice settings. They allow you to smoke and barbeque many different types of meat including beef, pork, and poultry. In most cases, an indoor meat smoker is smaller than its outdoor counterpart. If your menu revolves around smoked or barbequed food and you live in an area that doesn't allow you to cook outside during certain parts of the year, you may want to invest in an indoor smoker or smokehouse.
Indoor meat smokers work by placing meat inside and heating up wet wood chips until they begin smoking. The smoke that is produced then surrounds the meat, giving it a sweet and smoky flavor. Once this has been done, the appliance adds more heat to finish cooking the meat.
2. Smoked Bacon
Bacon comes in many different styles and can be used in a variety of different recipes. When smoked bacon is used as an ingredient, it transfers some of its flavor to the dish. However, it's important to note that bacon can't be added to every recipe. Take the time to analyze your menu and identify different dishes which might be improved by adding smoked bacon to them.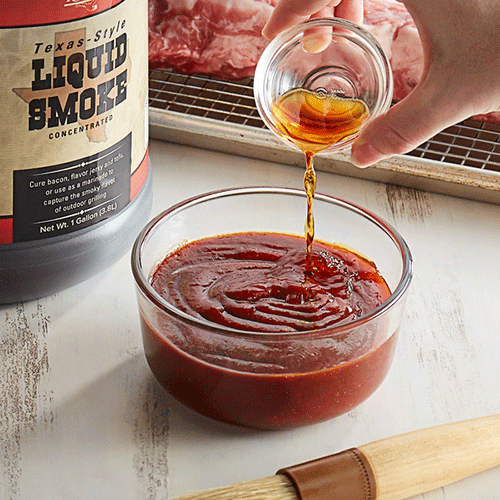 3. Liquid Smoke
Liquid smoke is one of the simplest ways to add pure smoke flavor to your foods. It can be used as a rub, marinade, or even as an ingredient in other sauces. It can also be used to prepare a variety of different foods including soft cheeses, bacon, tofu, and a variety of others.
The product is a naturally occurring substance that is made from real smoke. By burning wood pellets and condensing the smoke, manufacturers can capture it as a liquid. Once it has been distilled and filtered, the product can be used.
4. Lapsang Souchong Tea
Lapsang souchong is a type of oxidized black tea that features a sweet yet smoky flavor. Although similar types of tea existed, its origins can be traced back to the Wuyi Mountains during the Qing dynasty. The tea was first created in 1646 by citizens looking to preserve freshly picked tea leaves to avoid spoilage. Today, the tea is often used to flavor vegetarian dishes and is said to give meaty, umami richness to foods without actually using meat.
Lapsang souchong tea is made through an intricate oxidation process. During the process, the tea acquires its unique smell and taste. The process of making lapsang souchong tea includes:
Drying: Once leaves are picked, they are placed over a fire to eliminate moisture. During this step, the leaves are infused with their smoky flavor.
Oxidation: After they've been dried, the leaves are left to oxidize for up to 6 hours.
Frying: Once the leaves have been oxidized, they are placed in a pan and fried for a short amount of time.
Additional Drying: After being fried, the leaves are once again allowed to dry. During this step, the leaves are typically placed in a bamboo basket and left to dry for up to 12 hours.
5. Molasses
Though molasses is often thought of as a baking ingredient, it is also commonly used to flavor a variety of savory dishes. Produced as a byproduct of the sugar making process, molasses is typically used to add sweetness or texture to a dish. One type of molasses in particular, known as blackstrap molasses, allows you to add a hint of smokiness to your menu.
Blackstrap molasses features a bittersweet flavor and is a healthier alternative to traditional molasses. It includes several different vitamins and minerals including calcium, magnesium, and iron, and is rich in antioxidants. Whether you're preparing barbeque foods, barbeque sauce, or other summertime foods, blackstrap molasses makes it easy to achieve the delicious, smoky taste associated with grilled foods.
6. Smoked Salts and Spices
Chances are, you already use salts, herbs, and spices to flavor dishes. Some spices, like cumin and paprika, are commonly smoked to add another dimension to your foods. You can purchase spices that come pre-packaged with extra flavor, or you can smoke them yourself for a fresh-from-the-kitchen feel that your customers will love.
---
It may be a bit too cold outside to use your grill, but that doesn't mean you can't serve delicious barbequed food. There are a number of different means of achieving distinctive, smoky flavors in your dishes, from ingredients and spices to new equipment and cooking methods. With so many options for achieving BBQ-like results indoors, the temperature outside doesn't need to limit the delicious flavors you offer your customers.
Posted in:
Product Spotlights
|
Kitchen & Cooking Tips
| By Alyssa Burns