Find the Best Sized Disposable Table Covers for Your Business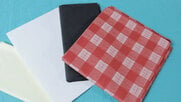 Perfect for a variety of foodservice businesses, sized disposable table covers will protect your furniture from spills and reduce cleanup time. These products are available in a variety of colors, so they're also easy to match with your party theme or existing decor. Depending upon your tables, you can choose from covers in shapes like rectangle, octy round, square, and round, so you'll have no trouble finding what you need. Because they're made of high-quality materials like poly, plastic, paper, and tissue, you can also rest assured that these covers can handle any party or catered event. Linen-like covers are fully disposable while still resembling a high-quality fabric tablecloth, so they're great for use at upscale events. Your guests can write or draw on paper covers, and plastic items are designed to effectively repel liquid. Finally, tissue and poly blend covers ensure superior water resistance while still providing a soft feel. To learn more about the differences between these products, explore the tabs above and the filters on the left side of the page.
Our wide selection of disposable table covers makes it easy to create beautiful table settings for any event. Choose from all shades of tablecloths in many different varieties, like butcher paper, plastic, or linen-like materials. Since they're disposable, these covers can be thrown away after each use, making cleanup a breeze! Be sure to select suitable disposable table skirting to go along with your disposable table cover, and see our tabletop signs and table lamps and lighting for more table setting items! If you're wondering where to buy disposable table covers - sized, we have a large selection of disposable table covers - sized for sale at the lowest prices.