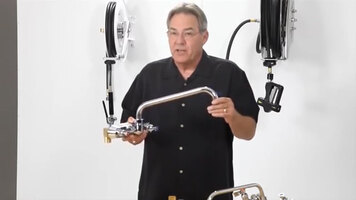 Fisher 1/2 inch VS 3/4 inch Faucets
With Fisher, finding a new faucet for your sink is easy! Start by figuring out your intended use. Do you need a controlled flow rate, or do you need a large volume of water quickly? Watch this video to learn what which faucet size is perfect for you!
Hamilton Beach Tempest Blender Demonstration
See the power of the Hamilton Beach Tempest Blender in action! This unit's 3 horsepower motor and all metal coupling give it the muscle to power through even the most solid frozen ingredients, giving you a smooth product every time. Pizza Control Scale
Portion control is important to any restaurant, but especially pizza shops! The portability, usability, and tare foot pedal on this Tor Rey PZC5 pizza portion control scale makes it a great addition to any pizzeria. Make consistent pizzas every time!