MasterVision Writing Supplies
Use MasterVision Chalkboards and White Boards to Give Presentations
MasterVision is a family-owned manufacturer of dry-erase boards, bulletin boards, chalkboards, and signs. Although their North American headquarters are in Coconut Creek, FL, they sell to wholesalers around the globe. Additionally, all of MasterVision's products are manufactured in Portugal, which makes it possible for them to produce boards with European quality. Read more
To find a write-on board that's appropriate for your use, be sure to explore MasterVision's selection of black boards and white boards. Chalkboards can be used for a variety of purposes, from school lessons to restaurant menu boards. Also, you can find MasterVision white boards with grid lines, making them perfect for planning and keeping track of your staff's schedule.
MasterVision Chalkboards
MasterVision chalkboards are available in a variety of sizes, so you can choose the option that best suits your application.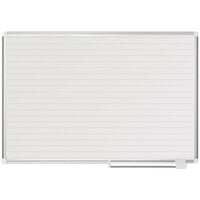 MasterVision Planning and In-Out Boards
Post MasterVision planning and in-out boards in your establishment, so your staff can keep track of their schedules.