Urnex 12-MILK6-32 1 Liter Rinza Milk Frother Cleaner
Breaks down milk protein buildup
Cycles through auto-frothers for easy cleanup
Cleans traditional steam wands and steel pitchers
Built-in measuring device ensures proper usage
Over 30 uses per bottle
Use .5 oz. - 1 oz. Rinza in 17 oz. of cold water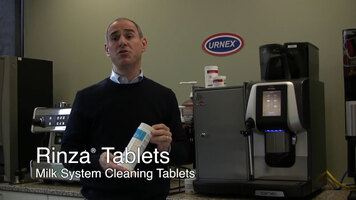 Urnex: How to Clean an Espresso Machine Using Cafiza and Rinza
Hi, I'm Josh Dick, president of Urnex products. Today I'm going to talk to you about how to clean a fully automatic espresso machine. There are two quick and easy parts to clean in this machine today, first you have to clean the coffee brewing chamber, and second, you'll have to clean the milk system. First, we will clean the coffee brewing unit. For this, we'll use a Cafiza tablet. You're simply going to insert one Cafiza cleaning tablet into the tablet delivery chamber on the machine. Each machine has one on top. Cleaning tablets come in specific sizes and shapes, depending on the machine and its specifications. This machine uses a 1.2 gram tablet, so that's what I've just used. After you've placed the Cafiza tablet down the chute, press clean and the machine does the rest. Now we'll clean the milk system. For this, use Rinza, either in tablet or liquid form. I'll show you how to use both. Let's use the Rinza liquid first. To fill the built-in measuring cup in the bottle, loosen the cap and squeeze the bottle. The Rinza solution will fill up to the perfect dosage. We recommend that you use 30 mL of Rinza milk frother per 500 mL of cold water and mix into a solution. Now we have our solution. Each machine calls for a specific amount of total dilution to be made, so check your instruction manual. From here, we're going to insert the section tube into the solution. Now, we'll run the entire solution through the milk frother system following the machine manufacturer's maintenance and cleaning instructions, which might be on the screen. To rinse the system, we're going to repeat all the same steps using clean water. Some machines do this for you, for those machines that don't have an automatic rinse cycle, insert the section tube into clean water and run that through the frother system to rinse and flush away all the remaining solution. The Rinza tablet is used in basically the same way as the liquid. All you have to do is dissolve the Rinza tablet in the dilution of water noted on the package to create the proper cleaning solution. Now, you'll have a solution to use, just as you did for the liquid. Of course, after cleaning, rinse with clean water just like before. You have now successfully cleaned your fully automatic espresso machine and are ready to make great tasting coffee. For more information about these products and others, visit us on the web at www.urnex.com.
Extend the life of your coffee shop's espresso machine by cleaning it regularly with Urnex's Cafiza and Rinza cleaning solutions! The solution will clear the inner components of any residue and keep your fresh coffee tasting great.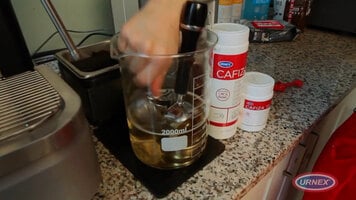 Urnex: How to Clean an Espresso Machine Using Cafiza
Hi, I'm Jefferson, I've been a barista at Coffee Labs Roasters in Tarrytown for 7 years. Today I'm going to be showing you how to clean your espresso machine using Urnex products. First, replace the pour filter basket with a blind filter. Add about 3 grams of Cafiza espresso machine cleaning powder into the blind filter basket, or, add one Cafiza tablet into the blind filter basket, and return the pour filter back to the group head. Press and hold the wash button to active the clean cycle, also known as back flushing. Select which group to clean, then press start to begin. The cleaning process will continue on its own. It is a substantial cleaning cycle that takes place automatically, with the machine pumping the cleaning solution back through the machine every few seconds. To clear the espresso machine manually, simply run the espresso machine 10 seconds on, and 10 seconds off 5 times to pump the cleaning solution through the machine. To rinse, repeat the same steps of the cleaning cycle without any cleaning solution to rinse the machine with water. In addition to back flushing, soak any spare parts in a Cafiza solution. Dissolve 3 grams of Cafiza powder or 1 Cafiza tablet in water. We'll quickly remove the shower screen. It's hot, so be safe and use a bar towel. Soak for 15-30 minutes, then rinse thoroughly with water. It is important to clean the steam wand daily to prevent bacteria and protein build-up from the milk. Use 30 ml of Rinza and 500 ml of water. Soak for 15-30 minutes, and then rinse thoroughly with water. Your espresso machine is now cleaned and ready to brew great tasting coffee again. It is important to backflush daily and sometimes even twice per day depending on frequency of use. Backflushing with Cafiza will eliminate coffee residue in group heads and machine lines. For more information, please visit www.urnex.com.
Extend the life of your coffee shop's espresso machines with Urnex Cafiza! By inserting 3 grams of Cafiza cleaner into your machine, you'll clear the inner components of any residue and keep your fresh coffee tasting great.
Urnex 12-MILK6-32 Specs
Chemical Form
Liquid
Type
Milk Frother Cleaners
Urnex 12-MILK6-32 Details
Urnex 12-MILK6-32 1 liter Rinza milk frother cleaner is the perfect choice for any establishment that consistently uses dairy processing equipment! It breaks down milk protein buildup for more efficient, sanitary equipment. Use it to cycle through auto-frothers for easy cleanup, or reduce buildup on traditional steam wands and steel pitchers.

This product comes in a 1 liter bottle with a built-in measuring device that ensures the proper chemical concentration and helps to eliminate overuse. Plus, each container offers over 30 uses so that you can clean your frothers over and over again with just one bottle.

Instructions:

For use on automatic milk frothers:
- To fill measuring cup loosen cap and squeeze bottle. Mix a solution of .5 oz. - 1 oz. Rinza per 17 oz. cold water.
- Insert suction tube into solution.
- Run entire solution through frother.
- Repeat above with clean cold water to thoroughly rinse all components.

For use on steam wands and other dairy-related equipment:
- Soak parts or steam wand for 15 to 30 minutes in a solution of 1 oz. Rinza to 17 oz. of warm water.
- Rinse all components.
Made in America

This item was made in the United States of America.
Resources and Downloads for
Urnex 12-MILK6-32
Specsheet
SDS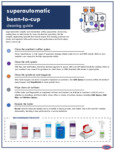 Instructions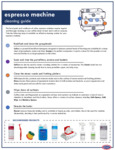 Instructions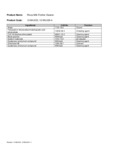 Ingredients
A PDF viewer is required to view this product's information. Download Adobe Acrobat software
Customer Reviews
People Talk About:

clean

milk

steam

wands

works

Cleaner

machine

pitchers

espresso

price

We swear by this milk frothing cleaner. It works amazingly. It doesn't have a strong odor at all. Convenient bottle. This is all we use. Definitely recommend!

Rinza is a great product for cleaning steam wands in a coffee shop. The concentration is so strong, that it can be diluted and still do a great job.

We use the rinza to clean our steam wands on our espresso machine! we have never found anything that works as good as the rinza!

This product is used to remove milk residue on steam wand and works very well. Its a great help and is part of a super useful line of products for your coffee bar.

This product is one of our favorites. We use this a lot , due to the fact that we take about the machine and soak all the pieces. We are very impressed with this product.

Used to clean your espresso machine steam wands or your pitcher rinser. this helps to prolong life and keep bacteria from forming we definitely, recommend.

We used other tabs in the past, and they work well, but they're somewhat expensive compared to the liquid container. I love the measuring compartment at the top too, it makes it quick and easy to measure out your solution.

Really great price for this product! We use this at our coffee house to help clean any milk build up and have always been impressed with it's capabilities!

This stuff works great! I use it once a week to clean my steam wand and milk pitchers. It makes the pitchers shiny & clean. My steam wand actually seems to work better after using this too.

Fantastic steam wand cleaner from Urnex. It makes cleaning the frother effortless and ensures high levels of sanitation are met. It's a good price for 32oz too.

I think this cleaner works really well on steam wands but not as well in steam cups. I will keep using "Klearly Koffee" to clean my steam cups.

I used this frother cleaner daily to ensure a sterile wand and also clean the drain tube. It is mostly odorless and does not leave any residue.

This cleaner works fast and works well. At first we were a little unsure because of the price but quickly discovered that it works so much better than what we were using before so it is totally worth the price change.

This works very well at cleaning anything where milk has dried. Anything from cream pitchers, steam pitchers, steam wands, stovetop pans that you used to boil milk, superautomatic espresso machines with a milk line, etc. It is cheaper to buy the tablet version of this product, but both work equally well. We find the liquid to be more convenient.

Great dairy cleaner for our coffee shop! We use this to clean our steam wands, milk pitchers, mixing cups/spoons, and thermometers. A little soak in this and some scrubbing goes a long way! Our stainless steel pieces end up coming out looking brand new. These is also an acidic formula version that works wonders too!

We only recently started using rinza to clean our steaming wands in the cafe- previously we had just soaked them, and done a thorough wipe down. While I haven't noticed that the wands work BETTER, I do feel a million times better knowing that my machine is getting a thorough cleaning with the proper solution. If you're looking to up your cafe game, and really go the extra mile to take care of your equipment, I definitely recommend using this (along with Cafiza!) on your espresso machine! There is nothing better to keep your wands clear. Side Note: Any steaming pitchers that have brown milk stains in them will be SO SHINY after using this on them.

Stuff works wonders. We love to use it on the wands. Gets all the nasty milk off and leaves it shiny and pretty. Great for the price

hate that milky smell sometimes that you get from left over milk residue? well this is the solution. It cuts the fat solids and leaves your containers squeaky clean!

We use this to clean the steam wands on our espresso machine. It works very well! We put some in a frothing pitcher and add hot water, then turn the steam wand on for about 30 seconds. After that, we let it soak for a few minutes and the milk buildup comes right off!

The fill feature is rather clever and helps with uniformity when multiple people use the product and you want it to be consistently applied. The cleaner works well too. Good value on price.

we use this to clean our milk pitchers that are used on a daily basis along with our steaming wands on our espresso machine. Just soak the wand or pitcher over night and it removes all the milk build up.

This is a must use for any cafe or place that uses an espresso machine. I have been using this product for over 10 years and don't know what I would do without it.

I wasn't sure how to clean the milk frother on my espresso machine until I found this. The bottle has its own measurement cup built within. It's so easy to clean with this cleaner. I had to just run the steam wand and rinse with water. There is no clean instruction on the product, so I had to read the user instruction on Webstaurant.

We use the Rinza Milk Frother Cleaner for our Franke Espresso Machine. When we need to clean it out doing a deep cleaning we use this to get rid of all the nasty gunk stuck in the machine from daily used. You won't find this anywhere else for the price you get it on webstaurant!
Leave a review of this product!
If you've used this product, log in and leave a review to tell us and other customers what you thought about it.
Login or Register