WebstaurantStore / Food Service Resources / Blog
Chimichurri and Steak Flatbread Recipe
Flatbread is appearing on more and more menus around the nation, and with so many advantages to this dish, it's easy to see why. Flatbread costs just pennies to make and can be offered to customers at a price that's affordable to them while still earning a profit for your establishment.
Many types of flatbreads can be grilled ahead of time and simply reheated in the oven with toppings added as orders come in. They can even be kept fresh in the freezer until it's time for the toppings to go on. Any recipe that can be prepped ahead of time and assembled in a matter of minutes is a great choice for a fast-paced restaurant or catering environment.
In addition to the practical advantages of this dish, the main reason it's become so remarkably popular is because it's delicious! The wonderfully satisfying texture of flatbread and the limitless combinations of toppings make it a favorite menu item among a wide variety of eateries.
We chose to use chimichurri and steak as toppings on our flatbread because chimichurri is a simple sauce to make that is commonly served with steak. Also, the steak is a filling component to this dish that makes it even more satisfying for customers.
How to Make Chimichurri Steak Flatbread
All you need to make a great chimichurri sauce is some garlic, herbs, oil, spices, and a food processor to mix it all together. We decided to use our sauce both as a steak marinade and as an ingredient on top of our flatbread. By combining this flavorful sauce, steak, flatbread, and some provolone cheese, we created a complete appetizer or lunch item that is both satisfying for your customers and cost-effective for your restaurant. Check out our recipe video to see how it's done-
Ingredients
Flatbread Dough
Yield: (4) 10-inch flatbreads
4 c flour (plus more for dusting)
1 ½ c warm water
1 envelope (2 ¼ tsp) dry active yeast
1 tsp. sugar
1 tsp. salt
1 tsp. garlic powder
1 tsp. ground cardamom
Chimichurri Sauce
Yield: 1 ½ cups, enough to marinate 5 oz. meat and sauce 1 flatbread
2 c fresh Italian parsley
1 c fresh oregano
4 peeled garlic cloves
1 c extra virgin olive oil
¼ c red wine vinegar
1 tsp. crushed red pepper
1 tsp. salt
1 tsp. black pepper
Steak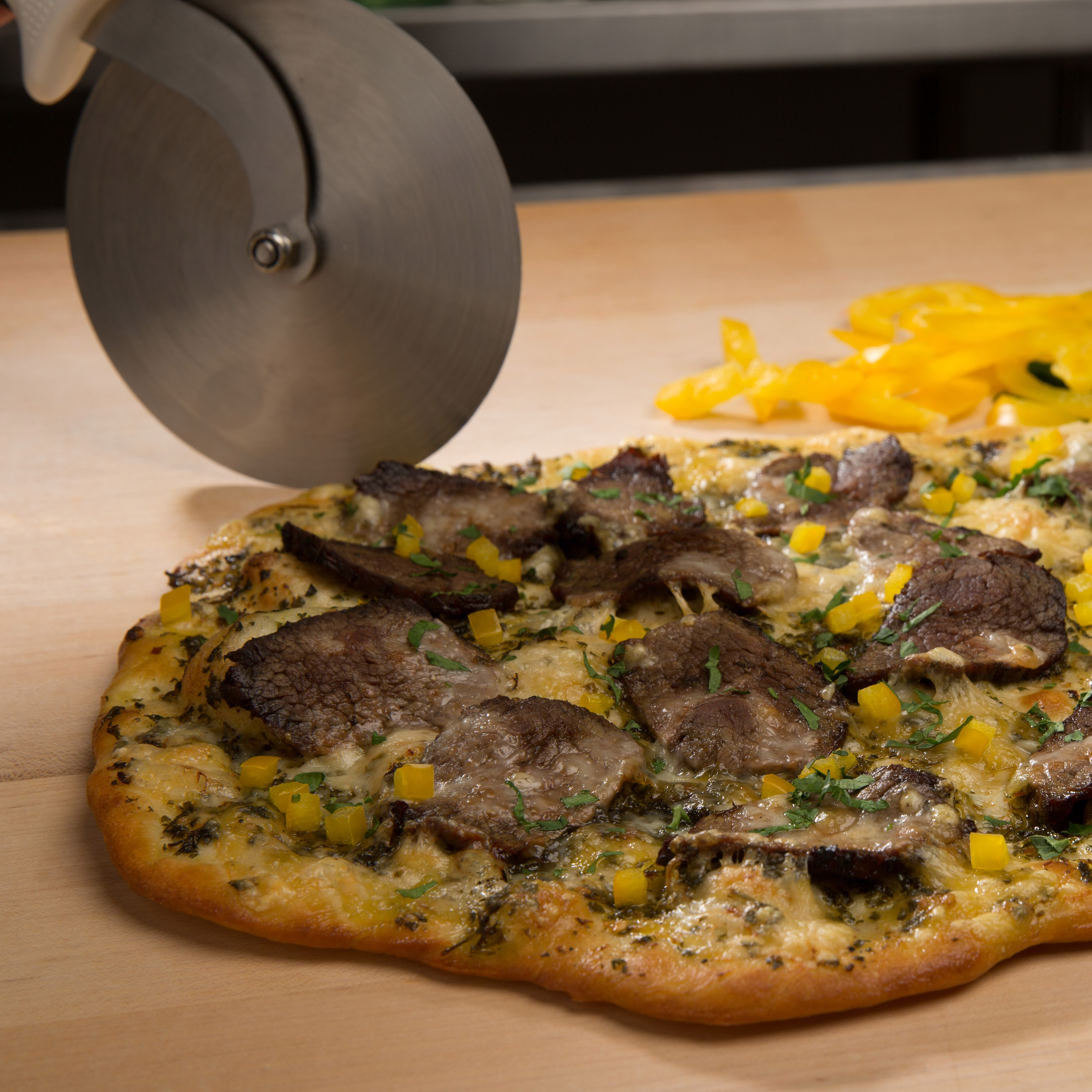 Yield: 5 oz. steak, enough for 1 flatbread
5 oz. beef shoulder tender
Cheese
Use about 2 oz. of shaved sharp provolone cheese for one flatbread.
Directions
Chimichurri Sauce and Marinade
1. Place all the ingredients in your food processor. Blend for about a minute until everything is mixed well.
2. Cover the beef with some of the chimichurri (about 3 oz.) and place it in a plastic bag to marinate. Refrigerate for at least an hour. Reserve the remaining sauce for flatbread drizzle.
Flatbread Dough
1. While the steak marinates, assemble your dough.
2. In your mixer bowl, combine the water and yeast. Let it sit for 10 minutes.
3. Add the remaining ingredients and mix with dough hook on medium speed until dough forms into a ball. About 5 minutes.
4. On floured workspace, punch dough down for a few minutes and return it to the bowl.
5. Cover the dough in plastic wrap and set it in a warm place for an hour until it doubles in size.
6. Remove your dough from the bowl, and portion it into 4 equal balls.
7. Roll out one portion of the dough into your desired shape.
Steak
1. While your dough rises, cook the meat.
2. Grill or roast the beef until its internal temperature reaches 125 degrees Fahrenheit.
3. Allow the beef to rest for 10 minutes before cutting into ¼ inch slices.
Chimichurri Steak and Sharp Provolone Flatbread
1. Preheat the oven to 450 degrees Fahrenheit.
2. Distribute the rest of the sauce over your flatbread (about 3 oz.)
3. Top with steak and provolone cheese.
4. Bake for about 4 minutes or until cheese is melted and edges of the dough are golden brown.
5. Garnish with finely chopped yellow bell pepper or parsley, if desired.
Cost Breakdown of Chimichurri Steak Flatbread
Per Serving
Dough $0.10
Chimichurri $0.32
5 oz. Beef Shoulder Tender $1.52
Sharp Provolone $0.57
TOTAL COST: $3.50
MENU PRICE: $10.00
PROFIT PER ORDER: $6.50
What is Chimichurri?
Chimichurri is a simple sauce consisting mainly of fresh herbs, garlic, and oil. Traditionally, parsley and oregano are the main ingredients of this sauce, but different herbs can be used, as well. You may also see renditions that incorporate lemon or lime juice, but we used red wine vinegar as our acidic component. Chimichurri is a forgiving sauce that allows for a lot of improvisation, so you can adjust your sauce to suit your unique tastes and use whatever ingredients are most readily available to you.
In addition to being a flexible sauce to make, chimichurri sauce offers a lot of flexibility in the ways it can be used. For example, we chose to use our sauce in two ways — as a marinade and a sauce for the flatbread itself. Both of our uses happened to be cooked, but chimichurri can be consumed uncooked, too. In fact, it's commonly served raw with grilled steak as a way to bring wonderfully fresh flavors to heavier cuts of meat.
History of Chimichurri
Chimichurri is widely accepted as an Argentinian creation. Historians believe that this sauce may have been invented by cowboys who cooked meats over open fires and needed a sauce to go with it. It is believed that the original chimichurri sauce likely consisted of dried herbs, instead of fresh ones, to make them easier for cowboys to transport. You'll likely find some traditional recipes that still recommend the use of dried herbs in chimichurri. However, if fresh herbs are available to you, they give the sauce a beautiful green color and a more dynamic flavor.
As for the origin of the word, "chimichurri," there are a few different speculations about this. The most common theory is that the name came from a mispronunciation of an English nickname for the sauce: Jimmy Curry. It's thought that this nickname was brought over to South America by European settlers.
If you're looking for a new addition to your lunch menu or appetizer list, chimichurri and steak flatbread is a great choice. The flatbread dough has a texture that's a perfect combination of chewy and crispy. Chimichurri is fresh and savory, while steak and provolone are hearty toppings that will leave customers happy and satisfied.