What is a Food Hall?
A food hall is a cafeteria-like setting where customers can choose from multiple food vendors and dine in a communal environment. Food halls have been gaining popularity and are starting to pop up in cities all over the country at a very high rate. A common characteristic of food halls is that they often showcase the different varieties of cuisine that a city has to offer, giving guests many options all conveniently located in the same place. Similar to the food truck trend, food halls represent an alternative method of dining that provides more options and freedom than other types of restaurants.
Food Halls vs Food Courts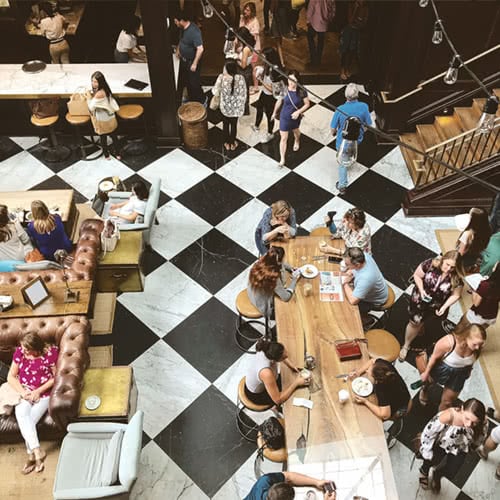 Food halls are different from food courts in a few different ways. Where food courts are usually populated by fast food operators, food halls are curated with local, artisanal dining options. The food hall environment is specifically designed as a meet up space where groups of people can relax at communal tables. A lot of thought and attention is placed into the fixtures, seating, and lighting to keep up with current decor trends. In a food hall you'll find a wide variety of food stalls and retail booths, with everything from vegan chocolate to ramen bars.
How Do Food Halls Benefit Restaurateurs?
Food halls offer a variety of benefits for foodservice operators. Starting your own restaurant from scratch involves a lot of moving parts. Instead of investing in a building and being responsible for utilities, safety codes, and upkeep, aspiring restaurateurs simply rent their space from the food hall operator.
The total investment cost is much more affordable than opening a brick and mortar location
There is much less risk involved with renting a space in a food hall verses investing in your own
You won't be responsible for maintaining the building, the exterior, or the parking lot
It gives you the opportunity for a trial run of your concept
Without the distractions normally associated with owning a restaurant, you can focus on making your brand clearly defined
Types of Food Halls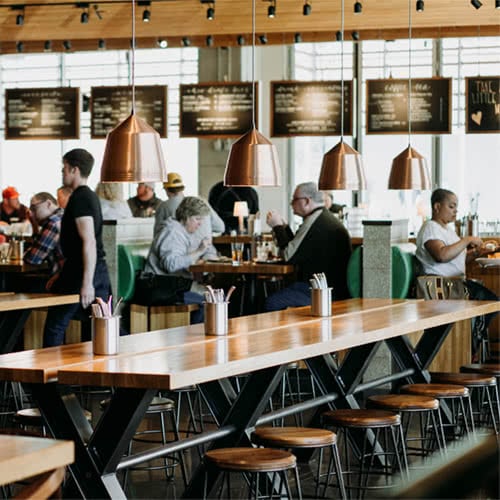 Currently, there are two types of food halls you'll find in operation:
Multi-concept - In a multi-concept food hall, all dining options are operated by the same vendor or owner. This gives the operator opportunities to play around with many different concepts.
Multi-vendor - Multi-vendor food halls rent out space for a variety of vendors to come in and set up shop. Some food halls rent out their spaces long-term and some rotate vendors for the best variety.
Where Can I Visit a Food Hall?
If you'd like to visit a food hall to see if renting a stall is the right choice for you or if you're considering starting your own food hall, you're in luck. Chances are, there's a food hall near you that you can visit.
Revival Food Hall - Located in Chicago, Illinois, the Revival Food Hall is one of the most popular in the country. You can find it in the central business district on the first floor of The National, a recently renovated office building. Revival features 15 food stalls that spotlight local cuisine, including barbecue, charcuterie, and poke vendors.
Morgan Street Food Hall - The Morgan Street food hall in Raleigh, North Carolina, opened its doors in August of 2018 and has already been voted as one of the top food halls in the country by USA Today. Anchored by an indoor/outdoor bar called The Arbor, Morgan Street is located inside a re-purposed warehouse. Inside are over 20 different vendors offering everything from boba teas to Lebanese cuisine.
Food halls are very attractive to guests because groups can meet up and easily find a dining option for everyone. With a food hall, consumers get the feeling they are supporting local, independent businesses rather than chain restaurants. For operators, food halls are a great way to launch your brand and figure out what works for your business and what doesn't. It's no surprise that food halls are seeing continued growth considering all the benefits they offer to vendors and consumers alike.

Posted in:
Foodservice Trends
| By Michale Ferguson