Best Summer Beers 2022
Summer beer fans can rejoice because everyone's favorite seasonal craft beers are hitting the shelves once again. As the temperatures climb, preferences in beer styles start to lean towards light beers with lower alcohol content. Crisp pilsners, refreshing sours, and drinkable session beers signal the return of warm weather and summer fun.
Check out our recommendations for the best summer beers to drink in 2022:
Summer Beer List
The perfect summer beer is crushable, which means it's easy to drink, and the alcohol percentage (ABV) is low enough that you don't have to feel bad for having seconds or thirds. Most of all, a good summer beer should be well-balanced and thirst-quenching. We've made a list of some of the best summer beer styles to serve at your beer garden, pool bar, or outdoor venue this season:
1. Shandies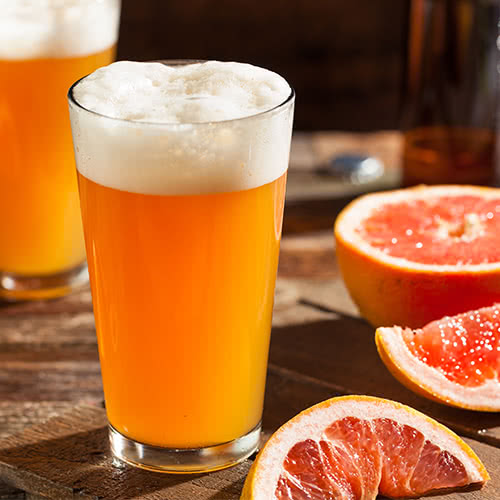 A summer shandy, also called a radler, is a popular beer cocktail made by combining a blonde lager with citrus juice or soda. The result is a light, lemony beer with a low alcohol content. Ginger beer, ginger ale, lemon-lime soda, lemonade, or grapefruit juice can all be used to create a refreshing, sessionable beverage that's easy to drink on a hot summer's day. You can mix your own summer shandies or save time behind the bar by stocking the canned and bottled versions.
How Many Calories in a Summer Shandy?
Most shandies and radlers contain around 130 to 135 calories per 12 ounces, but some are lower than 100 calories.
How Much Alcohol Is in a Summer Shandy?
Summer shandies have low ABV percentages that range from 2.5% to 4.5%, making them a great summertime beer.
Give These Popular Shandies a Try:
Leinenkugel : Summer Shandy (Chippewa Falls, WI) 4.2% ABV
Narragansett: Del's Watermelon Shandy (Providence, RI) 4.7% ABV
Boulevard Brewing Company: Cherry Lime Radler (Kansas City, MO) 4.1 % ABV
Hoppin Frog: Grapefruit Turbo Shandy (Akron, OH) 7% ABV
---
2. Saisons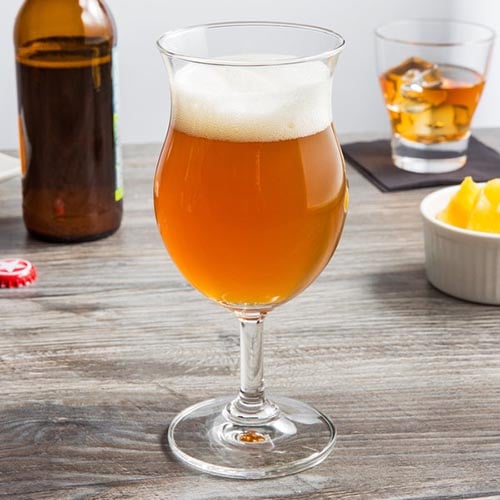 The first saisons were brewed in Belgium during the cold winter months to prevent spoilage before refrigeration was available. When summer arrived, the beer came out of storage and was served to farmhands to quench their thirst as they worked under the hot sun. Saisons are truly seasonal because brewers rely on wild yeast derived from the local fruit and vegetable harvest.
What Do Saisons Taste Like?
Most saisons have a light body, high carbonation, and a dry finish. They have a touch of sourness with fruity, spicy, and earthy notes and a balancing bitterness on the finish.
Saison vs Farmhouse Ale
Saisons are sometimes called farmhouse ales. Farmhouse beer is a broad term that encompasses rustic ales made by farmers from locally sourced ingredients. This ancient style of brewing was common on European farms, but Belgium is credited with developing the saison style of farmhouse ales. Today, farmhouse ales aren't always made on farms, but the principle of using local, seasonal ingredients still holds true.
Give These Popular Saisons a Try:
Left Hand Brewing Company: Thai Spice Saison (Longmont, CO) 6% ABV
Boulevard Brewing Co: Tank 7 Farmhouse Ale (Kansas City, MO) 8.5% ABV
Side Project Brewing: Abricot Du Fermier (Maplewood, MO) 8% ABV
Great Divide Brewing Company: Colette (Denver, CO) 6.5% ABV
---
3. Gose Beers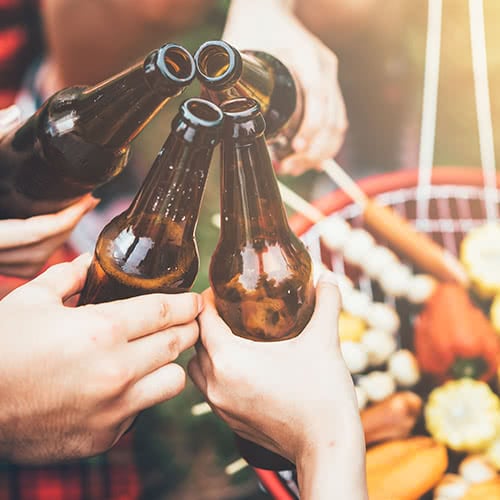 Gose is a German sour wheat beer with added salt and coriander. These beers are tart, crisp, and often have notes of lemon or grapefruit. The saltiness of a balanced Gose complements the sour quality of the beer without overpowering the flavor. Low ABV and the minimal presence of hops make sour beers highly drinkable and refreshing.
Gose Pronunciation
Gose is pronounced gohz-uh. This name originates from the town of Goslar and the Gose River in Germany.
Gose vs Gueuze
Gose and gueuze are often confused because they are both sour beers with similar names. The difference between the two is that gueuze (pronounced gooz) is a Belgian sour beer that is naturally fermented, while gose is a German sour beer that is intentionally fermented with added yeast. Gueuze has a pronounced, complex sourness, and gose is lightly acidic and salty.
Give These Popular Gose Beers a Try:
Two Roads Brewing: Passionfruit Gose (Stratford, CO) 5.2% ABV
Westbrook Brewing Company: Gose (Mount Pleasant, SC) 4% ABV
Dogfish Head Brewery: SeaQuench Ale (Rehoboth, DE) 4.9% ABV
Anderson Valley Brewing Company: Blood Orange Gose (Mendocino, CA) 4.2% ABV
---
4. New England IPA
The New England IPA (NEIPA) was born out of Vermont and just recently recognized as an official beer style in the last few years. Under this classification, you'll find beers called Juicy IPAs or Hazy IPAs. These unfiltered beers feature a cloudy appearance, fruity hop flavors, and very little bitterness. Big, tropical aromatics and a smooth mouthfeel make these beers a perfect summertime brew.
New England IPA vs West Coast IPA
The difference between these two pale ales is that New England IPAs have a silky mouthfeel with stronger fruity, floral notes, and West Coast IPAs are sharp and bright with stronger pine notes.
Give These Popular NEIPAs a Try:
Tree House Brewing Company: Julius (Charleton, MA) 6.8% ABV
The Alchemist Beer: Focal Banger (Stowe, VT) 7% ABV
Toppling Goliath Brewing Company: King Sue (Decorah, IA) 7.8% ABV
Troegs Brewing Company: Haze Charmer (Hershey, PA) 5.5% ABV
---
5. Kolsch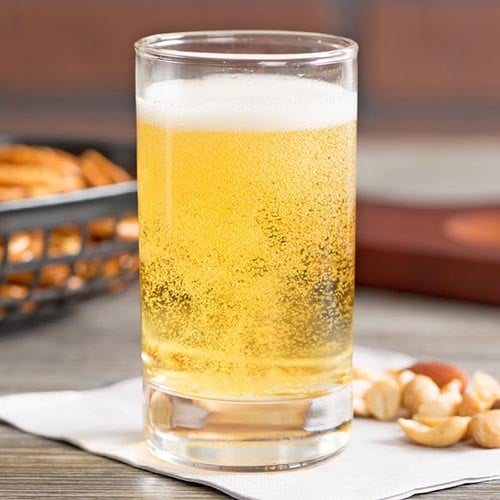 Kolsch-style beers are brewed with a unique process that was developed in Cologne, Germany in the 17th century. The brewing style combines elements of ales and lagers, which allowed the kolsch beer to be stored without becoming sour. The mouthfeel of kolsch is light and crisp, while the flavor balances sweetness with subtle hoppiness.
Kolsch vs Pilsner
Kolsch beers and pilsners are two great summer beers that sometimes get mixed up. They're both light-bodied and crisp, but a pilsner is a lager, and a kolsch is considered a lager-ale hybrid. Pilsners have more bitterness with a clean, dry finish, while kolsches have a softer mouthfeel with subtle fruity notes.
Stange Glass
Traditionally, the proper beer glass for serving kolsch beer is the stange glass, a narrow, straight-sided glass. This glass encourages the drinker to enjoy the highly carbonated beer quickly and in small servings.
Give These Popular Kolsch Beers a Try:
Trillium Brewing Company: Big Sprang (Boston, MA) 7.5% ABV
Brauerei zur Malzmuhle: Muhlen Kolsch (Koln, Germany) 4.8% ABV
Suarez Family Brewery: Fine Line (Hudson, NY) 4.5% ABV
Exhibit 'A' Brewing Company: Goody Two Shoes (Framingham, MA) 4.5% ABV
---
6. Session IPAs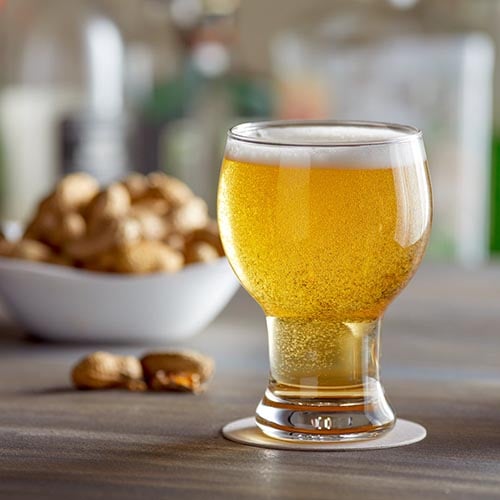 The history of session beers goes back to England during WWI, when factory workers were allotted two drinking sessions per workday. While it's not recommended to drink on the job today, the session beer was created out of a necessity for a beer with low alcohol content that wouldn't impede the ability to operate machinery. The current criteria for a session beer is an ABV of around 3 to 4 percent, though some will reach closer to 5 percent. Session IPAs combine the fruity, hoppy flavor of an India pale ale with a low ABV that makes them a perfect choice for a drinking session at a summer barbecue.
What Is a Sessionable Beer?
A sessionable beer strikes the balance between low alcohol content and flavor. Unlike light beers, session beers offer the same complexity and aroma of their more alcoholic counterparts, just with a lower ABV. Any beer style can be made into a session beer.
Give These Popular Session IPAs a Try:
Founders Brewing Company: All Day IPA (Grand Rapids, MI) 4.7% ABV
Highland Brewing: Daycation IPA (Asheville, NC) 4.9% ABV
Lagunitas: Daytime Session IPA (Petaluma, CA) 4% ABV
Big Truck Farm Brewery: Flatbed Pale Ale (Parkton, MD) 5.5% ABV
---
7. Pilsners
Pilsners are the quintessential summer beer. Besides being light and refreshing, they also pair well with a lot of summer foods. High carbonation, a delicate aroma, and a dry finish make pilsners one of the most popular beer styles in the world. On a humid day, a crisp pilsner is the perfect beer to keep you cool.
What Is a Pilsner Made Of?
Pilsners are made with bottom-fermenting lager yeast, pilsner malt, hops, and water. What sets pilsners apart from other lagers is the use of a specific type of hops. Saaz hops have low bitterness and a delicate aroma, which gives pilsners their signature flavor.
Give These Popular Pilsners a Try:
Victory Brewing Company: Prima Pils (Downingtown, PA) 5.3% ABV
Ayinger Privatbrauerei: Ayinger Bairisch Pils (Aying, Germany) 5.3% ABV
Oxbow Brewing Company: Luppolo (Newcastle, ME) 5% ABV
Live Oak Brewing Company: Pilz (Del Valle, TX) 4.7% ABV
---
8. Wheat Beers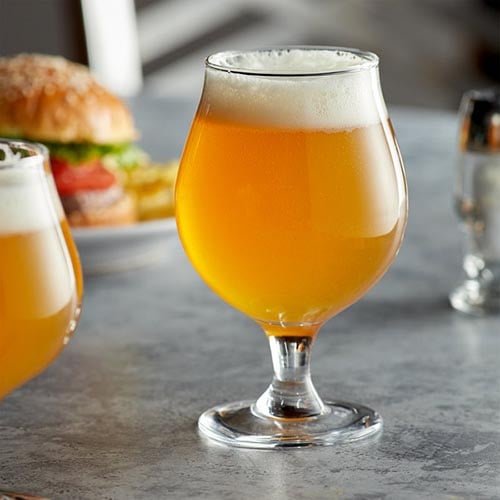 Wheat beers encompass a few different styles, including hefeweizen and Belgian witbier, but all feature low bitterness and the increased presence of fruity esters. Aromas like bananas, clove, or bubblegum are common. These beers are light, effervescent, and have a light, tart finish. The delicate flavor of wheat beers pairs well with summer foods like seafood, salads, and dishes flavored with citrus.
Witbier vs Hefeweizen
Witbier and hefeweizen are wheat beers that originated in different regions. Hefeweizen (pronounced hay-fuh-vite-sen) is from south Germany and features banana or bubblegum esters with low hop bitterness. Witbier is a Belgian-style beer known for being spiced with coriander and orange peel.
Give These Popular Wheat Beers a Try:
New Belgium: Summer Bliss (Fort Collins, CO) 5.5% ABV
Allagash Brewing Company: White (Portland, ME) 5.3% ABV
Troegs Brewing Company: DreamWeaver Wheat (Hershey, PA) 4.8% ABV
Spaten-Franziskaner-Brau: Franziskaner Premium Weissbier (Munchen, Germany) 5% ABV
---
9. Non Alcoholic Beers
The low alcohol trend has paved the way for non alcoholic beers (NA beers) to experience a rebirth. Craft brewers are experimenting with NA recipes across many beer styles, giving us low-ABV beers that don't compromise on flavor. You'll now find legitimate non alcoholic IPAs, lagers, and even stouts that taste as good as the real thing. Just like alcohol-free mocktails, the low alcohol content of NA beers makes them a great option for your summer beer list.
Do Non Alcoholic Beers Have Alcohol?
To be labeled as non alcoholic or alcohol-free, a beer must contain less than 0.5% alcohol. There are some NA beers, like Heineken 0.0, that contain zero alcohol.
Give These Popular NA Beers a Try:
Lagunitas Brewing Company: IPNA (Petaluma, CA) 0.5% ABV
Golden Road Brewing Company: Mango Cart (Los Angeles, CA) 0.5% ABV
Athletic Brewing Company: Free Wave (Stratford, CT) 0.4% ABV
Samuel Adams: Just the Haze (Jamaica Plain, MA) 0.5% ABV
With such a wide selection of beer styles to choose from, your summer tap list will be filled with drinkable, thirst-quenching beers that will keep your customers cool and refreshed. Try serving these crisp, sessionable beers at outdoor weddings, barbecues, and picnics.

Posted in:
Foodservice Trends
|
Seasonal
|
Bars & Breweries
| By Michale Ferguson