WebstaurantStore / Food Service Resources / Blog
Best Summer Beers 2020
Your customers' favorite breweries are beginning to reopen and it's time to stock your bar with summer beers perfect for enjoying on your outdoor patio. Preferences in beer styles start to lean towards lighter, crisper beers with lower alcohol content with the return of warm weather, alfresco dining, and outdoor gatherings.
An industry term used to describe the perfect summertime beer is crushable, which means that a beer is easy to drink, and the alcohol percentage (ABV) is low enough that you don't have to feel bad for having seconds or thirds. Most of all, the ideal summer beer should be well-balanced and thirst-quenching. We've made a list of some of the best summer beers to serve at beer festivals, outdoor weddings, and barbecues this season:
1. Shandies or Radlers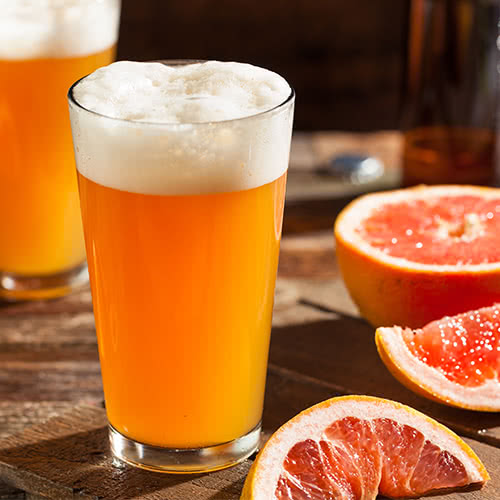 Both of these beer cocktails are made by blending a blonde lager with either juice or soda. The result is a citrusy, flavored beer with a low alcohol content. Ginger beer, ginger ale, lemon-lime soda, lemonade, or grapefruit juice can all be used to create a refreshing, sessionable beverage that's easy to drink on a hot summer's day.
Give These a Try:
Stiegl Radler (Salzburg, Austria) 2.5% ABV
Great Divide Brewing Company Roadie Grapefruit Radler (Denver, CO) 4.2% ABV
Leinenkugel Summer Shandy (Chippewa Falls, WI) 4.2% ABV
Susquehanna Brewing Company Shady Spot Lemon Shandy (Pittston, PA) 4.2% ABV
2. Saisons
The first saisons were brewed in Belgium during the winter months, which was a common practice to prevent spoilage before refrigeration was available. When the seasons changed, the beer came out of storage and was served to farmhands to quench their thirst as they worked under the summer sun. This style of beer has a lot of variation, but the key characteristics are that it is highly carbonated and often fruity or spicy.
Give These a Try:
Ommegang Brewery Hennepin (Cooperstown, NY) 7.7% ABV
Side Project Brewing Saison Du Fermier (Maplewood, MO) 7% ABV
Sly Fox Brewing Company Grisette (Phoenixville, PA) 5.6% ABV
Hill Farmstead Brewery Juicy (Greensboro Bend, VT) 7.4% ABV
3. Gose Beers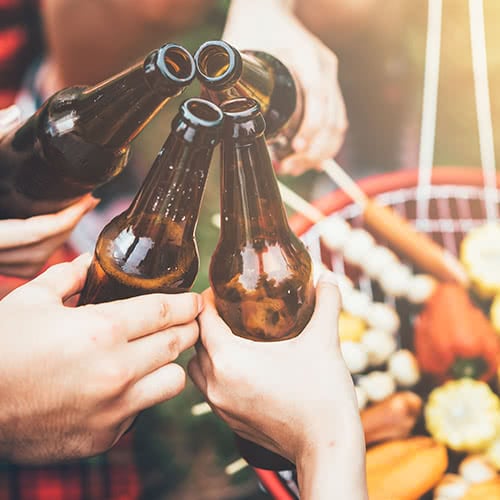 Gose, pronounced goes-uh, is a German sour wheat beer with added salt and coriander. These beers are tart, crisp, and often have notes of lemon or grapefruit. The saltiness of a balanced Gose shouldn't overpower the flavor but instead complement the sour quality of the beer. Low ABV and the minimal presence of hops make sour beers highly drinkable and refreshing.
Give These a Try:
Westbrook Brewing Company Margarita Gose (Mount Pleasant, SC) 4.5% ABV
Modern Times Beer Fruitlands (San Diego, CA) 4.8% ABV
Victory Brewing Company Kirsch Gose (Downingtown, PA) 4.7% ABV
Union Craft Brewing Company Old Pro (Baltimore, MD) 4.2% ABV
New England IPAs
The New England IPA (NEIPA) was born out of Vermont and just recently recognized as an official beer style in the last few years. Under this classification, you'll find beers called Juicy IPAs or Hazy IPAs. These unfiltered beers feature a cloudy appearance, fruity hop flavors, and very little bitterness. Big, tropical aromatics and a smooth mouthfeel make these beers a perfect summertime brew.
Give These a Try:
Nepenthe Brewing Company Space Jellyfish (Baltimore, MD) 7.1% ABV
Victory Brewing Company Cloudwalker (Downingtown, PA) 6.8% ABV
The Alchemist Beer Crusher (Stowe, VT) 8% ABV
Sierra Nevada Brewing Company Hazy Little Thing (Chico, CA) 6.7% ABV
5. Kolsch Beers
Kolsch-style beers are brewed with a unique process that was developed in Cologne, Germany in the 17th century. The brewing style combines elements of ales and lagers, which allowed the Kolsch beer to be stored without becoming sour. Traditionally, the proper beer glass for serving Kolsch beer is the stange glass, a narrow, straight-sided glass. This glass encourages the drinker to enjoy the highly carbonated beer quickly and in small servings. The mouthfeel of Kolsch is light and crisp, while the flavor balances sweetness with notes of bitterness.
Give These a Try:
Trillium Brewing Company Sprang (Boston, MA) 4.9% ABV
Exhibit 'A' Brewing Company Goody Two Shoes (Framingham, MA) 4.5% ABV
Rogue Ales Honey Kolsch (Newport, OR) 5% ABV
Double Mountain Brewery Kolsch (Hood River, OR) 5.2% ABV
6. Session IPAs
The history of session beers goes back to England during WW1, when factory workers were allotted two drinking sessions per workday. While it's not recommended to drink on the job today, the session beer was created out of a necessity for a beer with low alcohol content that wouldn't impede the ability to operate machinery. The current criteria for a session beer is an ABV of around 3 to 4 percent, though some will reach closer to 5 percent. Session IPAs combine the fruity, hoppy flavor of an India pale ale with a low ABV that makes them a perfect choice for a drinking session at a summer barbecue.
Give These a Try:
Founders Brewing Company All Day IPA (Grand Rapids, MI) 4.7% ABV
Green Flash Brewing Company Hop Odyssey: Citra Session IPA (San Diego, CA) 4.5% ABV
Ballast Point Brewing Company Mango Even Keel (San Diego, CA) 3.8% ABV
Fat Head's Brewery & Saloon Sunshine Daydream Session IPA (North Olmstead, OH) 4.9% ABV
7. Pilsners
Pilsners are the quintessential summer beer. In addition to being light and refreshing, they also pair well with a lot of summer foods. High carbonation, a delicate aroma, and a dry finish make pilsners one of the most popular beer styles in the world. On a humid day, a crisp pilsner is the perfect beer to keep you cool.
Give These a Try:
Victory Brewing Company Prima Pils (Downingtown, PA) 5.3% ABV
Tröegs Brewing Company Sunshine Pils (Hershey, PA) 4.5% ABV
Two Roads Brewing Company Ol' Factory Pils (Stratford, CT) 5% ABV
Oskar Blues Brewery Mama's Little Yella Pils (Lyons, CO) 4.7% ABV
8. Wheat Beers
Wheat beers encompass a few different styles, including Hefeweizen and Belgian witbier, but all feature low bitterness and the increased presence of fruity esters. Aromas like bananas, clove, or bubblegum are common. These beers are light, effervescent, and have a light, tart finish. The delicate flavor of wheat beers pairs well with summer foods like seafood, salads, and dishes flavored with citrus.
Give These a Try:
Modern Times Beer Fortunate Islands (San Diego, CA) 5% ABV
Creature Comforts Brewing Company Athena Berliner Weisse (Athens, GA) 4.5% ABV
Tröegs Brewing Company DreamWeaver Wheat (Hershey, PA) 4.8% ABV
Bell's Brewery Oberon Ale (Kalamazoo, MI) 5.8% ABV
With such a wide selection of beer styles to choose from, your summer tap list will be filled with drinkable, thirst-quenching beers that will keep your customers cool and refreshed. Try serving these crisp, sessionable beers at outdoor weddings, barbecues, and picnics.

Posted in:
Bars & Breweries
| By Michale Ferguson