Corkage Fee Guide
While it can be worthwhile to try wine from a restaurant's tailored wine list, there may be occasions when bringing your own bottle will add the perfect touch to your meal. You might be looking to pair a particular wine with a restaurant's dining selections, or you may want to bring a bottle from your wine cellar to celebrate an anniversary. Depending on the restaurant, however, corkage fees and policies may vary. We've created a complete corking fee guide so you can follow proper corkage etiquette and best practices to ensure an enjoyable experience.
What Is a Corkage Fee?
A corkage fee is the price charged to guests who choose to bring their own bottle of wine to a restaurant. Corkage fees usually exist at restaurants that already serve wine. The practice of allowing guests to bring their own wine is considered a courtesy to guests. Occasionally, a bar or restaurant might charge a corking fee for providing their own wine as a means of raising their bottom line or covering their wine service costs.
If bringing in your own bottle, some restaurants waive the cork fee if you also purchase a bottle of their wine.
What Does a Corkage Fee Include?
A corkage fee includes the labor and cost involved in wine accommodations. The fee may cover some or all of the following amenities and efforts supplied by the bar or restaurant:
Revenue lost from not purchasing the restaurant's wine
The restaurant's investment in their own wine service program, including efforts related to curating a wine list, keeping a sommelier on staff, and training staff on their wine selection
Accommodations relating to the wine (wine buckets, corking wine, or disposing of bottles)
Corkage Fee Costs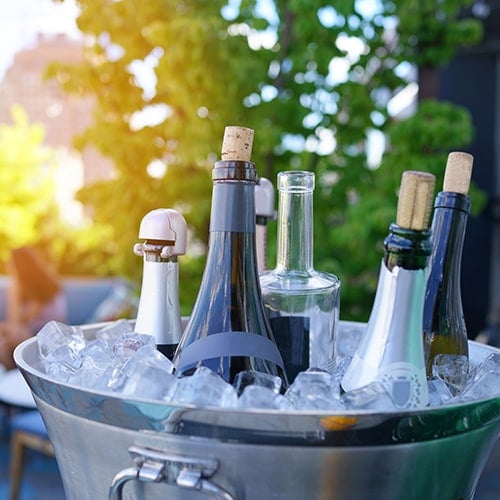 Below we provide information about average corkage fee costs and the reasoning behind differing fees.
What is the Average Corkage Fee?
The average corkage fee ranges from $10 to $40 per bottle but may be as high as $100 or more. The price varies depending on the restaurant and may occasionally change according to the type of wine brought in. Some restaurants charge a corkage fee that matches the cost of their least expensive wine.
Are Corkage Fees Per Bottle?
In most restaurants, corkage fees are per bottle. Corkage fees might also be per table or per person (known as per glass or per "stem").
Corkage Fee Cost Depends on the Restaurant
A restaurant's corkage fee is usually commensurate with the level of service provided by the restaurant. So, a steep fee likely associates with a high-end restaurant that has elegant glassware, a wine list, and sommeliers. A lower fee, on the other hand, associates with less involved alcohol-related amenities and service. Guests might open their own wine, pour their own glasses, and use less-sophisticated glassware.
Corkage Fee Etiquette
Allowing guests to bring their own bottle of wine is considered a courtesy. As such, there is proper etiquette to follow when bringing your own bottle of wine. Below are some tips to follow if you want to bring a bottle to a restaurant.
Understand the restaurant's policy (if they allow it or not) along with their corkage fee. If you are unsure about anything, it is best practice to call ahead if the information is not clear on a website.
Make sure there are food options that will go with your wine.
Bring the bottle in a carrier or on its own, not in a paper sack.
The purpose of bringing your own bottle should not be to save money but to enjoy a unique bottle that is not provided by the restaurant.
To get the best value out of a corkage fee, bring in a bottle valued more than the corkage fee.
Offer the server and sommelier a taste as a sign of respect and camaraderie.
Consider buying a bottle from the restaurant in addition to the one you've brought.
Tip on the corkage fee. Extended information about corkage fee tips is below.
Do You Tip on a Corkage Fee?
It is custom to tip on a corkage fee. In most instances, the corkage fee does not go to the server as a service charge but to the restaurant itself. Guests are expected to tip on the corkage fee in the same way they might for any other drink or food item.
Servers Still Cater to the Wine Needs of BYO Guests
Any extra effort the server goes through to accommodate you with regard to your wine is not reflected in the corkage fee, so tipping on your corkage fee is expected. The server will typically open the wine, pour it, refill glasses, store your wine at the proper temperature, and provide the appropriate stemware. It's common to tip on the corkage fee in accordance with the level of service provided by your server.
How Much Do You Tip on a Corkage Fee?
If the service is satisfactory, it is recommended to tip the usual 15-20% on a corkage fee as you would any other food or drink item. Because the fee itself will usually be lower or higher depending on the service of the restaurant, your tip will fluctuate accordingly. For example, a $10 corkage fee would only add an extra $1-2 to your tip, whereas a $40 corkage fee yields an extra $8 to your overall tip, which will typically be appropriate if it is a high-end restaurant.
Do All Restaurants Have a Corkage Fee?
Not all restaurants have corkage fees. Restaurants that do allow you to bring in your own wine, even when offering their own alcohol, usually have corkage fees if you choose to bring in your own bottle of wine. On the other hand, bring-your-own-wine (BYOW) or bring-your-own-bottle (BYOB) restaurants typically have a low or nonexistent corkage fee.
If you want to bring your own bottle to a restaurant, always check with the restaurant to understand their policy.
Do BYO Restaurants Have Corkage Fees?
Many BYO restaurants don't have corkage fees because they do not serve alcohol. Since they do not have cocktails, wine, or beer lists, the costs and services (sophisticated wine glassware, sommeliers, wine list) associated with alcohol-serving restaurants are less likely to be present. Therefore, BYO's do not need to make up for lost profit. In addition, BYO restaurants usually do not have a liquor license, and any cost associated with alcohol may be considered an unlawful charge by the restaurant for the alcohol. However, some BYO restaurants do have a corkage fee.
Whether you want to bring in your favorite wine to a restaurant or you're looking to finally open a certain bottle from your wine cellar, understanding proper corkage etiquette and the corkage policy of the restaurant will ensure a smooth dining experience.

Posted in:
Foodservice Trends
|
Bars & Breweries
| By Hannah Herrera