Pros and Cons of Dog-Friendly Restaurants
Dogs are man's best friend, but for years, people had to leave their furry friends at home when they went out to eat. Nowadays, though, this trend is changing and more foodservice operations are allowing dogs in their outdoor spaces. While this trend is growing, it's not accepted everywhere, and not every patron will want to eat at dog-friendly restaurants. So, should your business allow dogs on your patio? We'll break down the pros and cons of allowing dogs in your business as well as provide some helpful tips for making your dog-friendly space profitable if you choose to let Fido come for lunch.
Health Department Guidelines for Dog-Friendly Restaurants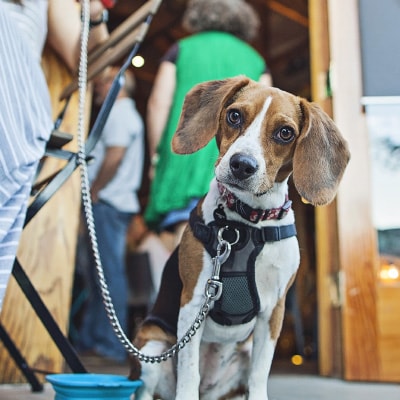 When it comes to allowing dogs on restaurant and bar patios, there aren't a lot of federal laws, and most of the laws are on the city and municipal level. Additionally, these laws can vary greatly depending on the location, so before you start making plans to let dogs in your establishment, check with your local health department first and check what your local laws allow.
Pros and Cons of Allowing Dogs in Restaurants
Deciding whether or not to allow dogs in your establishment's outdoor spaces is a big decision, and it can have a large effect on your business and customer base, so you should carefully consider the pros and cons of each option. Here are some of the pros and cons of allowing dogs on your restaurant's patio:
Pros of Dog-Friendly Patios
Allowing dogs in your outdoor space can be an excellent way to bring in new customers and create a fun and energetic vibe in your establishment. Here are some advantages to allowing dogs in your business:
Younger generations want to bring their dogs with them. The millennial market is a major influence in the foodservice industry. Studies have also shown that dog ownership is growing among younger generations and that these dog owners want to bring their dogs out with them. By allowing dogs on your patio, you can appeal to this market and help bring in more customers.
Patios with dogs are a big draw to customers walking by your establishment. Many foodservice establishments in cities rely on foot traffic to bring in new business, and if your restaurant patio has dogs, it can convince passersby with their own dogs to stop in and make an order.
Dog-friendly patios can boost your sales. In addition to foot traffic, you can advertise your dog-friendly space online and on specific apps to bring in more customers and boost sales. Additionally, some dog-friendly establishments offer dog menus, which is a great way to offer food items to hungry pups while also making your outdoor space profitable.
Cons of Dog-Friendly Patios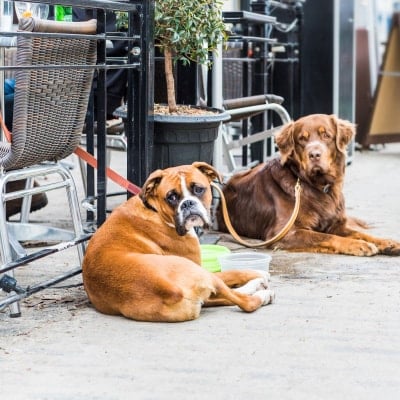 While there are advantages to allowing dogs in your business, there are also a fair share of disadvantages. Here are some cons to creating a dog-friendly space at your restaurant:
Dogs can be disruptive to your business. Some dogs, especially puppies and younger dogs, can be rambunctious by barking or knocking over tables and chairs unintentionally. While most dog owners are forgiving of this behavior, it can be a turn off for non-dog owners visiting or thinking about visiting your business.
Inviting dogs to your business can turn away customers who are allergic or don't like dogs. While many patrons like dogs, not everyone likes them when they're eating, especially if they're allergic to them.
Your employees will need to police the dogs and owners. Some barking and messes are to be expected when allowing dogs in your outdoor space, but there is a limit. Your wait staff should be prepared to ask customers with misbehaving dogs to leave, which can possibly lead to some awkward situations and bad reviews on Yelp.
Messes are bound to happen. While dog owners should be aware of their dogs and their needs, if you allow dogs on your patio, accidents are bound to happen. So, if your patio is made of expensive flooring or furniture that is prone to stains, allowing dogs is probably not a good idea.
How to Make the Most of Your Dog-Friendly Space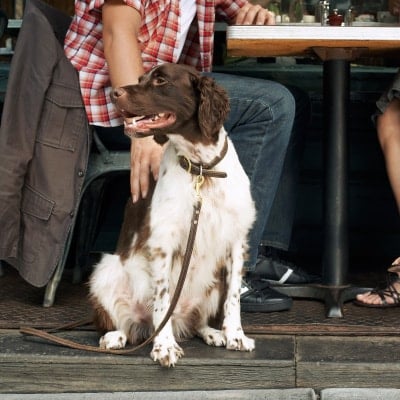 If you've decided to allow dogs into your business, there are a few things that you can do to boost sales and ensure that your decision makes your business money. Here is a list of four tactics that your business can implement to make your dog-friendly space profitable.
List your restaurant on dog-friendly apps. There are a number of apps that dog owners use to search for dog-friendly restaurants, cafes, and hotels, so you should make sure that your business is listed so customers can find you.
Create a food menu for the dogs. After watching their owners eat, the dogs are sure to be hungry. By creating a dog menu, you can feed the dogs and also boost your sales. Some popular dog menu items might be hamburger patties, meatballs, or bacon.
Provide drinking water. Offer your canine guests a complementary drink! Bring out a dog bowl filled with cool, drinking water for all pups on your patio. Your human guests will appreciate the gesture and their companions will stay hydrated and comfortable, especially on hot days.
Hold regular dog-themed events and advertise them on your social media accounts. If you're on the fence about allowing dogs in your establishment, dog-themed events may be the perfect middle ground. For example, you could have Doggie Thursdays, and allow customers to bring in their dogs only on Thursdays. This is a great way to bring in customers on a traditionally slow business day and boost your sales.
While we can all agree that every dog is a good boy or girl in their own special way, whether or not our furry friends should be allowed on restaurant patios is another discussion entirely. There are pros and cons to allowing dogs in your outdoor space, and while it can bring in customers and boost your sales, it can also drive some customers away. So, make sure to carefully consider all the options before making a decision.

Posted in:
Advertising & Marketing
|
Management & Operation
|
By Richard Traylor
The information provided on this website does not, and is not intended to, constitute legal advice. Please refer to our
Content Policy
for more details.