Turkey Fryer Oil FAQs
Preparing a turkey the traditional way in an oven requires careful planning, hours of roasting and basting, and constant attention. As a result, cooking a turkey can turn your Thanksgiving from a fun holiday with the family to a stress-filled nightmare. Rather than sitting in front of the oven all day, many adventurous cooks are choosing to deep fry whole turkeys. Not just for Thanksgiving, fried turkey is also a hit at outdoor events, picnics, and barbecues.
The process of deep frying a turkey is relatively simple, but choosing the best oil for deep fried turkey and using the correct amount of oil is very important. If you're considering using a fryer to deep fry your turkey this year, check out our tips below to get started.
Click below for answers to frequently asked questions about turkey fryer oil:
Which Oil Should You Use to Fry Turkey?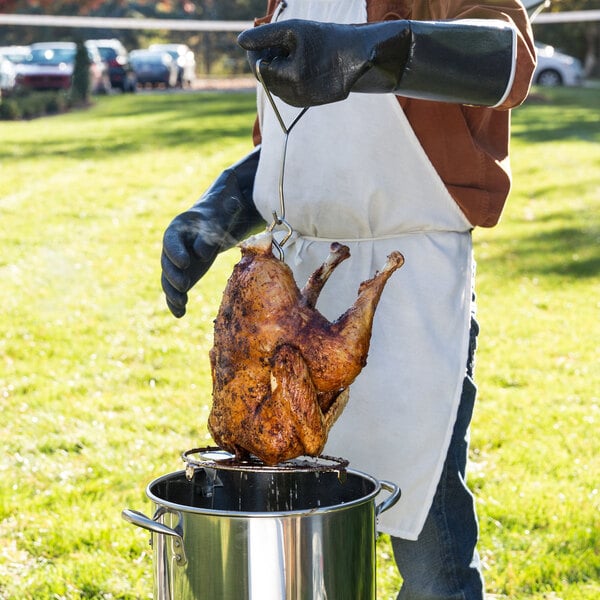 Peanut oil is the best oil for deep frying turkey because its high flash point makes it less likely to catch on fire. The best oil for fried turkey should also be low in saturated fat because the turkey will absorb a small amount of oil as it cooks.
Because peanut oil has a high smoke point, it can be reused multiple times before disposal, which is ideal if you're preparing multiple turkeys for a Thanksgiving event. Best of all, peanut oil is cholesterol-free.
Which Peanut Oil Should You Purchase?
Because peanut oil is expensive compared to some other types of oil, make sure you shop around for the best price. Purchasing peanut oil for frying turkeys in bulk is a good option because any extra oil can be stored for up to six months in a cool, dark place.
Can I Use Corn and Canola Oil to Deep Fry a Turkey?
When deep frying a turkey, you can use any cooking oil that has a smoke point above 425 degrees Fahrenheit. Corn oil works well because it doesn't smoke until 440 degrees Fahrenheit. However, canola oil (also known as vegetable oil) isn't a good choice because it smokes at 400 degrees Fahrenheit. Consider using avocado oil, coconut oil, soybean oil, and, of course, peanut oil when deep frying a turkey, because they'll have no trouble taking the heat.
How Much Oil Does a Turkey Fryer Take?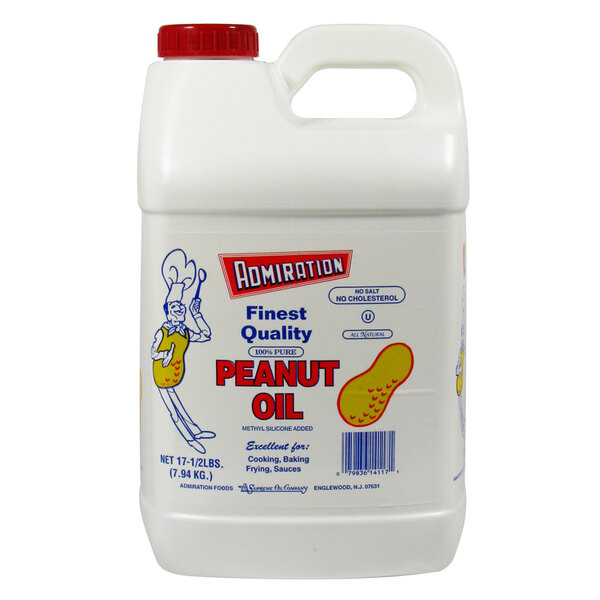 The amount of oil you'll need depends on the size of your pot and the size of your turkey. The turkey fryer pot included in most turkey fryer kits will have a max fill line, so you can use the line to determine how much oil to add. You'll need enough oil to cover your entire turkey, but not so much that it spills over. A general guideline is to use 3 gallons of oil for a 30 qt. pot and 3 1/3 gallons of oil for a 32 qt. pot.
How Much Oil to Fry a Turkey?
Another method to gauge the amount of peanut oil you'll need to fry your turkey is to place the uncooked turkey in the turkey fryer pot and add water until it covers the bird. Then pull out the turkey and take note of the water line. This level indicates how much oil you'll need. Keep in mind that turkey fryers are different than traditional deep fryers, and you should always follow the instructions provided with your fryer pot or kit.
Check out this list of turkey weights and oil quantities:
9 Pound Turkey - Use 3 to 4 gallons of oil and cook for 32 minutes.
13 Pound Turkey - Use 4 to 5 gallons of oil and cook for 44 minutes.
14 Pound Turkey - Use 5 gallons of oil and cook for 47 minutes.
15 Pound Turkey - Use 5 gallons of oil and cook for 50 minutes.
20 Pound Turkey* - Use 5 to 6 gallons of oil and cook for 3 minutes per pound.
22 Pound Turkey* - Use 5 to 6 gallons of oil and cook for 3 minutes per pound.
*For large birds over 15 pounds, separate the white and dark meat before frying.
How Big of a Turkey Can You Deep Fry?
You can fry a turkey as big as 22 pounds, but you may have to portion it into pieces. Stick with a turkey that's between 9 and 14 pounds so you can keep the turkey intact. Presenting the whole bird on Thanksgiving Day makes more of a visual impact than a turkey that's already been portioned. Also, the larger the turkey, the greater chance that it will dry out in the process.
How Long Does It Take to Deep Fry a Turkey?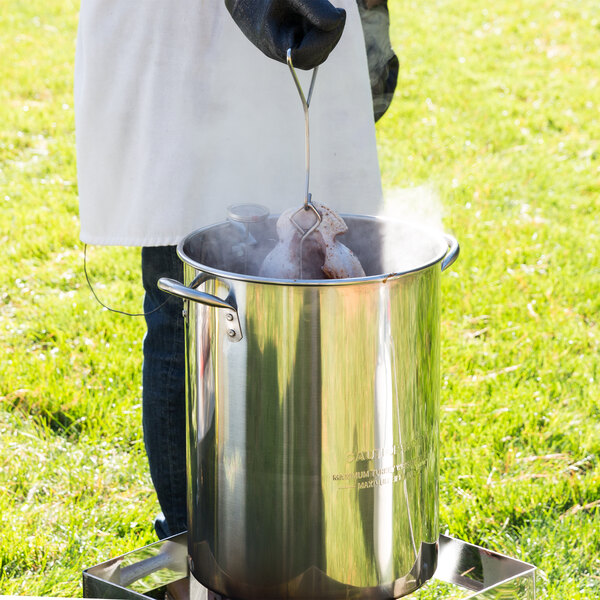 In general, cooking times for deep frying a turkey are calculated at a rate of three minutes per pound plus five minutes. For example, if you're deep frying a 15 lb. turkey, you should cook it for 50 minutes.
Keep in mind that larger turkeys take longer to cook, which can result in an exterior that's burned and an interior that's still undercooked. So, we recommend that if you're frying a large turkey, you cut it into pieces and fry them separately.
Can You Reuse Peanut Oil?
Yes, you can reuse peanut oil as long as it's done properly. Allow the oil to cool completely before removing it from the pot, then put it back into its original container(s) for storage. You should cover the oil during storage and keep it in a cool, dark area. If you won't be using it within a month or so, experts recommend storing it in your refrigerator or freezer.
How Many Times Can You Reuse Peanut Oil?
When cared for and stored properly, you can reuse peanut oil three to five times within six months. Keep in mind that you'll probably need to add fresh oil each time you deep fry a turkey to bring the oil level up to the amount needed for frying. Reusing the same peanut oil several times can also help you impart a deeper, richer flavor to your delicious turkeys because the flavors can build over time.
What Is an Oil Less Turkey Fryer?
An oil less turkey fryer relies on infrared heat to produce results that are similar to frying. The process takes much less time than roasting and yields a turkey with tender meat and crispy, brown skin. A benefit of using an oil less turkey fryer is that you don't have to deal with hot oil, which can be messy and dangerous if not handled properly. Frying turkey without oil is also considered to be a healthier alternative to deep frying.
How Does an Oil Less Turkey Fryer Work?
Oil less turkey fryers are designed for outdoor use and powered by a liquid propane tank. Instead of a large pot, the oil less fryer uses a cylindrical cooking chamber.
How to Cook Turkey in an Oil Less Fryer
Place the turkey inside the included cooking basket and lower it into the cooking chamber. When the unit is turned on, high-intensity infrared heat fills the chamber and quickly cooks the turkey, locking in juices and producing crispy skin.
Oil Less Turkey Fryer Cook Times
You can expect a cook time of around 10 to 15 minutes per pound when using an oil less turkey fryer. This is much quicker than roasting, but not quite as fast as using a traditional fryer kit. With any type of cooking, it's important to check the internal temperature of your turkey. Make sure the bird is cooked to a minimum of 165 degrees Fahrenheit in the thickest part of the breast for food safety.
---
Deep frying your turkey is a great way to put an innovative spin on a classic recipe. While the process may be simpler than cooking your bird in the oven, factors such as the type of oil you use, the cooking time, and the amount of oil can affect results, so be sure to read through this guide carefully.

Posted in:
Seasonal
|
Kitchen & Cooking Tips
| By Richard Traylor