What is Bottle Service?
Bottle service is a sales technique used in bars and nightclubs in which guests purchase a bottle of liquor and are also provided with reserved seating, a bottle server, and a variety of drink mixers. Although the transaction is called "bottle" service, the main draw is actually the reserved seating and the appearance of VIP status. Keeping up with bar trends like bottle service ensures that your business stays current and that you are operating at the same level as your competition.
How to Start Bottle Service
Offering bottle service at your lounge or nightclub is an easy way to increase your profits. Guests are willing to pay a large fee in order to secure a seating area, which can be hard to come by in a crowded club. You'll require two things to get bottle service started, seating areas and a bottle service staff.
Seating Areas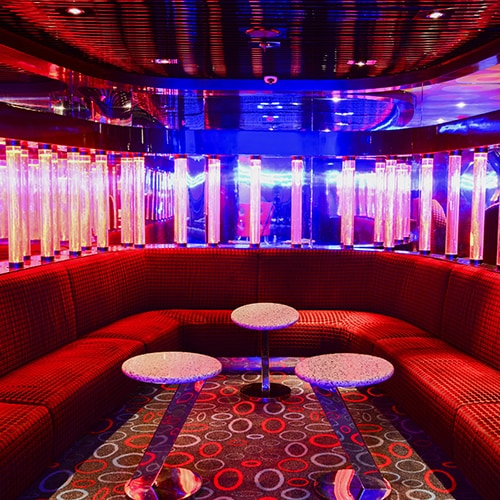 The more inviting your seating areas are, the more likely you are to sell your bottle service. The idea is to create a space where guests feel like they are receiving preferred treatment. Check out some of these techniques to make your space attractive yet private.
Luxurious upholstery - Use different upholstery in your private seating area than the rest of your club. Try bold, bright colors that attract attention and fabrics that are luxurious to touch.
Private cabanas - Cabanas are the perfect way to create an illusion of privacy at a crowded pool bar.
Ropes and stanchions - Sectioning off your space with ropes is an easy way to elevate its appeal and keep out nonpaying guests. Not only functional, ropes are iconic for representing exclusivity.
Install a dais platform - Raising the floor level with a dais gives your bottle service guests a great vantage point for checking out the action in the club. It also gives the rest of the club-goers a great view of your reserved seating so they may decide to reserve a table on their next visit.
Bottle Servers
Instead of pulling servers from your regular bar staff, take the time to train servers specifically for bottle service. Their primary task is to provide bottles of liquor, along with glasses and mixers, but they should also have a knack for hospitality. Experienced bottle servers know how to upsell throughout the evening and can increase your profits even more. It's also important to train your bottle servers to recognize the signs of intoxication so they can serve your guests responsibly.
Marketing for Bottle Service
Now that you have your bottle service in place, how do you get people to buy it? It's important to market your bottle service so that your guests know it's available. Highlighting your services on your website and flyers is essential, but there are also some other tricks to getting your bottle service noticed.
Bottle Service Packages
You can attract attention by offering special bottle service packages for large groups like bachelor parties, bachelorette parties, and birthdays. Guests like to splurge when they celebrate these events so it's a perfect time to introduce your bottle service.
Special Events
Make sure to mention your bottle service when you promote DJ nights or band nights. Guests are more likely to purchase the service on these nights so they have a reserved seat. By placing your seating area closer to the stage or DJ booth, you can make the service even more enticing.
Offer Comps
Show appreciation for your regular bottle service guests by offering comps, or free bottles, when they purchase a set number of bottles. The cost to you is outweighed by the high markup on each bottle and the gesture helps to build customer loyalty.
VIP Treatment
Treat your bottle service guests with a higher level of hospitality than your regular guests. Allow them to skip the line, escort them to their table, and make them feel important. Anytime a guest in your club purchases bottle service, ring a bell or have the DJ play a certain song to bring attention to the transaction.
Benefits of Bottle Service
For your customers, bottle service provides a reserved space where they can enjoy your nightclub without needing to fight the crowds or stand in line at the bar. But for club owners, there are other benefits.
High Markup
Depending on the location of your business, bottle service prices can be anywhere from $300 for a small club and up to $7500 for a well-known club in a big city. You set the standard price for each bottle of liquor and you can also require that a minimum number of bottles are purchased. The markup for each bottle is extremely high, over a hundred times the cost in some cases.
Guests Mix Their Own Drinks
Bottle service has an added bonus of freeing up your bartenders and cocktail servers because guests mix their own drinks. The bottle server provides the liquor, glassware, and mixers, but the guests serve themselves.
Bottle Service Considerations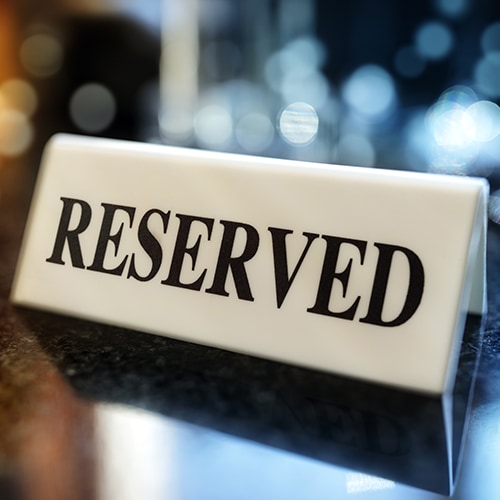 You can get bottle service started relatively quickly and easily, but there are a few things to take into account that will make the process more successful.
Reservations
Bottle service is typically booked in advance through a reservation management system. Installing a reservation system ensures that your reservations are organized and never double booked.
Pricing
Pricing varies greatly depending on your location and the popularity of your club. To set your pricing, look at the bottle service offered by other clubs in your area so that you can stay competitive. You can list your pricing on your website, or you can choose to reveal pricing when your customers call to book the service so that you can make adjustments based on availability and popular dates.
Security Measures
Because bottle service guests are serving themselves, it's a smart choice to install security personnel to look for signs of intoxication and put a stop to any rowdy behavior. Security has the added benefit of making your bottle service guests feel safe and protected.
Providing bottle service has a relatively low cost for you and an extremely high markup, making it a great way to increase your sales. In addition to higher profits, bottle service can help make your club a more popular destination and help you to stay competitive with other clubs in your area.

Posted in:
Bars & Breweries
|
By Michale LeRoy
The information provided on this website does not, and is not intended to, constitute legal advice. Please refer to our
Content Policy
for more details.