Host a Festivus Celebration with these Seinfeld-Inspired Recipes
If you're looking for an escape from the commercialization of Christmas, you're in good company! In 1997, Seinfeld's own Frank Costanza gave audiences a "Festivus for the rest of us", an all-inclusive fictional holiday with its own traditions, decorations, and menu. It's become a holiday tradition for many fans, with show watchers across the country celebrating with their own meals. If you want to throw a Festivus party but aren't sure what to serve, we've made a Festivus dinner menu below.
What Is Festivus?
Festivus is a fictional non-religious holiday that was introduced to the world by Seinfeld writer Dan O'Keefe. Its purpose is to celebrate the Christmas season without the traditional commercial pressures that often surround the holidays.
Although Seinfeld introduced Festivus to mainstream culture in a 1997 episode, its origin dates back much further. Festivus was actually invented in the mid-1960s by O'Keefe's father, Daniel. The elder O'Keefe invented the holiday to commemorate the third anniversary of his and his wife's first date. Years later, in 2005, their son gave the world a look into the history of this once-secret holiday when he published a book titled "The Real Festivus."
When Is Festivus?
According to the show, Festivus is traditionally observed on December 23rd. It marks the day many years before when Frank Costanza went to the store to buy a doll for his son George. There was only one doll left, which another man took before Frank could, resulting in a physical altercation. As Frank recalls the story, he states "As I rained blows upon him, I realized there had to be another way...Out of that, a new holiday was born. A Festivus for the rest of us!"
What Episode Is Festivus?
Festivus was introduced to Seinfeld fans in Season 9 Episode 10: "The Strike."
Festivus Traditions
As with any holiday, Festivus comes with its own set of annual traditions. Learn how to celebrate Festivus the right way by implementing these essential Festivus rules and traditions.
Festivus pole: It's important to decorate before you host Festivus dinner, but keep in mind that it's essential to keep things simple. An aluminum pole should be found (not bought) and displayed in place of a Christmas tree. Since Frank finds tinsel distracting, the pole should remain decoration-free.
Airing of grievances: The time for sitting around the table and giving thanks is long gone. To quote Frank Costanza, "I've got a lot of problems with you people. Now, you're going to hear about it." Once newcomers have been welcomed and sat at the table, start the dinner celebration not by exchanging greetings or thanks, but instead by unloading pent-up anger, stress, or annoyances you have surrounding your guests.
Festivus miracles: Whether you're being caught off guard by someone you're trying to avoid or having a miscommunication with your significant other, extraordinarily ordinary events should be hailed as a "Festivus miracle" by the host and guests alike.
Feats of strength: As the evening is winding down, it's time to move on to the final Festivus tradition. The host must choose a guest to partake in a "feats of strength" wrestling match. Festivus is officially over once the guest has successfully pinned down the head of the household.
---
Festivus Dinner
In the original Seinfeld Festivus episode, titled "The Strike", the only food served for dinner was a platter of meatloaf on a pile of lettuce. If you'd like to serve your guests a more complete meal this Festivus, try incorporating other classic Seinfeld foods into your Festivus menu this year.
1. "These Pretzels Are Making Me Thirsty"
While the rest of your food is being prepared, offer your guests a salty soft pretzel. In Season 3 Episode 11: "The Alternate Side", Kramer meets director Woody Allen and lands a speaking role in his upcoming movie. His line? "These pretzels are making me thirsty." While this may seem like something that anyone would say after eating overly salty food, the gang spends most of the episode helping Kramer figure out how he should deliver his line.
2. "No Soup for You!"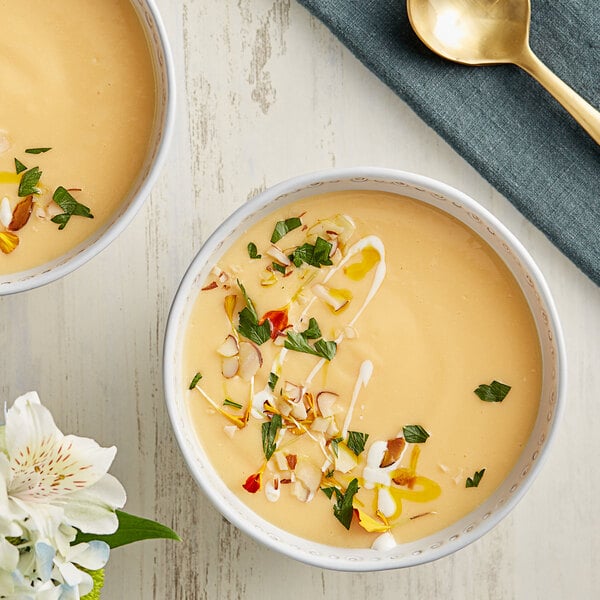 Offer guests your favorite pre-made soup inspired by Season 7 Episode 6: "Soup Nazi." In this episode, Jerry, George, and Elaine visit a new soup stand where the owner is known for his stormy temperament and strict ordering rules. If you're looking to keep it authentic, some of the Soup Nazi's most popular recipes include turkey chili, crab bisque, and mulligatawny.
However, if you want to keep your guests in the holiday spirit, you may want to forego the owner's most famous line — "No soup for you!"
3. "The Big Salad"
Pair your soup of choice with a big salad, inspired by Elaine's lunch request in Season 6 Episode 2: "The Big Salad". What is the big salad? Well, Jerry would tell you that it has "big lettuce, big carrots, [and] tomatoes like volleyballs." Unfortunately, it's never made clear what truly makes up a big salad. While volleyball-sized tomatoes may not be feasible, you can still serve guests a fresh salad topped with crisp in-season veggies and your favorite dressing.
4. "I'm So Keen-o on Beef-a-Reeno"
While the beef-a-reeno jingle only made a brief appearance in Season 7 Episode 11: "The Rye", it's been stuck in the heads of Seinfeld fans for years thanks to Kramer's comical scene. Viewers only catch a quick glimpse of this canned concoction as Kramer feeds it to a horse, but it can be assumed this delicacy consists of beef and pasta.
Stick to canned meat, or create your own version of beef-a-reeno to serve guests at your Festivus party.
5. "You Can't Beat a Babka"
On their way to a dinner party in Season 5 Episode 13: "The Dinner Party", Jerry and Elaine stop at a bakery to pick up a loaf of their famous chocolate babka. When they forget to get a number from the counter, the couple ahead of them who are headed to the same party buy the last babka. Elaine and Jerry have no choice but to get a cinnamon babka, which Elaine dubs the "lesser babka."
Finish off your Festivus dinner right with this sweet bread treat, to which you can add either chocolate or cinnamon.
---
While there are many food holidays throughout the year, few are enacted because of a television series. This December 23, queue up your favorite episodes of Seinfeld and settle in for a day of simple celebration, free from all the constraints of the commercialism of Christmas. Set up your pole, flex your feats of strength, and enjoy a fine Festivus dinner menu with your family and friends. Who knows, maybe two days later you can do it all again with a very merry Seinfeld Christmas!

Posted in:
Holidays
|
By Rachel Jenkins
The information provided on this website does not, and is not intended to, constitute legal advice. Please refer to our
Content Policy
for more details.