WebstaurantStore / Food Service Resources / Blog
Food Transparency in Restaurants
As a restaurant owner, you've probably dealt with the difficulties that come with trying to design a menu that meets your customers' different tastes and preferences. Further still, you have to accommodate for the ever-increasing list of special dietary restrictions that many Americans follow. More and more, customers want to know where their food came from, whether it's organic, how fresh it is, and how the livestock was treated. Making this information available is food transparency, and it is one of the biggest trends in the foodservice industry right now. The following post will walk you through the ins and outs of ingredient transparency, and give you some tips on how you can incorporate it in your restaurant.
What is Food Transparency?
Ingredient transparency is all about being open and honest with your customers about what is in the dishes you're serving. This could include very basic information, such as whether or not your cookies contain peanuts, or more detailed information, like the name of the farm where you source your beef from.
Five Guys Burgers and Fries provides an excellent example of ingredient transparency. They devote a section of their website to stating meat sourcing information and allergy warnings, along with a complete list of ingredients for all the products they serve. In stores, they also have a board that lets customers know where the french fry potatoes came from for that specific day. For added customer convenience, Five Guys even offers a handy checklist that allows diners to see whether the food they're ordering contains ingredients like MSG, high-fructose corn syrup, and wheat gluten.
Why is Food Transparency Important?
Unlike other trends, ingredient transparency is here to stay. In fact, by May 2017, chain restaurants with 20 or more locations will be legally required to offer calorie and ingredient information online and in person (if requested by the customer). This new law shows that consumers aren't going to stop caring about what's in their food any time soon. Even if you don't own a chain restaurant, the following reasons should be enough for you to consider being more transparent about the ingredients you're using.
Allergy Concerns
You never want customers to get sick from something you've prepared, so knowing exactly what's in the dishes you're serving is important. Even if you're not in a position to be able to label everything you're cooking with, consider marking the menu items that contain the top eight food allergens: milk, eggs, peanuts, tree nuts, soy, wheat, fish, and shellfish.
Dieting Concerns
Many customers who don't have allergies simply want to know what they're eating for dieting purposes. With the growing popularity of smartphones, diners on a diet expect to be able to visit a restaurant's website to determine what menu item is the healthiest. If you're lacking a nutrition facts section on your menu, you could be losing out on these customers.
It's Trendy
Not only is ingredient transparency helpful for customers, it also provides a trendy appeal. Chipotle Mexican Grill has made a name for itself by emphasizing the use of ethically sourced, organic, and non-GMO ingredients. As industry trendsetters like Chipotle continue to stress the importance of food transparency, customers will come to expect other restaurants to follow suit.
Example from Chipotle's online menu: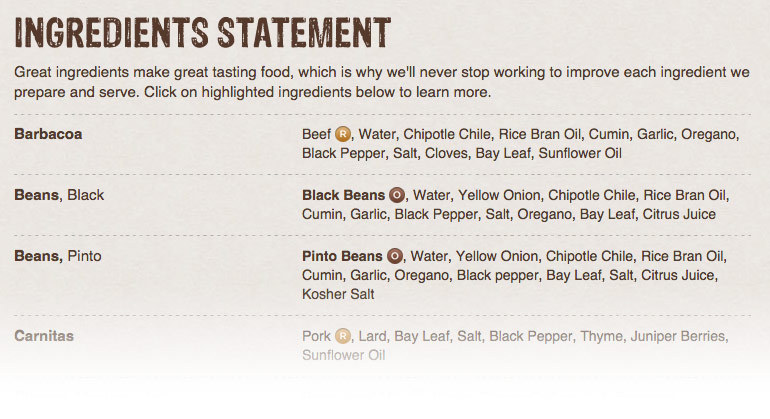 How Can You Incorporate Food Transparency into Your Business?
If you're looking to be more transparent about the ingredients you use but don't know where to start, we've put together a list of changes you can make, from small and simple switches to large-scale business shifts.
Open Up About Your Menu
A great way to get on board with ingredient transparency is by putting together a list of ingredients in your most popular dishes. Highlight any potential allergens, and if you have a website, post this information there. You should also keep a hard copy of this list in your restaurant, and let your staff know that it should be shared with customers upon request. If possible, you can also provide the nutritional information for your food in this same format.
If you source any of your ingredients locally or ethically, make this a focal point on your menu. You can also let customers know what changes you're making to become more transparent on social media. Chances are, if they like what they see, they'll pass the information along.
Change Your Business Model
If you're just opening a new business or are looking to completely overhaul your existing restaurant, you have the opportunity to make dramatic changes towards ingredient transparency. You could provide a complete nutritional breakdown of all your dishes, switch to locally sourced meat and produce, or change your marketing to brand your restaurant as food transparent.
All of these ideas can either be slowly introduced or incorporated all at once. If you can't make any of these changes immediately but want to become more transparent with your ingredients, try to think about how you could shift your business over time to incorporate them. From changing what you serve on your menu to switching suppliers, there are many ways to work towards this ultimate goal.
Adopt an Open Kitchen Concept
To make your restaurant more food transparent, you can also consider an open kitchen restaurant concept. If you're running a pre-established business, this would be a major construction project, but if you haven't opened your restaurant yet, this could be a great opportunity. Many customers want to feel connected with the food that they're eating, and this includes everything from knowing where it comes from to watching it be prepared. Open kitchens allow customers to see that you're taking the utmost care in the kitchen, and that is an important aspect of food transparency.
Whether you run a mom and pop pizza shop or a national chain, there is always something that can be done to increase transparency between your kitchen and your customers. As this trend continues to grow, diners will expect to know where their food comes from, what it's made of, and how it's being prepared, which is why ingredient transparency is so important.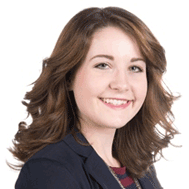 Posted in:
Foodservice Trends
|
Menu Tips
| By Sabrina Bomberger