Food & Ingredient Transparency in Restaurants
Consumers are spending more money eating out and less time in the aisles of their local grocery store. With this change in eating habits, Americans have shifted their focus from nutrition labels found on cans to food sourcing information and allergen alerts on menu items. And that's why consumers today expect and rely on food transparency in restaurants. More than just a trend, food transparency has become the new normal and is a crucial part of building up brand loyalty and keeping customers happy. Read below to learn why food transparency is important and how you incorporate this concept into your commercial kitchen.
What Is Food Transparency?
Food transparency refers to the practice of being open and honest with customers in terms of food sourcing, ingredient lists, nutrition facts, allergen concerns, and ecological impact.
The amount of information shared between restaurant owners and patrons can vary anywhere from displaying calorie counts on your website to offering up the diet and living conditions of the chicken being served in your entrees.
Why Is Food Transparency Important?
There are several reasons why food transparency is important in the food service industry. For one, chain restaurants with 20 or more locations are required by law to offer calorie and ingredient information online and in person (if requested by the customer). Here are a few more reasons why your commercial kitchen should consider adopting more food transparency practices.
Allergy Concerns
Millions of Americans suffer from food allergies, which makes allergy labelling a must on any menu. Make it easy for all customers to safely enjoy your food by clearly marking any dishes that may have one of the top eight most common food allergens. These include milk, eggs, peanuts, tree nuts, soy, wheat, fish, and shellfish.
Ingredient Accountability
Offering a transparent menu gives your restaurant a reason to strive for fresher, more wholesome ingredients you can be proud to display. It keeps chefs and restaurateurs honest about what is being used in their dishes, which can lead to greater customer loyalty and create competition amongst local eateries. A lack of information and transparency in restaurants can create distrust or confusion amongst customers, which could keep them from returning to your restaurant in the future.
Healthier Options
Similarly, displaying nutrition facts or calorie counts on every menu item or on your website can be an effective way to challenge your chefs and excite consumers. Use this as an opportunity to discover healthier alternatives to classic dishes or incorporate heart-healthy ingredients into menu favorites. Overall, customers will typically order lower-calorie foods when calorie information is displayed on the menu.
Food Transparency in Big Chain Restaurants
Five Guys Burgers and Fries offers an excellent example of ingredient transparency. They devote a section of their website to meat sourcing information and allergy warnings, along with a complete list of ingredients for all the products they serve.
In every store, Five Guys even displays a board that lets customers know where the potatoes used to make their french fries came from that day. For added customer convenience, Five Guys even offers a handy checklist that allows diners to see whether the food they're ordering contains ingredients like MSG, high-fructose corn syrup, and wheat gluten.
Food Transparency on Chipotle's Menu
While Five Guys offers an excellent example of food transparency, they're not the only big chain quick service restaurant to do so. Chipotle Mexican Grill has made a name for itself by emphasizing the use of ethically sourced, organic, and non-GMO ingredients. As industry trendsetters like Chipotle continue to stress the importance of food transparency, customers will come to expect other restaurants to follow suit.
Here's an example from Chipotle's online menu. The menu item is listed on the left, while a list of ingredients used to create that dish is clearly marked on the right: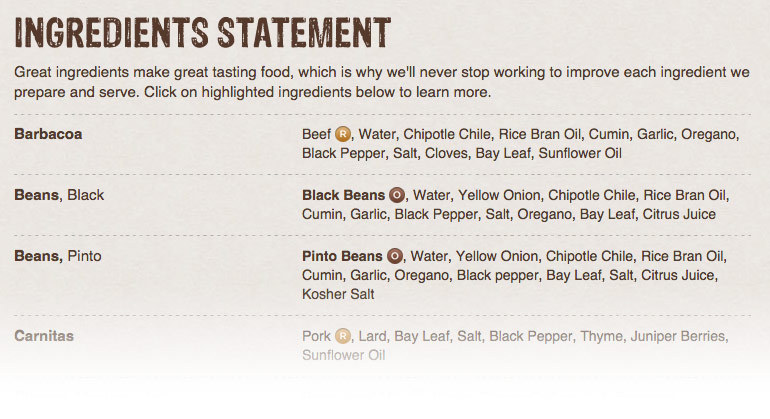 Incorporating Food Transparency into Your Restaurant
If you're looking to be more transparent about the ingredients you use but don't know where to start, we've put together a list of changes you can make, from small and simple switches to large-scale business shifts.
Here are a few simple steps to making your menu more transparent:
List ingredients on your menu. Put together a list of ingredients in your most popular dishes and have them available on your menu or by request.
Clearly mark common allergens. To keep your menu from looking cluttered, you could create symbols to represent common allergies and include a key at the bottom of each menu page.
Provide nutritional facts upon request. Make this information readily available in your restaurant or online.
Highlight locally or ethically sourced foods. Create signage displaying this information or make it clear on your menu.
If you're committed to operating a totally transparent restaurant, you may want to start with updating your business model and rebranding your kitchen's identity. These changes could require a complete overhaul of your existing restaurant, or you could incorporate these concepts into your brand new business. For example, adopting an open kitchen concept can offer guests visual confirmation that they're receiving fresh foods prepared only feet away from their seats.
Consider switching to all locally sourced meats and produce. If it is not economically feasible, begin with only a few cuts of meat or some in-season produce. If your restaurant has the outdoor space for it, you could even consider growing your own garden to produce hyperlocal fruits and vegetables.
And instead of selecting a few popular dishes to make transparent, provide a complete nutritional breakdown of all dishes on your menu. This opens up an opportunity to slim down and reevaluate your menu offerings.
Whether you run a mom and pop pizza shop or a national chain, there is always something that can be done to increase transparency between your kitchen and your customers. Your patrons are willing to pay more for your offerings if they know they're consuming wholesome, natural ingredients. While the term food transparency is a big industry buzzword right now, it's more than a passing trend. Diners and lawmakers alike have come to expect food transparency when it comes to sourcing and preparing meals.

Posted in:
Foodservice Trends
|
Kitchen & Cooking Tips
|
Management & Operation
|
By Rachel Jenkins
The information provided on this website does not, and is not intended to, constitute legal advice. Please refer to our
Content Policy
for more details.