How to Start a Pizzeria
Looking to open your own restaurant? Consider a pizzeria, the perfect casual establishment to serve delicious food that will be a hit with your patrons! On average, 93% of Americans buy pizza at least once a month, so there's definitely a huge demand for high quality pizza. As you prepare to open your pizzeria, consider the following steps to make sure you are doing everything you should!
Learn to Make the Perfect Pizza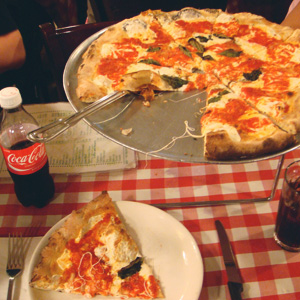 Let's face it: because of the high demand for pizza restaurants, you can find one on almost any town street. In order to make your pizzeria memorable to your customers, hone your craft to make sure your pizza is unique and great-tasting. High-quality and fresh ingredients will make for a great taste! If you're feeling creative, experiment with various toppings to design a pizza that's all yours. Make sure to write down each step so your pizzas taste the same each time.
Write a Business Plan
Make sure to complete all necessary legal and business paperwork before making a move to open your pizzeria! Because most states require you to obtain a business license, you'll want to make sure all of this is in place. A liquor license is also a necessity if you plan to serve alcoholic beverages. Make sure to write down a concrete business plan, noting all the paperwork that must be done and types of insurance (liability, property, etc.) that should be obtained.
Find a Great Location
Some healthy competition can be a good thing in the restaurant world, but you don't want to be overshadowed by the most popular pizza place in town. When choosing a location for your pizzeria, try to find an area where similar restaurants are scarce. It's also important to find a spot that isn't hidden from view. If possible, choose a location that gets heavy foot traffic, faces a busy street, and features plenty of parking spaces. If your pizzeria is accessible to passersby, you'll be more likely to bring in new customers!
Stock Up on Equipment
Do some research to learn about the equipment you'll need for your pizzeria's specific needs. For example, it's crucial to have a commercial pizza oven that will cook your dough to perfection; consider a commercial pizza oven or a brick oven! Commercial coolers are also important for keeping your ingredients at an appropriate temperature until they are ready for use. Finally, consider the basic preparation supplies you'll need: pizza cutters, cutting boards, serving utensils, and melamine plates, to name a few.
Create a Menu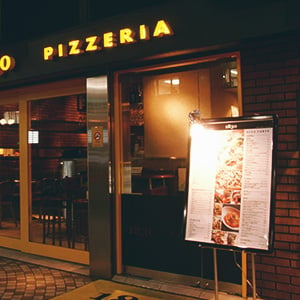 Plan the types of food you'll serve at your pizzeria. Aside from various types of pizza, you might consider serving other classic Italian fare: subs, sandwiches, pasta, garlic bread, etc. Make sure not to add an item to your menu unless you're sure you can prepare it consistently! Quality is certainly better than quantity; if your menu is small but filled with high-quality dishes, you'll be sure to gain repeat customers. Also, decide whether you will offer takeout and carryout options for customers who may not want to dine in. Try our menu designer for more ideas!
Interview and Hire Qualified Employees
Your employees will essentially be the face of your pizzeria, so you want to make sure they'll represent you in the best way possible! When interviewing candidates, look for positive, warm personalities; it's important that customers feel comfortable interacting with your staff. Also look for potential employees who are genuinely interested in becoming a part of your restaurant. If they care about the business's success, they are more likely to put forth hard work and good effort!
Plan an Advertising Campaign
While you don't need to inundate your town with news about your new pizzeria, it's important that local citizens know about its existence. Create an ad for the local paper or even consider holding a grand opening to draw in customers! It's also important to consider expanding your advertising online. Facebook offers an excellent platform where businesses can create their own pages, promoting them to local users. Also, consider joining Yelp so that your patrons can easily learn about your restaurant and even leave feedback! Create an appealing website and appropriate social media accounts to guarantee an online presence that will help your customers learn about your pizzeria, find its location, and even peruse your menu!
Set Up the Interior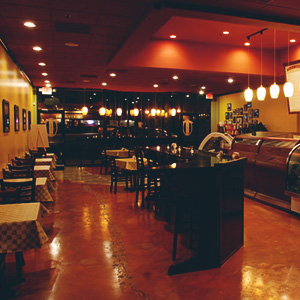 Make sure your pizzeria is fully furnished and ready for opening day! Your décor will create the look and feel of your restaurant, so make sure everything matches and is laid out appropriately. Tables should be well-spaced and seating should be comfortable. If you're going for a retro vibe, consider decorating the space with a jukebox or vintage wall decorations. To create an Italian feel, hang paintings of Italian landscapes and decorate with memorabilia. Every detail down to the music you'll play over the sound system should be perfected before you serve your first customer.
Now you should be ready to open your doors and start serving hot, fresh pizza to your patrons! Make sure to maintain your advertising even months after your pizzeria opens to ensure that new customers can find you. You can even consider revising your menu as time goes on, taking into consideration the preferences of your diners. Keep serving great-tasting pizza and other Italian favorites and your pizzeria will be a success in no time!