5 Ways to Promote Your Restaurant for the Holidays
'Tis the season for holiday gift shopping, light hanging, tree decorating, and of course, a little bit of chaos. With all the time demands and stress that come with the holidays, customers will be looking for a place to get a hot meal that they won't have to cook for themselves. To help you make the most of this opportunity, we've compiled a list of 5 holiday promotion ideas for your restaurant, bar, or cafe that should make getting customers in the door even easier.
1. Send a Holiday Card
Sending your customers (or potential customers) a postcard in the mail is an easy and inexpensive way to remind them about your business. Try featuring appetizing pictures to induce cravings for your signature entrees or cocktails. Be sure to include a coupon or special offer on the card, so guests have a little extra motivation to visit your restaurant. You can also send out e-cards, but using this strategy runs the risk that your promotion will get lost in the other hundreds of emails your customers receive every day. Besides, during the holiday season, who doesn't love to get a good, old-fashioned card in the mail?
2. Feature Special Menu Items
By offering special drinks, desserts, entrees, and appetizers, you can help your guests to relax, unwind, and enjoy the holiday season in a way they will always associate with your establishment. Try offering up seasonal dishes like a take on the Italian "feast of the seven fishes", or try incorporating some unique holiday cocktails on your drink menu. Just remember to do what you do well, but don't be afraid to get creative!
3. Market Your Event Space for Large Parties or Family Gatherings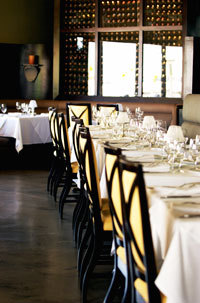 If you have a designated event space, or a separate dining room in your establishment, be sure to market it as an area for large family get-togethers and private parties. Try posting flyers around your bar area or restaurant, advertising in the local paper, or reaching out to followers on social media to book the space well in advance of the holidays. You can choose to simply rent out the space, or you can offer catering services, as well. Don't forget to decorate this area for the season to create an intimate and homey atmosphere.
4. Give the Gift of Gift Cards
Gift cards and certificates offer an easy way for your customers to gift your delicious food to their loved ones. An easy method to improve gift card sales during this time is to offer customers an extra incentive with the purchase of a gift card. For example, you can sell cards at a discounted rate ($50 gift card for $45), or offer a free $10 gift card with each $50 gift card purchase. It's hard to resist free food, so guests may end up buying these for their friends, family, and even themselves!
5. Shout it on Social Media
When you're putting forth the effort to create special holiday deals, be sure to let your customers know about it. Social media sites are great for sharing all of the promotions you have, and if your customers are pleased with what you're doing, they're likely to share your deals with their friends, as well. You can simply advertise your in-house deals, or offer completely separate social media deals (i.e. a post that says, "Show this post to your server for 10% off your bill."). Social media is a free tool that allows you to reach a large number of people, so it's always a good idea to share your special offers and promotions.
Offering deals for the holidays is a relatively easy way to draw tired and stressed out shoppers into your restaurant. Not only will new customers be more likely to give your establishment a try with a coupon or gift card, but your existing customers will appreciate your efforts to reward their loyalty. Give some of these promotions a try, and help your guests have a happy holiday experience.