Google Launches New Cocktail Tool
After a long day at the office or a stressful day in the field, sometimes a personal happy hour is the only thing you need to take off the edge. You go home, open your liquor cabinet, look in the fridge, and take out a glass. But then you suddenly forget how to actually make that Moscow Mule. Is it gin or rum? No, wait - maybe it's vodka! Truth is, unless you're a bartender, it's easy to forget how to make even the most popular cocktails. That's where Google comes in to save the day!
How the Cocktail Tool Works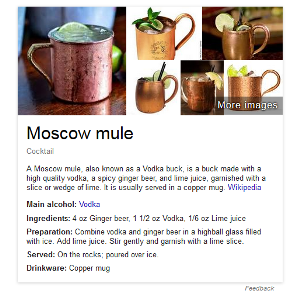 Last month, after Google realized how uneducated the world is on mixology, they decided to launch a new feature known as the Cocktail Tool. After researching some of the most popular Google search queries, they found that people really need to brush up on their bartending skills! To help bartenders and consumers out, you can now read everything you need to know about a specific drink within seconds, without even clicking on an outside link. By simply typing in the name of a drink, or by asking a question like, "How do I make a (insert your poison)," Google will automatically generate a mini side blurb next to the list of search results. They provide an image, recipe, brief history, and they even suggest garnishes and glassware for serving! This new feature works on your desktop, mobile device, and on your Google app. You now have the largest cocktail recipe book ever invented right at your fingertips wherever you go!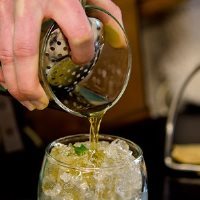 How Does this Affect Your Bar
Not only does this tool allow every person with internet access to look up their favorite drink recipe, it also forces bartenders to brush up on their skills... which means the pressure is on! With customers entering your bar, night club, or restaurant with more knowledge than ever before, there's no excuse for messing up a drink, even if it's as old school as a Singapore Sling. Your customers may have the recipe on their phone while they're ordering to make sure you include every one of the liquors they see listed.
The feature is also good for bartenders in training. You can consider having a tablet located behind-the-bar, so new bartenders can quickly access a recipe if they have a mind blank. Not only will this put less stress on employees, but it will make customers less anxious and impatient if they're waiting for their new bartender to ask someone else for assistance.
Go ahead and try it out! After work today or after the kids go to bed, search any drink you can think of. Whether it's a Moscow mule, margarita, white Russian, or a Bloody Mary, which are all on the top searched drinks list of 2015, you'll be winding down in no time. Now excuse me while I go figure out how to make a whiskey sour – it's 5 o'clock somewhere!