Advice from an Award-Winning Pizza Maker: Interview with Norma Knepp of Norma's Pizza
It's hard to believe that the winner of the prestigious Caputo Cup for best New York style pizza had no idea how to make pizza 7 years ago. Today, you can't visit Norma Knepp's stand at Root's Market in Manheim, PA without waiting in line. So, how did Norma go from being a self-described pizza "newbie" to an award-winning pro? We visited her at her stand to find out.
Norma's Background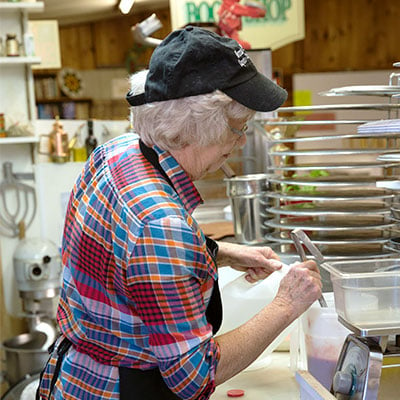 Norma has a long history with food stands. She and her late husband originally started working at the caramel popcorn stand that her in-laws started in 1928. They eventually opened their own caramel popcorn stand at Green Dragon market, which is still in operation under different management. The Knepps also ran a concession trailer that traveled between Green Dragon, Root's Market, and various fairs in their local area. They sold caramel popcorn, lemonade, cotton candy, and snow cones.
Norma's husband wanted to go full time with their caramel popcorn stand, but she was wary of leaving her factory job and the benefits that came with it. After two years of contemplation, they finally took the risk and became a full-time business owners.
Over the years, Norma and her husband owned and operated various stands. Their main operations sold caramel popcorn and clear toy candy, which is a Pennsylvania Dutch treat.
When Root's needed a pizza stand, Norma asked the market manager if she could give it a shot, despite the fact that she'd never made pizza before. She says, "I made terrible mistakes at first, but I was determined to learn how to do it." After plenty of experimenting, she taught herself to make the pizza that eventually won the Caputo Cup for best New York style slice. Today, 7 years since she opened her stand, Norma offers tips to pizza making beginners like she once was.
Norma's Advice for Aspiring Pizza Makers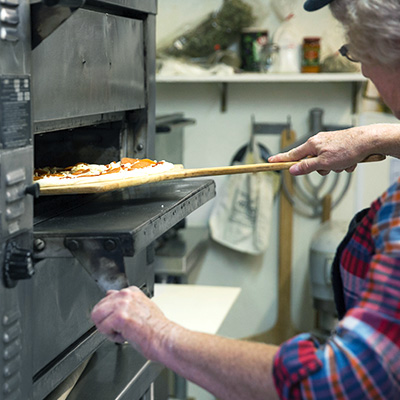 If you're looking to get into pizza making with little to no experience, check out Norma's best tips:
Look to Other Pizza Makers for Help
According to Norma, the first place to start if you want to learn to make pizza is the forums on pizzamaking.com. She says, "The pizza making forum is what really helped me learn how to make pizza, and it still does all the time." On these forums, you can ask questions about any part of the pizza making process, and more experienced users will do their best to answer your questions. Norma notes that anyone is welcome on the forums, even "newbies."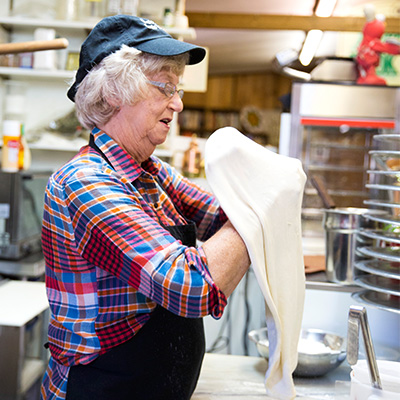 It's All About the Dough
According to Norma, dough is the key component of a good pizza. She believes that a pizza's cheese, sauce, and toppings can be delicious, but if the dough isn't right, it won't be worth eating. Norma also notes that when you make your own dough, it's essential to weigh out all of your ingredients. Dough preparation is a science, so weighing and measuring is always a major factor if you want to get it right.
Practice with Frozen Dough
Another great option for learning the basics is to begin with frozen, store-bought dough. This way, you can learn how to work with the dough without the more complicated step of preparing it from scratch.
Understand Your Oven
Norma also told us that your pizza oven will greatly affect the finished product. "You have to know your oven," she says. Even if you use the same ingredients and preparation method, your pizza could be entirely different depending on the oven you use.
Winning the Caputo Cup for Best New York Style Slice
Norma attended the Caputo Cup in 2015, which was the first year that this prestigious pizza competition was held in the United States instead of Italy. A good friend suggested she compete the following year, but Norma was apprehensive. "I [didn't] think I could ever do that," she says when asked about the experience. Eventually, she realized that she might never get this opportunity again and decided to go for it.
Norma describes how her hands were shaking during the competition, but despite her nerves, she ended up winning first place in her event, which was the New York style pizza. She beat out contestants from Italy, California, and even New York. Norma entered the competition for the experience, never expecting to win. "That was a surprise," she says.
Ever since the Caputo Cup win, Norma's Root's Market stand has a line every week. She has been featured in a number of publications, including the book, Where to Eat Pizza Around the World by David Young.
What's Next for Norma?
So, what's next for Norma now that she's known as a pizza making celebrity? She's considering entering the Caputo Cup again, but mostly, she'll be at her Root's Market stand preparing to sell her pizzas on Tuesdays. Her stand is so busy that she's having trouble filling orders, but she still makes time to experiment with different types of pizza.
If you're interested in checking out all of Norma's pizza experiments, you can find them on her social media pages as well as on the forums at pizzamaking.com.
Recipes to Raise Your Profits: The Onion Blossom
Onion blossoms are a favorite in restaurants, bars, and carnivals across the country. This deep-fried, high-calorie snack is both delicious and profitable, so it's sure to increase your bottom line and quickly become a customer favorite. If you're considering adding this to your menu, keep reading and discover how this great recipe will raise your profits!
What is an Onion Blossom?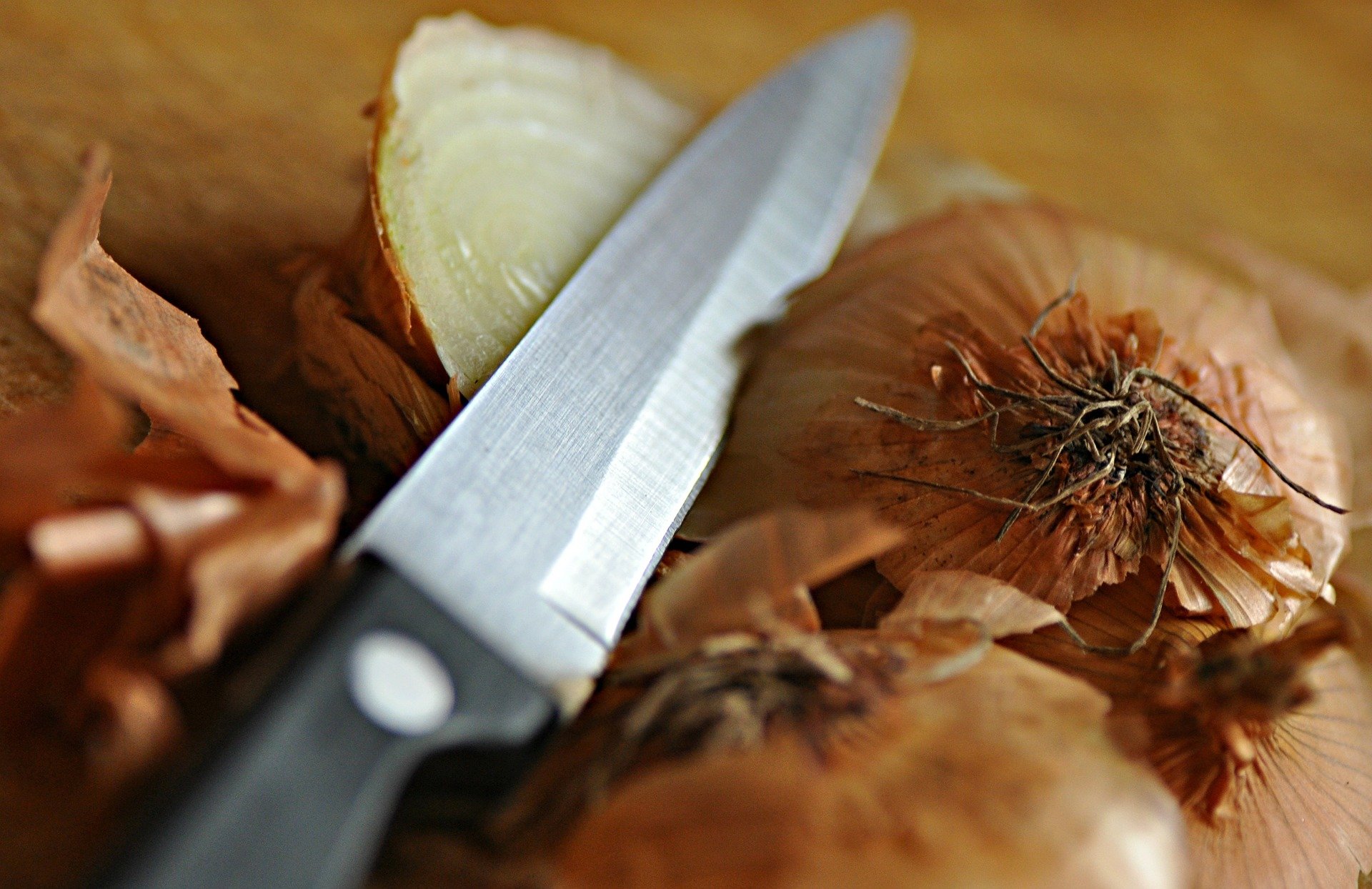 Onion blossoms are also known as onion mums or Bloomin' Onions® (the name Outback Steakhouse® has for their version). Despite these names, this dish doesn't actually have anything to do with flowers. Instead, it's a large onion that's been cut into strips that, when spread out, resemble the petals of a flower. The raw onion is then coated with mildly spicy flour mixture and thrown in the deep fryer before being served with a creamy, tangy dipping sauce.
History of the Onion Blossom
To learn about this deep fried creation, we need to look to the Southern U.S. – New Orleans, specifically. It's not clear exactly when this dish was first created, but all signs seem to point to the 1980s. The restaurant that advertises itself as "The Home of the Original Onion Mum" is Russell's Marina Grill in New Orleans, LA, which was founded in 1985.
Why is the Onion Blossom Popular?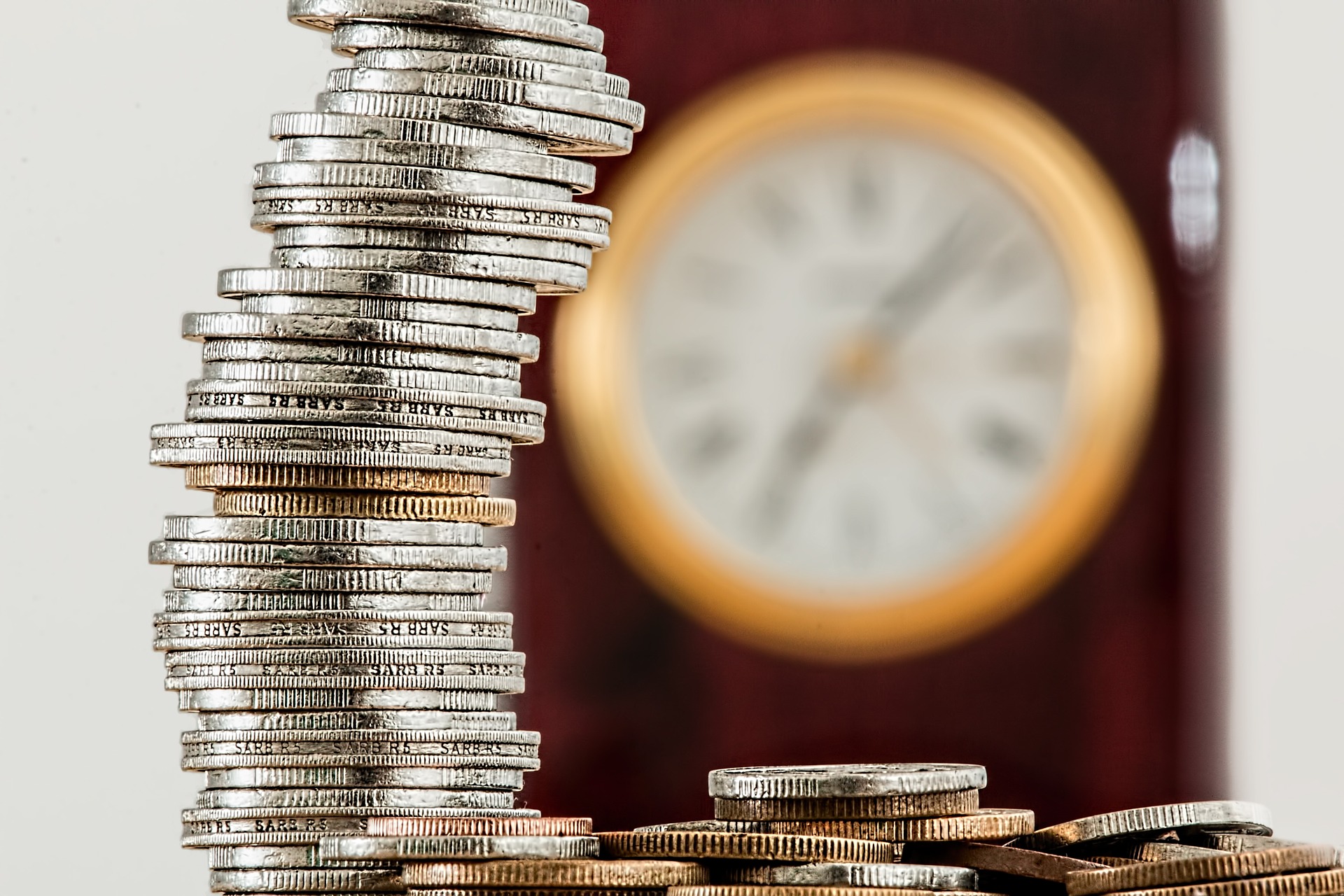 Not only is this fried food delicious, but it also has a unique appearance that looks great and is easy to eat. The individual onion slices can be pulled off and dipped in the sauce using one hand, making it simple to carry around at a fair or share over a beer at the local pub. To make it even more portable, the core of the fried onion can be cut out and filled with sauce, or you can choose to serve it on the side like we have.
Most importantly, though, is how profitable the onion blossom is for businesses. With only a handful of ingredients, you can create this unique dish in your restaurant. You can purchase a specialty onion cutter if you find that your prep time is taking too long, but you can also obtain the same appearance by slicing the onion by hand.
Cost Breakdown of the Onion Blossom
When we made our own onion blossom, the total cost of ingredients needed for one dish was about $2.75. We checked that against the prices found on menus and discovered that it's sold for about $8 a plate. Keep in mind that there may be small differences from one recipe to the next because of the types of spices and other ingredients used, which may affect the cost.
Sold on Menu - $8
Food Cost per Serving - $2.75
Profit Margin per Serving - $5.25
Onion Blossom Recipe
If you want to learn how to make this tasty, profitable treat, just check out our video below for the recipe!
Ingredients for the Onion Blossom
1 jumbo onion
2 1/2 cups flour
2 tbsp. smoked paprika
1 tbsp. dried oregano
1 tbsp. thyme
1 tbsp. black pepper
1 tbsp. ground coriander
2 large eggs
1 cup whole milk
Ingredients for the Dipping Sauce
2 tbsp. mayonnaise
2 tbsp. sour cream
1 tsp. Worcestershire sauce
1 tsp. ketchup
1 tsp. hot sauce
1 tsp. smoked paprika
1 tsp. black pepper
Directions
Trim the non-root end off of the onion and peel it.
Place the onion in the cutter with the root on the bottom, and cut according to the manufacturer instructions.
Place the onion in a container of water and refrigerate overnight to allow it to open.
Preheat your deep fryer to 350° Fahrenheit.
Prepare the flour and egg mixtures. Make the flour mixture by combining the flour, 2 tbsp. smoked paprika, oregano, thyme, black pepper, and coriander. To make the egg mixture, whisk together the eggs and milk.
Take the onion out of the water and lightly pat it dry.
Place the onion in the flour mixture and coat fully, taking care to get between the strips.
Transfer the onion to the egg mixture and coat fully, letting any excess egg drip off.
Repeat the flouring process. Pat off any excess flour.
Drop the onion (roots side up) into the fryer. You can spin the onion slightly while putting it in the oil to ensure even frying. Cook for 3 minutes.
Gently turn the onion over in the fryer and continue cooking for another 3 minutes.
Drain excess oil from the onion.
Prepare dipping sauce by combining the sauce ingredients. Keep the sauce refrigerated until you're ready to serve.
The onion blossom is a unique, delicious snack food that can be served at any restaurant, bar, or food stand. With a flavorful fried coating and delicious dipping sauce on the side, this dish will quickly become a customer favorite. Luckily for you, onion blossoms are cost-effective, leaving you with a huge profit margin to help your bottom line.