How to Increase Brand Awareness of Your Restaurant
Branding is a critical component of a business's success. From world-wide corporations to local diners, maintaining brand awareness among customers pays dividends. The tricky part is establishing the brand in the first place. Fortunately, with the near-universal use of the Internet, making yourself known in your area has never been easier. Using this handful of techniques, you can increase your brand awareness among the public and watch your profits grow.
Your Social Media
A social media presence is a vital component of today's fast-paced marketing world. Facebook, Twitter, and Google Plus are all simple, effective, and — most importantly — free ways to promote your name and logo to the public. It only takes minutes to set up accounts on all three platforms, which can include information like your company name, location, and hours of operation. In addition, you should use your exact company name for every account to eliminate the potential for confusion. If another business has your name, go for your exact name followed by where you're located. For example, Giuseppi's Pizza in Los Angeles ideally wants "GiuseppisPizza." But if that's already taken, they can shoot for "GiuseppisPizzaLA" instead. Just make sure the same name is available on every social media platform for consistency and brand recognition.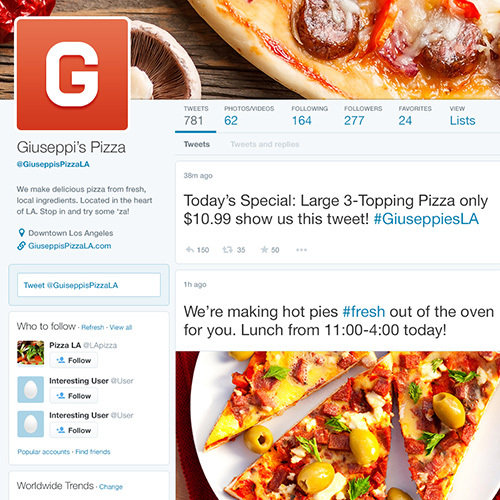 With your accounts set up, you should engage with your audience often, including original content and responding to comments, whether they're positive or negative . When it comes to feedback, you don't have to respond to everyone, but positive comments can be satisfied with a quick "thank you" back to the customer, and negative comments can be addressed by expressing apology and what you'll do to fix the issue.
However, it's important to remember that social media is not the place to hold arguments or drawn-out back-and-forths. It's up to you whether you allow your commenters to debate, but it's generally frowned upon for a page's owner to take sides in an issue. You can address individuals through private messages to handle more sensitive issues, keeping your feed cleaner. In addition, stubborn or irrational commenters, like someone trying to extort you for free goods or extra deals, can simply be blocked. While neither of these are preferred outcomes of customer interactions, the point of a social media page is to focus your business and products in a positive light. Maintaining that focus will reflect well on your brand as a whole, helping to attract customers.
Your Blog
These days, everyone has a blog. Topics run the gamut from politics to comedy and everything in between, including plenty of foodservice options. With such a huge quantity of blogs, it's easy for potential readers to gloss over a new presence. The keys to engaging with your customers via your blog are quality and consistency.
Quality pertains to a blog's page layout, interactivity, and text. Attractive blog pages that contain links and compelling writing are significantly more likely to be read than something that's just thrown together. A couple of well-written, thoughtful paragraphs will be more enjoyable to readers, and supplying linked material — like a link to your online ordering page or menu — can give them an interactive experience so that they stay on your site longer. High-quality content is also ranked better by Google's search algorithms, which is covered below.
Consistency relates to how frequently you update your blog. For most foodservice businesses, you can easily set a schedule according to whatever metrics you want to use. In general, blogs are read most frequently on Mondays around 11 a.m. This means that most blogs are updated around that timeframe to obtain maximum readership. Your readership may vary, but the major point is that you habitually publish a blog around the same time on the same day of the week. This lets a customer know that by the time 11:00 rolls around, they can go to your website to see what you have to say. And the more blog entries you create according to a consistent schedule, the better your blog will perform as a whole.
Giuseppi's Pizza could blog about any topic, but the best choices are topics that the business can address as an expert. Establishing yourself as an authority on relevant subjects, whether they're recipes or how to run a delivery service, forges trust between your business and your readers. You can write to give an overview on your topic and then answer common questions as you go. And at the end, you can include a short bio and photo of the author that mentions why they're experts.
Your Local Presence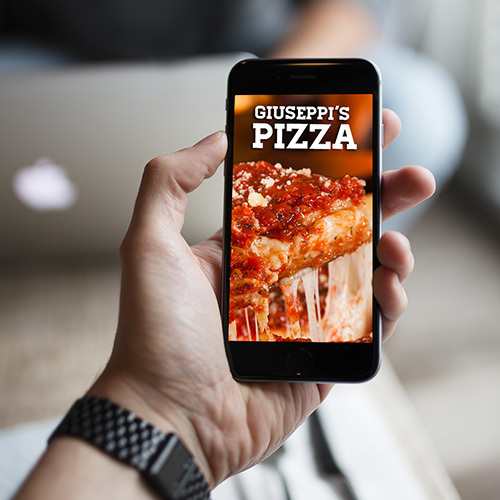 Local searches are important to a business's success. A huge percentage of people use phones, computers, and tablets to look up business hours of operation, directions to physical locations, or local store addresses. Your Google Plus and Facebook for Business pages will be the best tools at your disposal for listing all of that information. And while it may not directly result in sales, making it convenient for customers to find you drastically increases the chances that they'll buy from you. It also makes you appear more current, accessible, and available in general.
Finally, you can brand your business offline in addition to using the Internet. The best forms of offline branding include brick-and-mortar signs, logos, and outreach initiatives. Volunteering and giving back to the community — even if it's supplying free pizza for a small charity — can give your restaurant the extra boost in social exposure that your competition lacks, along with associating your name with kindness and generosity. A smile can go a long way on a person-to-person scale, and showing your community that you care can go even further.