Holiday Menus for Restaurants
Holiday menus are a great way for you to reach out to your customers while celebrating the spirit of the season. Whether you run a quick-serve, sit-down, or take-out business, you can easily find a way to work out short-term specialty dishes for your restaurant or holiday party menus for your catering company to boost your profits through the season. Holiday-themed menus are always the perfect match for larger events, like corporate parties, or even just to accommodate customers who don't want to cook themselves. And best of all, with so many traditions happening at once, picking out the foods you want to offer has never been easier.
Hanukkah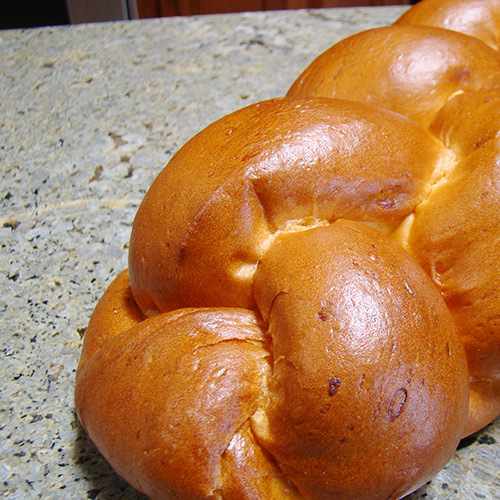 Hanukkah foods are one of the more difficult menu pieces to work into your lineup. Preparing food so that it's kosher is paramount to its acceptance, particularly with foods like beef (or any animal with a split hoof that chews cud), which can also mean going above and beyond your typical cooking preparation.
Capon and challah are two possibilities for your menu that don't require such stringent preparation. While they may not perfectly complement one another, they're great individual dishes. Capon is a rooster that has been raised and fed for maximum flavor, and challah is a traditional Hebrew bread that is braided so that diners can pull off a section at a time and enjoy. Each food has its own merits, and they're sure to appeal to the palates of your hungry customers.
For other recipes, check out the huge range of recipes that are available online, all of which are a great way to please your customers.
Christmas
Christmas meals tend to be simpler than other holidays, mostly because Christmas dinner is often treated as a second Thanksgiving. But the big difference is the main course — instead of turkey, you have pig! A tasty glazed ham is the common centerpiece for this holiday, giving you the chance to throw in your own specialty ingredients to create a meal that customers will remember as uniquely yours. To fill out the remainder of your holiday party menu, you have hundreds of different new recipes that you can try. For Christmas meals, the sky is the limit!
New Year's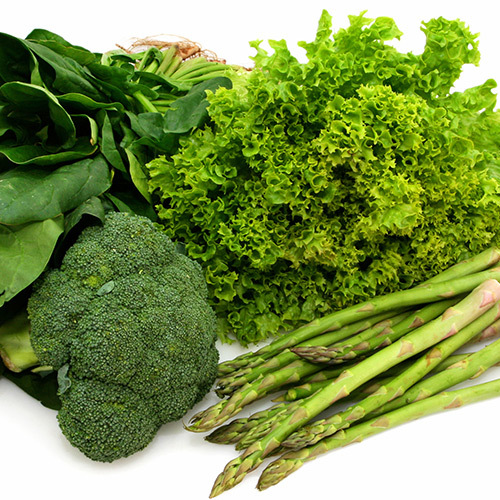 A huge dinner with festive dishes is the best way to ring in the new year — particularly for any holiday catering your company may do. New Year's menus are traditionally filled with greens because of an old European superstition that the more greens you eat, the better your year will be. In some other traditions, pork and seafood take center stage for the same reason.
However, matching your menu to such a diversity of traditions can be difficult, especially with such a diversity of backgrounds and heritages in the United States. For example, the Spanish eat a dozen grapes at midnight, the Danish enjoy kale, and the Portuguese dine on roast suckling pig — and those are just a handful of European traditions. There are hundreds more throughout the world too, all ranging from outlandishly popular to incredibly obscure.
Or, on the other hand, you can embrace your own tradition and serve that to everyone instead. Regardless of your choice, your message is always the same — you're wishing customers a fresh year of full stomachs, fun evenings, and good luck.
The 12 Drinks of Christmas: Part III
9. Salted Caramel Martini
Nothing beats the flavor combination of sweet and salty, all wrapped up in a beautifully garnished and decorated holiday martini!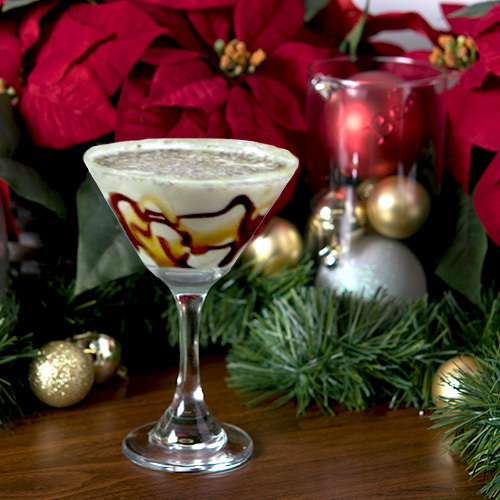 Recipe
2 oz. salted caramel vodka
2 oz. Bailey's caramel liquor
1 oz. chocolate vodka
1 oz. dark creme de cocoa
.5 oz. half and half
1 oz. salted caramel syrup
Line interior of glass with Hershey's syrup and caramel syrup and freeze
Rim glass with Bailey's caramel liquor and kosher salt
Shake remaining ingredients in cocktail shaker and serve
Garnish with shaved dark chocolate
10. Chambord Kir Royale
Bring in the New Year the right way! Make that special toast this season with the refreshing taste of raspberry with an added spritz from your favorite champagne.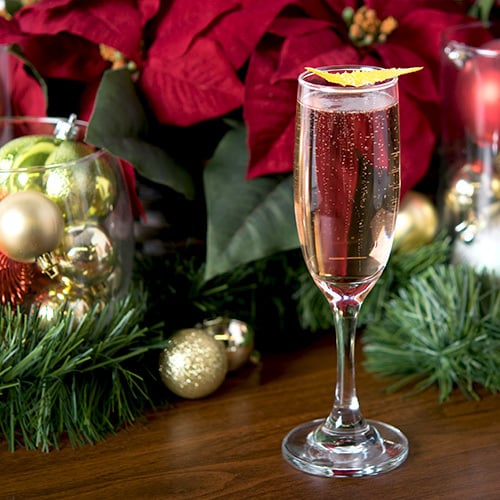 Recipe
.25 oz. Chambord
Champagne
Pour Chambord into a flute glass and top with champagne
Garnish with a lemon twist
11.
Eggnog Cocktail
One of the most traditional holiday beverages is now featured as an elegant eggnog cocktail. Rimmed with your favorite classic cookies, this dessert beverage is the perfect after-dinner choice.
Recipe
4 oz. full fat eggnog
2 oz. spiced rum
1 oz. vanilla vodka
1 oz. dark rum
.5 oz. eggnog syrup
Rim glass with eggnog and crushed spice cookies
Shake all ingredients in cocktail glass
Garnish by sprinkling fresh ground nutmeg and cinnamon sugar
12. Santa Hat Martini
Combining tart cranberries, sweet vanilla, and the tropical flavor of coconut, this is Santa's favorite island cocktail! Lay back, and pretend you're soaking up the sun.
Recipe
As you're decking the halls this season, we hope you fa-la-la-la-love these signature cocktail recipes! Whether you're looking for a shot to kick off your holiday party, a martini to sip during a long night of gift wrapping, a warm beverage for after a day in the snow, or a pitcher to share with your family and friends, we've got the recipe for you! And if you missed out on our other 12 Drinks of Christmas recipes, check out Part I and Part II!
The 12 Drinks of Christmas: Part II
5. Cinnamon Candy Apple
Red and green are layered into a festive shot that looks as good as it tastes! Start the fun early with its sweet and spicy kick.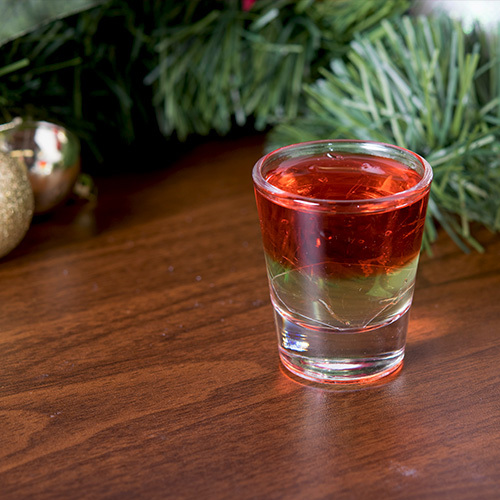 Recipe
.75 oz. sour apple schnapps
.75 oz. cinnamon whiskey or tequila
Pour sour apple schnapps in shot glass
Color cinnamon liquor with food coloring
Layer over the schnapps by pouring slowly over the back of a spoon
6.
The Snowflake
Combining an indulgent creaminess with a light and refreshing fruity punch, this playful beverage is all the fun you need for your grownup snow day!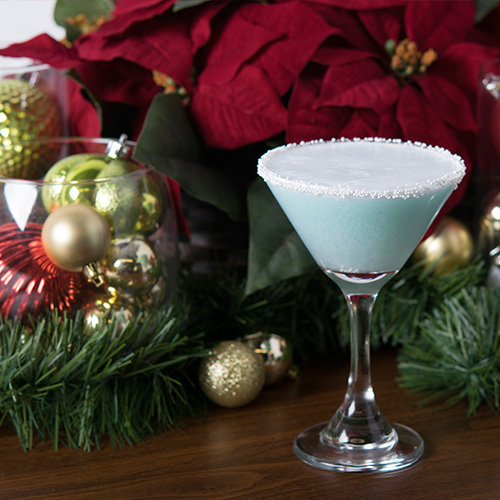 Recipe
7. Mulled Wine Sangria
Abounding with natural wintery fruit flavors that are infused into a deep red wine, this sangria is sure to warm up any holiday crowd.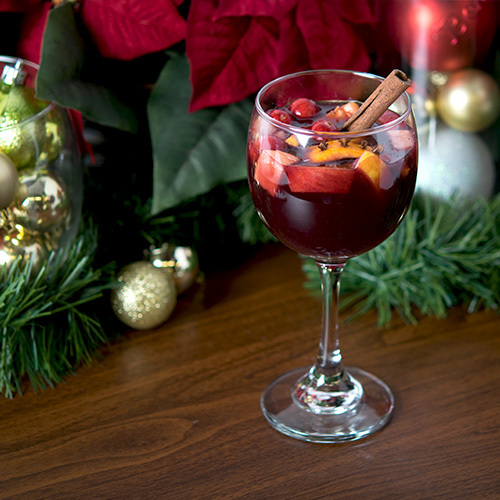 Recipe
1 bottle red wine
1/2 cup brandy
1/4 cup triple sec
1 cup orange juice
1 tsp. cloves
1/2 tsp. allspice
1 lime sliced
1 lemon sliced
1 apple sliced
1 pear sliced
Handful of cranberries
Sugar to taste
Pour all but 1 cup of wine into a pitcher with brandy, triple sec, and fruit
Combine remaining wine, orange juice, and spices in a pan and bring to a simmer
Simmer 10-15 minutes then strain through a cheesecloth and strainer
Add to pitcher and refrigerate overnight
Optional: You can add sparkle and sweetness by topping with a splash of 7-up or sprite, or just use club soda for the sparkle without any added sweetness
8. Whipped Caramel Hot Cocoa
Topped with a dollop of whipped cream, this hot and steamy drink is perfect for cuddling up after a long day out in the bitter cold!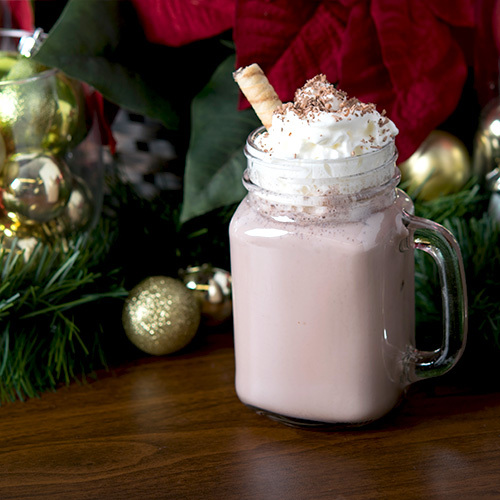 Recipe
7 oz. hot cocoa
.75 oz. whipped vodka
.75 oz. caramel vodka
Whipped cream
Dark chocolate
Stir the vodka into the hot cocoa
Top with whipped cream and dark chocolate shavings

Check back on Friday for the last four recipes in our 12 drinks of Christmas, and be sure to take a look at Part I for our first 4 drink recipes!
Next time…
Salted Caramel Martini
Chambord Kir Royale
Eggnog Cocktail
Santa Hat Martini
The 12 Drinks of Christmas: Part I
With the winter holidays fast approaching, it's time to get into the festive spirit and celebrate. So after you're done hanging lights, eating a hefty dinner, and kindling the fireplace, keep your holidays buzzing with a few spirits of your own, courtesy of WebstaurantStore's drink aficionados!
All 12 Drinks of Christmas
1. Winter Sea Breeze
This refreshing drink includes a quick jab of vodka with the bitter bite of grapefruit juice, topped off with a hint of mint.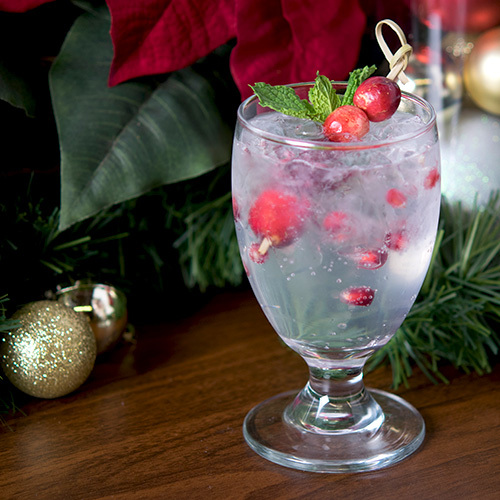 Recipe
1 oz. vodka
1 oz. grapefruit juice
2 oz. tonic water
Pour mixture over ice
Stir in glass
Garnish with pomegranate seeds, cranberries, and mint
2. Red Stag Dirty Shirley
With Red Stag bourbon, cherry syrup, and a cherry garnish, you can't get much sweeter than this winter nightcap.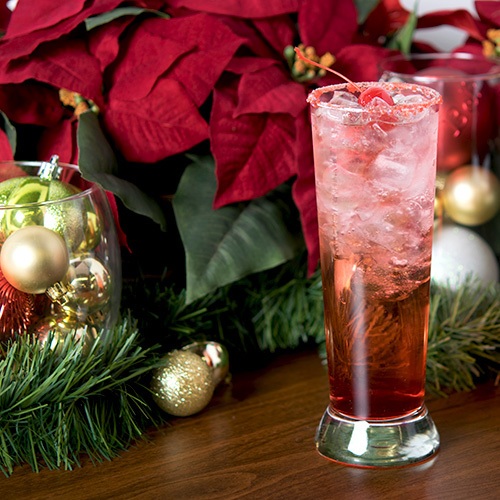 Recipe
3.
Peppermint Hot Cocoa
This dark, rich beverage harmonizes chocolate and peppermint for a perfect evening in front of the fireplace.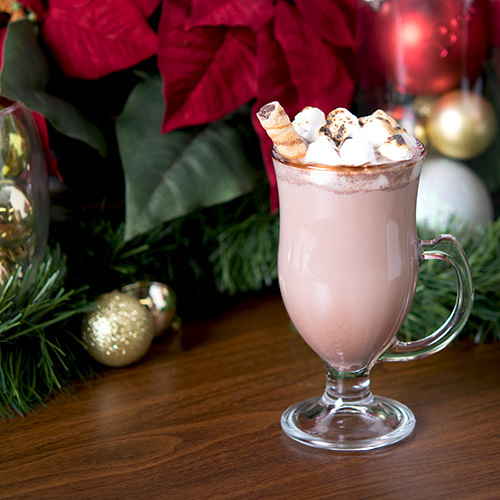 Recipe
1 oz. peppermint schnapps
5 oz. hot chocolate
Pour into glass or mug
Stir in glass or mug
Toast marshmallows
Garnish drink with torched marshmallows
4. Winter Sangria
Made with a wide variety of ingredients and flavors, this recipe requires overnight refrigeration to marinade correctly — so you might as well make a lot of it!
Recipe
1/3 cup triple sec
12 oz. Sprite
1 bottle dry white wine
2 chopped apples
1 cup fresh cranberries
1 small box red raspberries
Simple syrup to taste
Mix all ingredients except Sprite in pitcher
Refrigerate mixture
Add Sprite to pitcher before serving
Garnish each glass with rosemary sprig
Check back on Wednesday for the next four recipes in our 12 drinks of Christmas!
Next time…
Cinnamon Candy Apple
The Snowflake
Mulled Wine Sangria
Whipped Caramel Hot Cocoa