Advice from an Award-Winning Pizza Maker: Interview with Norma Knepp of Norma's Pizza
It's hard to believe that the winner of the prestigious Caputo Cup for best New York style pizza had no idea how to make pizza 7 years ago. Today, you can't visit Norma Knepp's stand at Root's Market in Manheim, PA without waiting in line. So, how did Norma go from being a self-described pizza "newbie" to an award-winning pro? We visited her at her stand to find out.
Norma's Background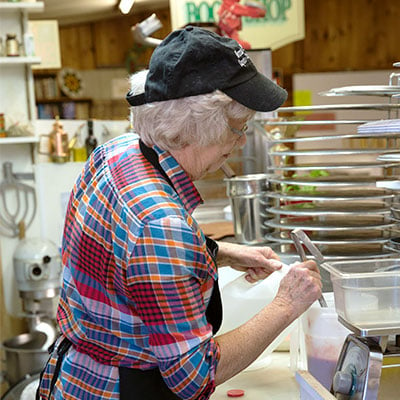 Norma has a long history with food stands. She and her late husband originally started working at the caramel popcorn stand that her in-laws started in 1928. They eventually opened their own caramel popcorn stand at Green Dragon market, which is still in operation under different management. The Knepps also ran a concession trailer that traveled between Green Dragon, Root's Market, and various fairs in their local area. They sold caramel popcorn, lemonade, cotton candy, and snow cones.
Norma's husband wanted to go full time with their caramel popcorn stand, but she was wary of leaving her factory job and the benefits that came with it. After two years of contemplation, they finally took the risk and became a full-time business owners.
Over the years, Norma and her husband owned and operated various stands. Their main operations sold caramel popcorn and clear toy candy, which is a Pennsylvania Dutch treat.
When Root's needed a pizza stand, Norma asked the market manager if she could give it a shot, despite the fact that she'd never made pizza before. She says, "I made terrible mistakes at first, but I was determined to learn how to do it." After plenty of experimenting, she taught herself to make the pizza that eventually won the Caputo Cup for best New York style slice. Today, 7 years since she opened her stand, Norma offers tips to pizza making beginners like she once was.
Norma's Advice for Aspiring Pizza Makers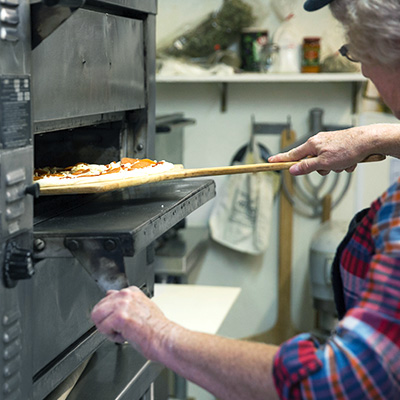 If you're looking to get into pizza making with little to no experience, check out Norma's best tips:
Look to Other Pizza Makers for Help
According to Norma, the first place to start if you want to learn to make pizza is the forums on pizzamaking.com. She says, "The pizza making forum is what really helped me learn how to make pizza, and it still does all the time." On these forums, you can ask questions about any part of the pizza making process, and more experienced users will do their best to answer your questions. Norma notes that anyone is welcome on the forums, even "newbies."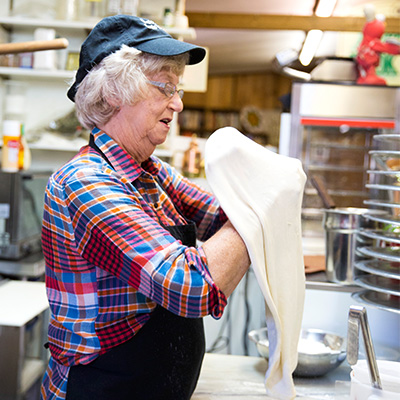 It's All About the Dough
According to Norma, dough is the key component of a good pizza. She believes that a pizza's cheese, sauce, and toppings can be delicious, but if the dough isn't right, it won't be worth eating. Norma also notes that when you make your own dough, it's essential to weigh out all of your ingredients. Dough preparation is a science, so weighing and measuring is always a major factor if you want to get it right.
Practice with Frozen Dough
Another great option for learning the basics is to begin with frozen, store-bought dough. This way, you can learn how to work with the dough without the more complicated step of preparing it from scratch.
Understand Your Oven
Norma also told us that your pizza oven will greatly affect the finished product. "You have to know your oven," she says. Even if you use the same ingredients and preparation method, your pizza could be entirely different depending on the oven you use.
Winning the Caputo Cup for Best New York Style Slice
Norma attended the Caputo Cup in 2015, which was the first year that this prestigious pizza competition was held in the United States instead of Italy. A good friend suggested she compete the following year, but Norma was apprehensive. "I [didn't] think I could ever do that," she says when asked about the experience. Eventually, she realized that she might never get this opportunity again and decided to go for it.
Norma describes how her hands were shaking during the competition, but despite her nerves, she ended up winning first place in her event, which was the New York style pizza. She beat out contestants from Italy, California, and even New York. Norma entered the competition for the experience, never expecting to win. "That was a surprise," she says.
Ever since the Caputo Cup win, Norma's Root's Market stand has a line every week. She has been featured in a number of publications, including the book, Where to Eat Pizza Around the World by David Young.
What's Next for Norma?
So, what's next for Norma now that she's known as a pizza making celebrity? She's considering entering the Caputo Cup again, but mostly, she'll be at her Root's Market stand preparing to sell her pizzas on Tuesdays. Her stand is so busy that she's having trouble filling orders, but she still makes time to experiment with different types of pizza.
If you're interested in checking out all of Norma's pizza experiments, you can find them on her social media pages as well as on the forums at pizzamaking.com.
Recipes to Raise Your Profits: The Onion Blossom
Onion blossoms are a favorite in restaurants, bars, and carnivals across the country. This deep-fried, high-calorie snack is both delicious and profitable, so it's sure to increase your bottom line and quickly become a customer favorite. If you're considering adding this to your menu, keep reading and discover how this great recipe will raise your profits!
What is an Onion Blossom?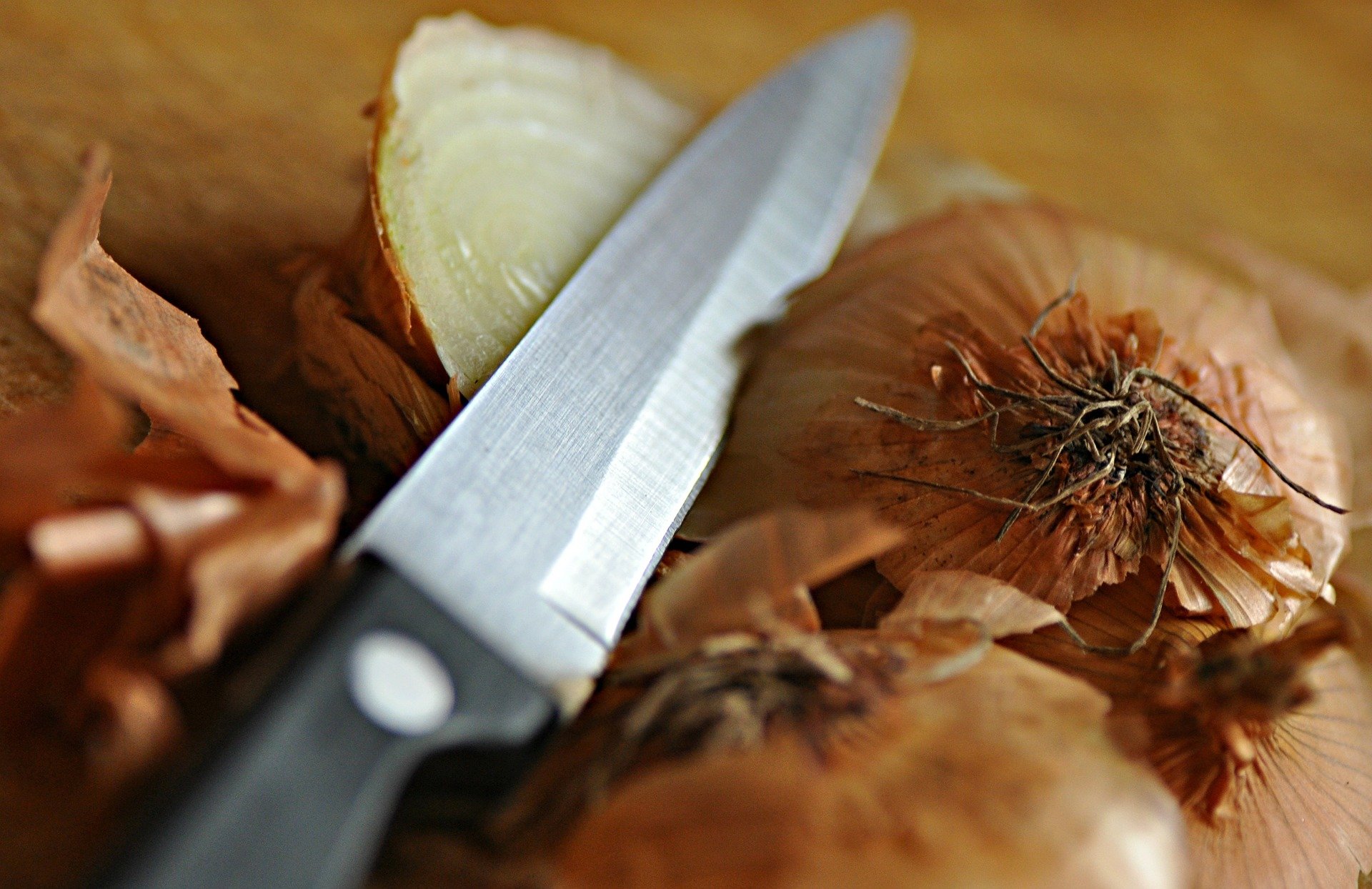 Onion blossoms are also known as onion mums or Bloomin' Onions® (the name Outback Steakhouse® has for their version). Despite these names, this dish doesn't actually have anything to do with flowers. Instead, it's a large onion that's been cut into strips that, when spread out, resemble the petals of a flower. The raw onion is then coated with mildly spicy flour mixture and thrown in the deep fryer before being served with a creamy, tangy dipping sauce.
History of the Onion Blossom
To learn about this deep fried creation, we need to look to the Southern U.S. – New Orleans, specifically. It's not clear exactly when this dish was first created, but all signs seem to point to the 1980s. The restaurant that advertises itself as "The Home of the Original Onion Mum" is Russell's Marina Grill in New Orleans, LA, which was founded in 1985.
Why is the Onion Blossom Popular?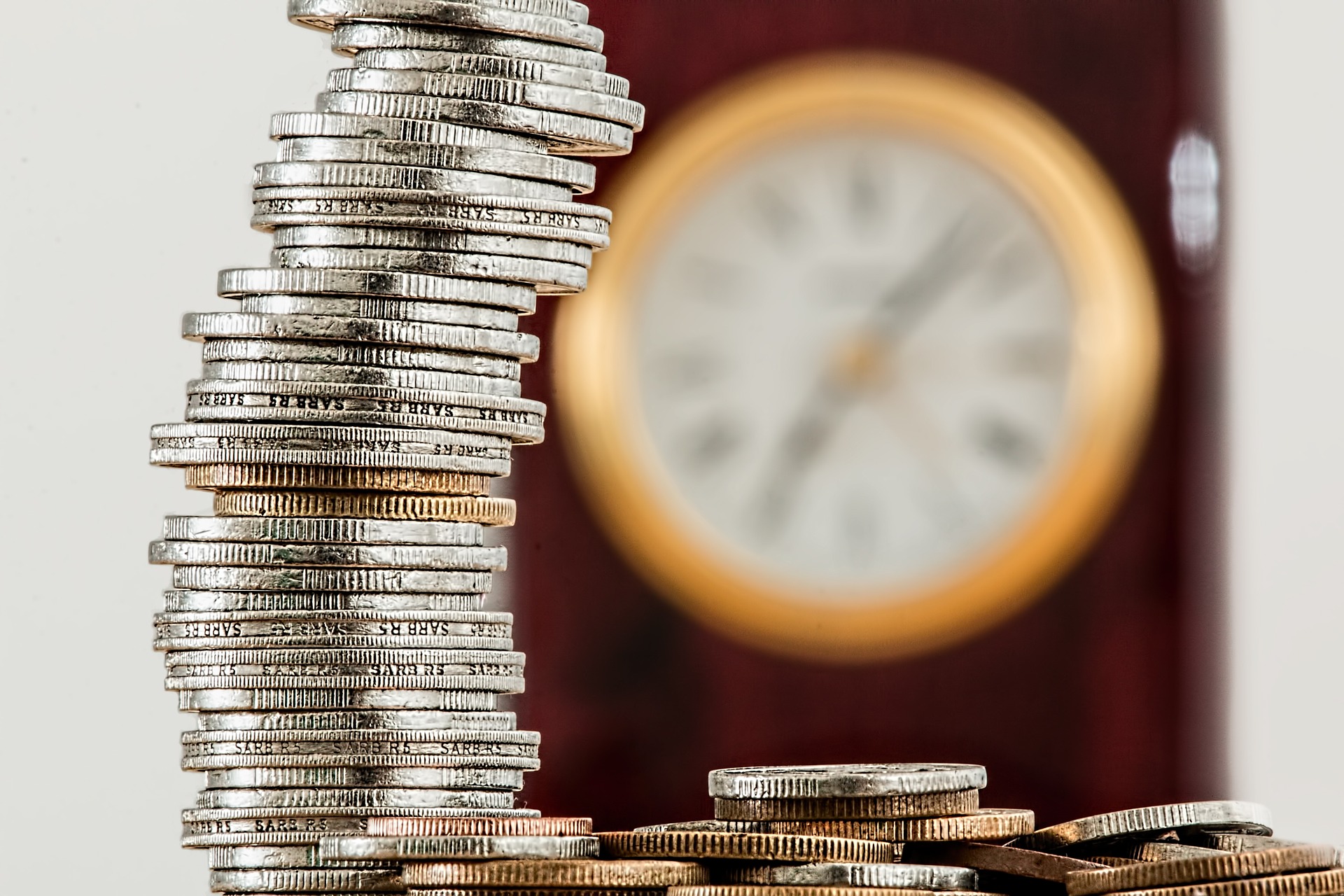 Not only is this fried food delicious, but it also has a unique appearance that looks great and is easy to eat. The individual onion slices can be pulled off and dipped in the sauce using one hand, making it simple to carry around at a fair or share over a beer at the local pub. To make it even more portable, the core of the fried onion can be cut out and filled with sauce, or you can choose to serve it on the side like we have.
Most importantly, though, is how profitable the onion blossom is for businesses. With only a handful of ingredients, you can create this unique dish in your restaurant. You can purchase a specialty onion cutter if you find that your prep time is taking too long, but you can also obtain the same appearance by slicing the onion by hand.
Cost Breakdown of the Onion Blossom
When we made our own onion blossom, the total cost of ingredients needed for one dish was about $2.75. We checked that against the prices found on menus and discovered that it's sold for about $8 a plate. Keep in mind that there may be small differences from one recipe to the next because of the types of spices and other ingredients used, which may affect the cost.
Sold on Menu - $8
Food Cost per Serving - $2.75
Profit Margin per Serving - $5.25
Onion Blossom Recipe
If you want to learn how to make this tasty, profitable treat, just check out our video below for the recipe!
Ingredients for the Onion Blossom
1 jumbo onion
2 1/2 cups flour
2 tbsp. smoked paprika
1 tbsp. dried oregano
1 tbsp. thyme
1 tbsp. black pepper
1 tbsp. ground coriander
2 large eggs
1 cup whole milk
Ingredients for the Dipping Sauce
2 tbsp. mayonnaise
2 tbsp. sour cream
1 tsp. Worcestershire sauce
1 tsp. ketchup
1 tsp. hot sauce
1 tsp. smoked paprika
1 tsp. black pepper
Directions
Trim the non-root end off of the onion and peel it.
Place the onion in the cutter with the root on the bottom, and cut according to the manufacturer instructions.
Place the onion in a container of water and refrigerate overnight to allow it to open.
Preheat your deep fryer to 350° Fahrenheit.
Prepare the flour and egg mixtures. Make the flour mixture by combining the flour, 2 tbsp. smoked paprika, oregano, thyme, black pepper, and coriander. To make the egg mixture, whisk together the eggs and milk.
Take the onion out of the water and lightly pat it dry.
Place the onion in the flour mixture and coat fully, taking care to get between the strips.
Transfer the onion to the egg mixture and coat fully, letting any excess egg drip off.
Repeat the flouring process. Pat off any excess flour.
Drop the onion (roots side up) into the fryer. You can spin the onion slightly while putting it in the oil to ensure even frying. Cook for 3 minutes.
Gently turn the onion over in the fryer and continue cooking for another 3 minutes.
Drain excess oil from the onion.
Prepare dipping sauce by combining the sauce ingredients. Keep the sauce refrigerated until you're ready to serve.
The onion blossom is a unique, delicious snack food that can be served at any restaurant, bar, or food stand. With a flavorful fried coating and delicious dipping sauce on the side, this dish will quickly become a customer favorite. Luckily for you, onion blossoms are cost-effective, leaving you with a huge profit margin to help your bottom line.
The 10 Most Underrated Craft Beer Cities
As beer drinkers continue to jump on the craft brew bandwagon, cities like Asheville, Denver, and both Portlands have come to prominence as some of the best beer towns in the United States. However, several lesser-known cities are also appearing on the craft beer scene, many of which produce beer just as delicious as the big name breweries. If you're wondering where to go on your next beercation, the towns on our list below are sure to keep your beer mugs overflowing with tasty brews. Keep reading to learn more about the most underrated craft beer cities in America!
Frederick, Maryland
While Frederick may not be Maryland's largest city, it offers plenty of things to do for locals and tourists alike. If you're a history buff or have an interest in learning more about the Civil War, Frederick is jam-packed with historic landmarks, African American heritage sites, and museums. One of Frederick's other great assets is its craft beer scene, which continues to blossom. Two of its finest breweries are listed below:
Flying Dog Brewery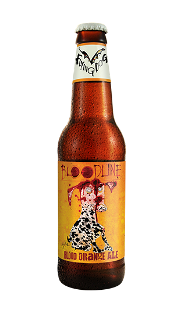 Flying Dog Brewery was founded as a brewpub in Aspen, Colorado by George Stranahan in 1990. In 1994, Stranahan and partner Richard McIntyre constructed a full-fledged brewery in Denver. The pair then purchased Frederick Brewing Company in 2006, moved across the country, and the rest, as they say, is history. Their signature beers include:
Raging Bitch, a Belgian IPA (8.3%)
Gonzo, a Baltic imperial porter (9.2%)
Bloodline Blood Orange IPA, an American IPA with blood orange (7%)
Monocacy Brewing Company
Monocacy Brewing Company was founded in 2012 as the off-site expansion facility for Brewer's Alley brewpub. In addition to producing all of Brewer's Alley beers, Monocacy also makes their own brews. Their goal is to embody the rich history of Frederick, which is evidenced by their name referencing the historic Monocacy Aqueduct on the C&O Canal. Their signature brews include:
Riot Rye, a rye pale ale (6.2%)
Brewtus, a coffee imperial stout (8.6%)
H.L. Rex, an American session pale ale (3.7%)
Louisville, Kentucky
Whether you're visiting the Kentucky Derby Museum, catching a University of Louisville football game, or traveling the Louisville Urban Bourbon Trail, you'll love all that this town has to offer. While the city's brewing scene may not be as well known as some of its regional neighbors, Louisville still has plenty to offer beer lovers. To learn more, check out the list below:
Great Flood Brewing Company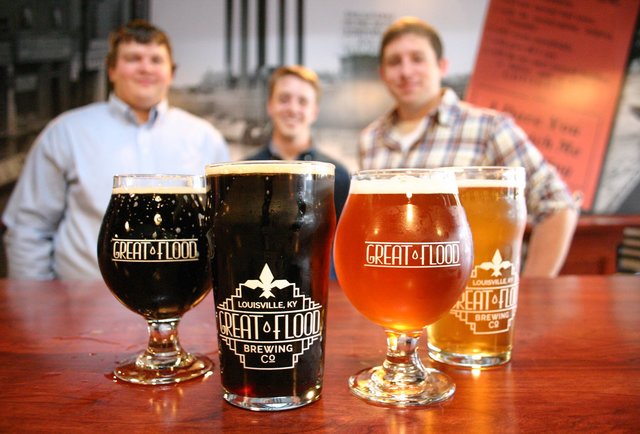 Founded by Vince Cain, Zach Barnes, and Matt Fuller in 2014, Great Flood Brewing Company is one of Louisville's most popular beer spots. Dissatisfied with their day jobs, the three learned the art of craft brewing in 2012 and moved into a historic building on Bardstown Road, which is a hub of culture and great food. A few of their signature beers include:
Tomahawk IPA, an American imperial IPA (9%)
'37 Porter, a Baltic porter (6.8%)
Juniper Wheat, a light wheat ale (5%)
Cumberland Brewery
Cumberland Brewery was founded in 2000 by entrepreneur Mark Allgeier. Along with brewers Cameron Finnis and Evan Blanford, Allgeier only served beer in-house for many years, but the trio has recently begun bottling their unique craft beers for distribution around the country. A few of their must-try brews include:
Nitro Porter (5.8%)
Matt's Red, an American amber ale (5.5%)
Pale Ale (5.9%)
Grand Rapids, Michigan
Declared one of The New York Times 52 Places to Go in 2016, Grand Rapids is renowned as one of the country's favorite travel destinations. Perfect for music lovers, history buffs, and families of all shapes and sizes, Grand Rapids is a smart choice for your next vacation or long weekend. The city's 40+ breweries, hotel brew packages, and ale trail also make it an ideal spot for any beer aficionado. To learn more, check out the list below:
Founders Brewing Company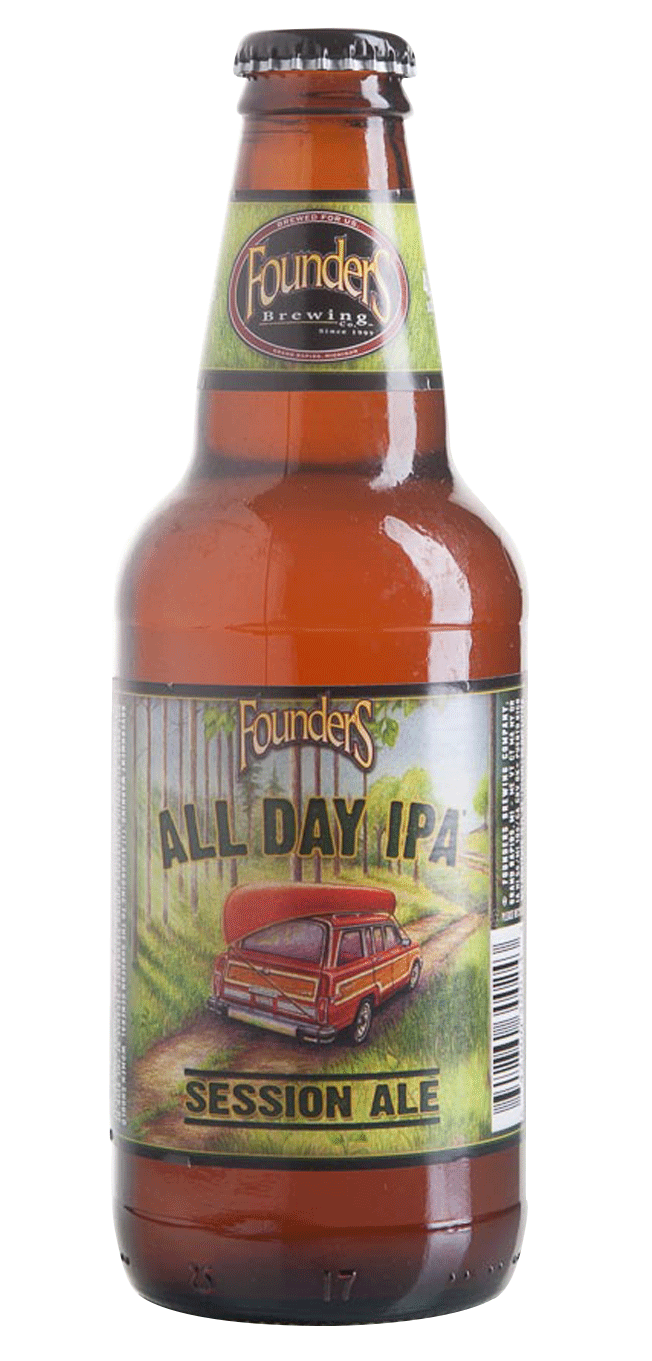 The road to opening Founders wasn't an easy one, but owners Mike Stevens and Dave Engbers opened what is now one of the top breweries in the country in 1996. Their goal is to create beers for those in search of complex brews bursting with aromatics, flavor, and body. A few of their signature beers include:
All Day IPA, an American session IPA (4.7%)
Porter (6.5%)
ReDANKulous, an American imperial red IPA (9.5%)
Grand Rapids Brewing Company
Grand Rapids Brewing Company was originally created in 1893, when six local breweries joined forces in what is now the site of a state office building. Today's brewpub opened in 2012 and is owned by Mark Sellers, who founded BarFly Ventures and also runs three other Grand Rapids bars. Grand Rapids Brewing Company's signature brews include:
Silver Foam, an American lager (4.5%)
Pannell's Flanders Red (8%)
Downtown Dank, an American imperial IPA (9.3%)
Temecula, California
The warm climate of Temecula makes it the perfect tourist destination for golfers, wine lovers, outdoor enthusiasts, and just about everyone else. The Old Town district also features a number of historic buildings and plenty of antique shops, making Temecula a great choice for history buffs, too. While California is primarily known for its vineyards and wineries, Temecula is full of unique craft breweries that deserve a visit. Two of the best are listed below:
Black Market Brewing Company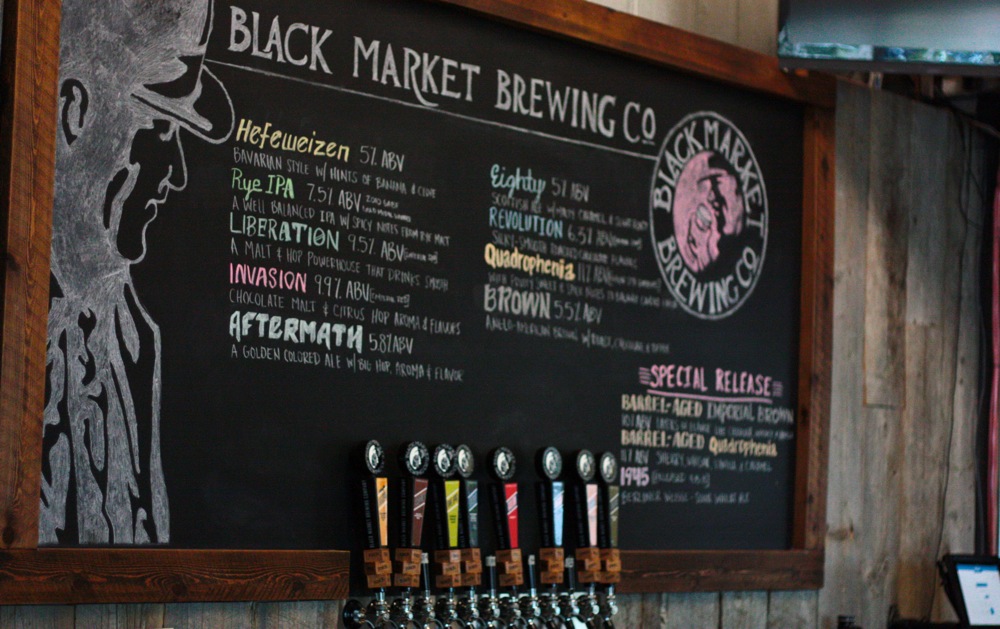 Founded by Kevin Dyer in 2007, Black Market Brewing Company was originally housed in a small warehouse the size of a large garage. Black Market is dedicated to using only the best yeast, malt, and hops, and is known for their creative, experimental, and innovative brews. Their signature beers include:
Invasion Imperial Red Ale (6.5%)
1945 Berliner Weisse, a sour wheat ale (3.8%)
Holiday Triple Black Rye IPA, an American black ale (7.5%)
Relentless Brewing
Relentless Brewing is a family-owned craft brewery that was founded in 2013 by brewmaster James Hess. They are best known for their sours and barrel aged brews, but you'll also find saisons, IPAs, and dark beers. Nestled between two other popular breweries, this spot is definitely a must-try. Their signature brews include:
Ride or Die, a golden sour (4.5%)
Tripel (6.7%)
Eta a la Ferme, a French farmhouse ale (6.7%)
Bend, Oregon
Bend is one of the country's up-and-coming destinations for leisure, but you'll also find plenty of skiing, whitewater rafting, and other outdoor activities to keep you busy. If you like to bring your furry friends along when you travel, you'll love Bend's status as one of the most dog-friendly cities in the country. Bend is also drinker-friendly and is home to the Bend Ale Trail, the largest brew trail in the West. To learn more, check out the list below:
Deschutes Brewery
Deschutes Brewery was founded by Gary Fish in 1988 as a small pub in downtown Bend. The brewery is family- and employee-owned and dedicated to improving their processes for maximum energy efficiency. With pubs in both Bend and Portland, Deschutes is one of the most well-known breweries in the country. A few of their signature beers include:
Black Butte Porter (5.2%)
Fresh Squeezed IPA (6.4%)
Mirror Pond Pale Ale (5%)
Bend Brewing Company
This brewery was founded in 1995 by Dave Hill and Jerry Fox, who were originally planning on opening a downtown brewing company called Brooks Street Brewery. The pair ended up changing the name to more closely associate it with the city, as it was only the town's second craft brewing company upon its inception. Their signature brews include:
Ching Ching, a Berliner Weisse (4.5%)
Hophead Imperial IPA (9.2%)
Outback X, an old ale (9.5%)
St. Petersburg, Florida
Located between the Gulf of Mexico and Tampa Bay, St. Petersburg is famous for its warm weather, sparkling water, and beautiful beaches. The city is also a cultural hub and is home to the world-renowned Salvador Dali Museum and the Creative Clay Cultural Arts Center. If you're a fan of the great outdoors, you'll love St. Pete's state parks, bike and walking trails, and fishing spots. The city is also home to a host of breweries, two of which are listed below:
Green Bench Brewing Company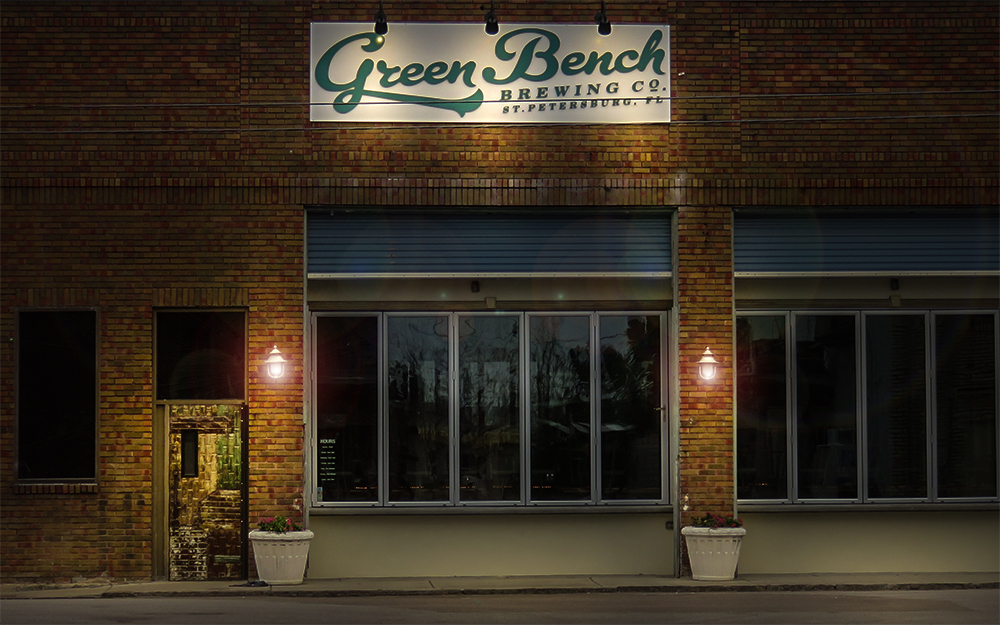 This brewery was founded in 2013 by Steven Duffy, Nathan Stonecipher, and Khris Johnson. In the early 1900s, St. Petersburg was known as the "City of Green Benches," as some 2,500 benches once lined the downtown sidewalks. These seats represented hospitality and brought people together, which is how this brewery came to be named. Their signature brews include:
Skyway Wheat, an American pale wheat ale (4.5%)
Maximo Milk Stout (5%)
Green Bench IPA (6.8%)
St. Pete Brewing Company
St. Pete Brewing Company was founded by Tom Williams and Jon McCracken. The latter was a former chef who enjoyed homebrewing and graduated from the American Brewers Guild, but never intended to become a commercial brewer. When he and Williams joined forces in 2014, though, St. Pete Brewing Company was born. Their signature brews include:
Orange Wheat, an American wheat ale (4.7%)
Evacuation Route ESB, an extra special bitter (5.3%)
Scottish Ale (5.9%)
Ithaca, New York
If you love the outdoors, Ithaca is the perfect place for your next adventure. With over 150 waterfalls in 10 square miles, an expansive network of hiking trails, and countless fishing spots on the shores of Cayuga Lake, you'll enjoy all of Ithaca's natural wonders. While the Finger Lakes region is usually known for its wineries, Ithaca is also a mecca for craft beer lovers and boasts a number of taprooms, brewpubs, and brewing companies to suit any palate. To learn more about Ithaca's flourishing beer scene, keep reading:
Ithaca Beer Company
This brewery was founded by Dan Mitchell in 1998 with the goal of exemplifying the unique spirit of the Finger Lakes. The brewery opened a new facility in 2012 that features a state-of-the art brewing area in addition to a taproom and beer garden that offer the perfect environment to enjoy Ithaca's award-winning and creative brews. Their signature beers include:
Flower Power, an American IPA (7.5%)
Nut Brown, an English brown ale (5.4%)
Happy Pils, a German pilsener (5%)
Bacchus Brewing Company
Conveniently located on the historic Finger Lakes Beer Trail, this brewery is an innovative addition to Ithaca's blossoming craft beer scene. Founded in 2012 by David McCune, the company's master brewer is Richie Shallcross, who was originally hired to help with a variety of tasks. Their signature brews include:
Blonde Ale (5.5%)
Bacchus IPA (6.5%)
Beerded Brown, a brown ale (5.2%)
Omaha, Nebraska
From casinos and golf courses to day spas and shopping, Omaha is the perfect tourist destination. Whether you're hanging out in Benson, Dundee, Old Market, or North Downtown, the city is bursting with culture, nightlife, and a rich culinary scene. Omaha is also one of the country's up-and-coming craft beer cities, and if you're interested in visiting them, the Omaha Craft Brewery Tour is sure to quench your thirst. Two of the city's finest breweries are listed below:
Infusion Brewing Company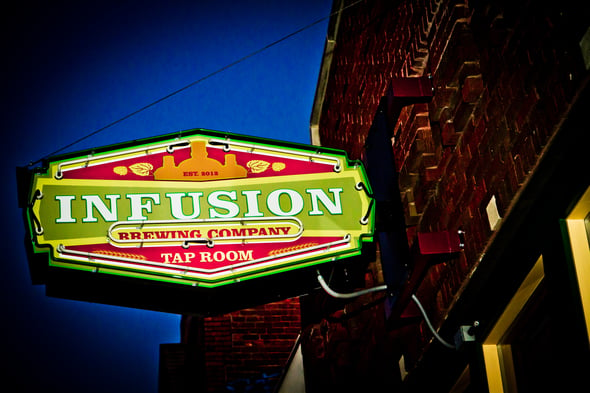 Infusion Brewing Company is located in a historic building that operated as a market and butcher shop in the first half of the twentieth century. This brewery was founded in 2012 by Bill Baburek, who also owns Crescent Moon, a local alehouse. With another location in West Omaha, you're sure to find Infusion beer wherever you go. Their signature brews include:
Mango Habanero Wit, a spicy witbier (5%)
Keg Stand Session IPA (4.8%)
Splish Splash Tart Cherry Wheat Ale (5.4%)
Farnam House Brewing Company
Farnam House Brewing Company was founded by brewmasters Phil Doerr and Tony Thomas in 2014. They specialize in Belgian, French, and German beers, and began their brewing journey by crafting unique saisons. Additionally, they always have a rotating sour or brett ale on tap, along with spontaneously fermented ciders. Their signature beers include:
Oud Bruin, a Flanders oud bruin (7%)
Farnam House IPA, a Belgian IPA (7.7%)
Farnam House Gratzer, a smoked beer (3.5%)
San Diego, California
From the beaches of La Jolla to the famous Torrey Pines golf course and a world-famous zoo, San Diego is a sunny paradise that has something for everyone. California's second largest city, San Diego is also home to over 70 miles of scenic coastline, making it the perfect spot for whale watching and other aquatic attractions. While San Diego isn't one of the country's well-known beer cities, it is packed with innovative craft breweries. To learn more, check out the list below:
Green Flash Brewing Company
Green Flash Brewing Company was founded in 2002 by husband-and-wife team Mike and Lisa Hinkley. Since the brewery's inception, they have focused on producing aggressive, hoppy, and high IBU IPAs, which has gained them recognition around the country. They also own Cellar 3, which specializes in barrel-aged and bottle-conditioned ales. Their signature beers include:
West Coast IPA, a American double IPA (8.1%)
Passion Fruit Kicker, an American pale wheat ale with passion fruit (5.5%)
Sea to Sea Lager, a zwickel lager (4.0%)
Ballast Point Brewing Company
This "back room" brewery grew from founder Jack White's Home Brew Mart, which he opened in 1992. Along with his friends, Pete A'Hearn and Yuseff Cherney, White officially opened Ballast Point Brewing Company in 1996. Dedicated to blending science and art, this company has reinterpreted brewing while also reinvigorating the industry. Their signature brews include:
Pineapple Sculpin, an American IPA (7%)
California Kolsch (5.2%)
Fathom, an India pale lager (7%)
Bozeman, Montana
Bozeman is an outdoor lover's paradise, and you'll find plenty of biking and hiking trails, campgrounds, fishing spots, and even ranches where you can go horseback riding. Bozeman is also located a mere 90 minutes from Yellowstone National Park, making it a perfect vacation destination. You'll also find a number of unique craft breweries that are sure to please any beer enthusiast. To learn more about what Bozeman has to offer, check out the list below:
Bozeman Brewing Company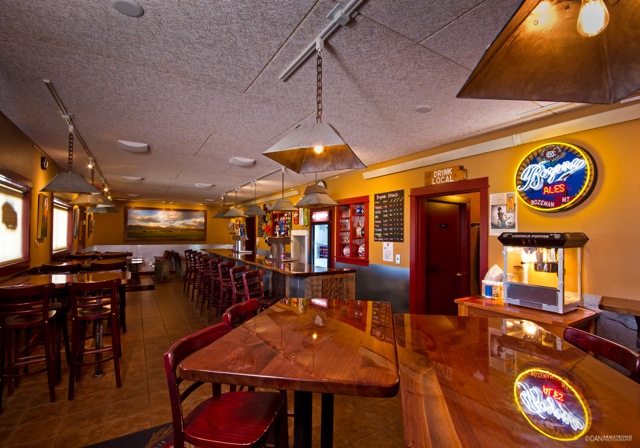 Bozeman Brewing Company was founded by husband-and-wife team Todd and Lisa Danzl Scott. A homebrewer for many years, Todd worked at Napa Valley Brewing Company and Spanish Peaks before starting the Bozeman Brewing Company in 2001. Their signature beers include:
Hopzone IPA (7%)
Bozone Select Amber Ale (5.4%)
Berliner Weisse (3.2%)
Bridger Brewing
This brewery was founded by David Breck and David Singler in 2011. The pair met in 2007 and formed an engineering consulting company, but soon decided their mutual dream was to open a brewery. After building their company from the ground up, they brought on head chef Jim Eberhard and opened for business. Their signature brews include:
Bobcat Brown, an American brown ale (5.2%)
Ghost Town Coffee Stout (5.8%)
Vigilante IPA (6.7%)
From Frederick to Grand Rapids and Bend to San Diego, the craft beer scene continues to maintain its popularity in small towns and big cities around the country. While the U.S.'s major beer cities are certainly worth visiting, there is also a host of lesser well-known brew towns that are focused on sustainability, fresh ingredients, and unique craft creations. Whether you're a seasoned beer drinker or a craft brew newbie, our list of the 10 most underrated craft beer cities is sure to help you expand your palate and nurture your love of beer.