How to Hire a

Bartender
A good bartender is essential to your restaurant business. One part salesman, one part drink expert, and one part friend to customers, it's important to find a bartender with the right balance of all three. They also need to be savvy of restaurant management issues ranging from inventory to alcohol safety issues. Read on for five traits to consider when hiring a bartender.
1. Evaluate Experience and Work History
When hiring a bartender, look for experience. A recent graduate of bartending school probably does not have the hands on experience needed to keep up with drink orders on a busy weekend night. Consider hiring recent grads as bar backs, or giving them shifts on slower nights.
Now on to the experienced bartender.
Years of experience might look good on a resume, but make sure you know the type of bar they previously worked for. Your prospective bartender should have experience working in an establishment similar to yours. Someone who has worked for years at a casual college campus bar might not be the best fit for a country club bar (and vice versa). This is why it's vital to check past work history and references.
2. Hire a Barback
Be sure to establish the roles of your staff before you bring in a new bartender. Who will order bar supplies? Stock shelves? Wash glassware? Check inventory? At a high volume bar, a bartender won't have time to keep the container of lime wedges full, clean up shattered beer glasses, and replenish kicked kegs. Consider hiring a barback to do the "grunt work" and ensure that details like inventory and cleaning don't get overlooked. Look for a recent graduate of bartending school or someone who is familiar with the operations of a kitchen or stockroom. And consider this: a good bar back will one day make an excellent bartender. For more on stocking a successful bar, view this handy breakdown of bar equipment and ingredients.
3. Bring in a Sommelier or Cicerone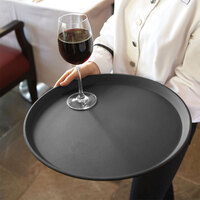 Anyone can claim to be an expert on wine or beer. But to give your bar an edge over the competition, bring in a certified Sommelier or Cicerone for expert knowledge in selecting and serving wine and beer, respectively. This is of particular value if you operate a specialty wine or beer establishment such as a brewery, taproom, wine bar, or have a food and drink pairing menu.
Loosely translated to "wine steward" or "cellar master" in French, a Sommelier helps customers navigate their way through your wine menu. Some even taste the uncorked bottle before serving it to patrons to ensure that wine lives up to its natural fragrances and flavors. A Sommelier can also suggest the correct wines to pair with food entrees, elevating the quality of service at your wine bar, country club, and other upscale drinking establishment. And don't forget to serve your vino in the right type of glass!
A Cicerone is considered an expert in beer flavors, styles, and service. They understand proper beer storage, handling, and even the proper serving glassware to ensure that beer tastes the way it should. Aspects of Cicerone training include:
Beer storage, sales and service
Beer styles and culture
Beer tasting and flavors
Brewing ingredients and processes
Pairing beer with food



4. Check Safety Certifications

Be sure that your bartending staff takes liability seriously. Remember that your restaurant and staff can face fines, imprisonment, loss of liquor license, increased insurance costs, and cessation of business in the event of alcohol safety related issues.

Ask prospective bartenders if they have any alcohol training, such as TIPS or ServSafe Alcohol. Look to established alcohol training resources. The National Restaurant Association's ServSafe Alcohol training teaches bartenders, servers, hosts, bussers, valets, bouncers, and front-of-house how to handle alcohol safety and liability issues. Training for Intervention Procedure (TIPS) is a skills-based training program that is designed to prevent intoxication, underage drinking, and drunk driving. Additionally, state Liquor Control Boards offer initiatives - for example, Pennsylvania's RAMP program - that teach staff to recognize signs of intoxication, detect fake identification, and address other alcohol safety issues.

5. Train Your Bartender as a Salesperson

Make sure your bartender is knowledgeable about up selling. A great start is to simply engage in conversation with customers. They should be able to detect undecided bar-goers who study the menu for a long time. A simple "Can I suggest one of our specials?" can help sway an indecisive patron.

Your bartender should be personable, and should strive to gauge the interests of customers. This can be used as another tactic when suggesting drinks. Saying "If you're looking for something tropical, our pineapple pina colada is my favorite beverage this summer" is a more convincing sales tactic then simply pointing to the tropical drink section of your menu.

Your bartender should be knowledgeable of both top shelf and cheaper drink brands. They should be suggestive towards more expensive brands, but not too pushy. Say "We have Tanqueray, if you'd like" when a customer orders a gin and tonic, or "Do you have a vodka preference? We have Grey Goose," when they order a martini.

Depending on your type of bar, your bartender should know the best food and drink pairings. What beers go well with your bar menu? What wines pair best with your desserts? By giving knowledgeable suggestions, your bartender will be viewed as a helpful resource rather than a salesman. Learn more employee training tips and strategies with these handy educational guides.