Product ReviewsView All Product Review Videos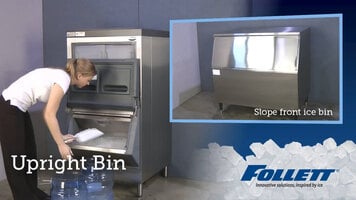 Follett Upright Ice Bins vs. Slope Front Bins
Check out this video to learn what makes a Follett upright ice bin superior to the competition! Follett Ice Device vs. Upright Bins
Unlike with an upright bin, dispensing ice with a Follett Ice-DevIce is fast and easy! It eliminates the need to scoop out the ice into containers for transport, making the dispensing process a whooping 10 times faster! Find out more in this short video. Follett Ice Device vs. Slope Front Bins
Provide your employees with a safe and comfortable way of dispensing and transporting ice with the Follett Ice-DevIce and SmartCART. The device reduces the likelihood of ice contamination and eliminates the need for employees to bend over to scoop out ice. If you still use a slope front bin, then check out this short video to see what you're missing!
Demonstrations View All Demonstration Videos
Basic Food Plating Techniques
Amp up the presentation of your meals by mastering three basic food plating techniques! Though artistic and impressive, plating does not need to be difficult. In less than 2 minutes, you can learn the need-to-know basics, and start adding flair to your food! This video shows you how.
Avery- Are your Labels GHS Compliant?
Learn about the six required parts of a GHS compliant label with this brief video from Avery! VacMaster Pro 380 External Vacuum Packaging Machine
Learn how to operate your VacMaster Pro 380 with the help of these simple steps!