WebstaurantStore / Food Service Resources / Blog
Green Catering Tips: How to Make Your Catering Business Environmentally Friendly
Going green may have started as a trend, but it's proven that it's here to stay. By getting your catering business on the eco-friendly bandwagon, you can appeal to the growing base of customers who are demanding sustainability from the companies they patronize. Not to mention, you'll be helping make the planet a better place, which is always a good thing. Check out the green catering tips below for some simple ways to make your catering operation more eco-friendly.
1. Go Vegetarian Whenever Possible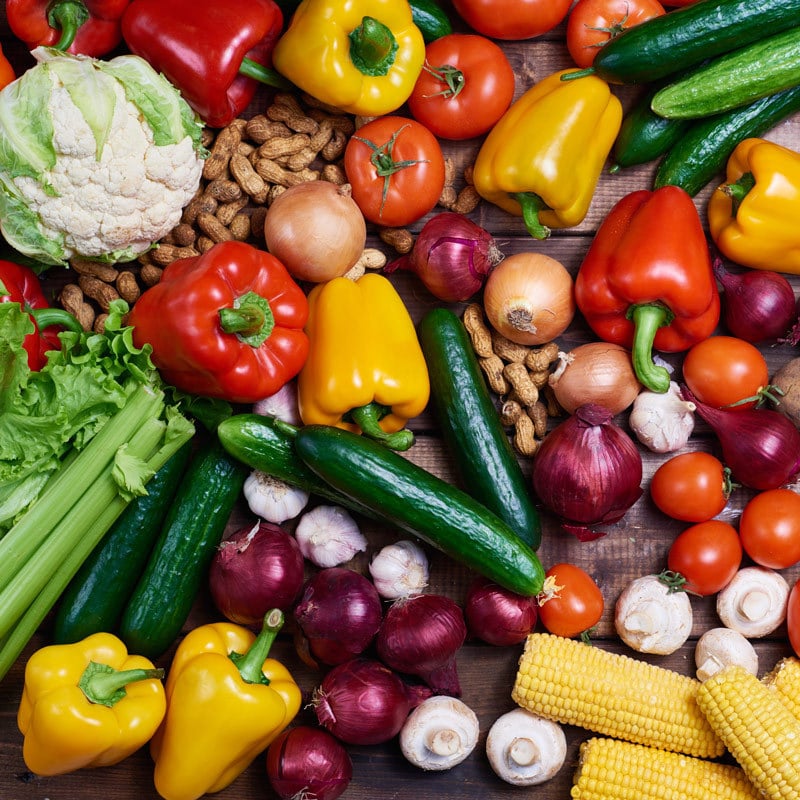 While typical catered events offer at least one meat dish, you should offer a completely vegetarian meal if you're marketing yourself as an eco-friendly caterer. When compared with vegetable farming, animal farming uses more water, releases more greenhouse gasses into the environment, and takes up more land. If your catering business serves vegetarian cuisine, then you're not contributing to these problems, and your environmentally-conscious customers will appreciate it. If you must serve meat, try to get it from local sources, so the product doesn't have to travel by truck, wasting fuel. You'll get a fresher product this way, too.
2. Incorporate a Seasonal Menu
Just like when you use local meat products, incorporating seasonal produce into your menu cuts down on the resources needed to transport food from the farm to your serving tray. When designing your green catering menu, you should also check out what's in season in your region since seasonal produce varies from location to location. Not only is seasonally switching up your menu better for the environment, but it's also a great way to get creative with your offerings.
3. Separate Recyclable Materials
Recycling is a great way for foodservice establishments of all types, including catering companies, to be more environmentally friendly. However, recycling at catering venues can require a few simple additional steps. If you're serving at a more upscale venue where servers bring food and drinks directly to your guests, train staff about proper waste management practices, and be sure they know exactly what they should be setting aside to be recycled. If your event is more informal and guests are responsible for clearing their own place settings, simply place a separate receptacle for recyclables next to your all-purpose trash can. Make sure your recycling container is clearly marked to let guests know what should be recycled and what should be thrown out.
4. Use Biodegradable Disposables
If your catered event is casual or at an outside venue, using traditional dinnerware may not be an option. Biodegradable disposables offer an alternative to foam or paper products because they are environmentally friendly, and they look great, too. Some of these products are made with PET plastic, which is biodegradable and can also be recycled easily. Others are made with bamboo, which is sustainable because unlike other wood products, bamboo is an abundant (and sometimes invasive) plant species. Bamboo products are also biodegradable.
5. Swap Disposable for Reusable
While green disposables are great for when you need them, reusing dinnerware and table linens is even better for the environment. Check out these options that you can use now and for catering events to come. These are ideal for more upscale events, including formal weddings, banquets, and luncheons. If you have the space to wash dishes and linens, steering clear of disposables is your most sustainable option.
There are lots of small changes you can make to an existing catering business to be more eco-friendly. If you're starting a new business with the Earth in mind, feel free to implement as many of these changes as possible when writing your business plan. Whether your business has been around for years or is brand new, don't forget to advertise the ways you're contributing to a greener planet. Many like-minded customers will appreciate your efforts, and be more likely to choose your business over one that isn't environmentally friendly.
Check out more green products you can use in your catering operation: