WebstaurantStore / Food Service Resources / Blog
7 Reasons to Buy an Avantco Reach In Refrigerator or Freezer

Reach-in refrigerators and freezers run 24/7 and are the workhorses of any commercial kitchen. As such, you want to make sure your business has an efficient and reliable unit. When the time comes to replace your existing machine, be sure to check out our Avantco Refrigeration CFD Series. This line not only has the best prices, but offers more standard features than any other brand.
1. Stainless Steel Interior, Sides, and Doors
Check out the specs of a few more expensive well-known brands. Think you'll get a stainless steel interior? Usually, these companies use less-expensive vinyl-coated aluminum, white coated steel, or plastic. You're also not likely to get stainless steel sides. Avantco CFD reach in-refrigerators and freezers come with a durable, easy-to-clean stainless steel interior, along with attractive stainless steel doors and sides.
2. Digital Temperature Controls and LCD Readout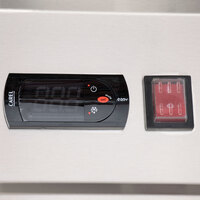 Digital temperature controls and a crisp, easy-to-read display allow you to precisely monitor and adjust your reach-in's interior temperature. On some of the other brands' more expensive models, however, you might find yourself adjusting and monitoring the interior temperature with a less accurate dial.
3. Sliding Shelf Rail Design
Many of the more costly models only support their shelves with cheap metal clips. However, Avantco CFD reach-in refrigerators and freezers utilize heavy duty slide rails, which, in addition to being incredibly durable, have a number of other benefits. These sliding shelf rails are still easy to adjust and move, but also allow you to easily slide shelves in and out. Plus, their strategic spacing gives you the ability to store full-size pans of food.
4. Self-Closing, Lockable Doors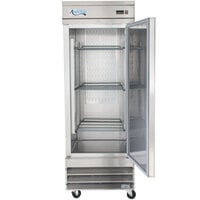 Your employees are in and out of the reach-in all day, so you've probably walked past a refrigerator more than once and seen the door hanging open or not shut all the way. Avantco CFD reach-ins feature self-closing doors, which help you conserve energy and ensure your food is held at the correct temperature. Additionally, standard door locks allow you to secure the reach-in's contents overnight to protect your valuable inventory.
5. High Quality Without the High Price Tag
Plain and simple: you get more for your money with Avantco CFD reach-ins. Every unit is ETL Sanitation and NSF Listed, and the sturdy casters (two of which have brakes) allow you to easily move the unit for cleaning or maintenance. Additionally, a bottom-mounted compressor raises the height of the lower shelves for easier access. If the unit ever needs servicing, bottom-mounted compressors are also much easier for the tech to reach.
6. 1 Year Parts and Labor Warranty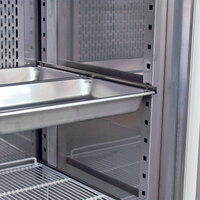 Every Avantco Refrigeration unit is backed by a 1 year parts and labor warranty. The compressor is covered for 5 years.
7. Affordable Price
If you're looking for a single-door reach in, choose a model from the Avantco SS series instead of a True T-23 or T-23F, as you'll save up to $600. In the market for a two-door reach-in? Save up to $1,100 with an Avantco SS-2R-HC series over a True T-49 model.
Finally, don't forget that on top of the lower purchase price, you're getting more standard features with an Avantco model than the competition. With all that leftover money, you could even replace some of your other equipment, too.
Posted in:
Product Spotlights
| By Brian Montgomery