Chocolate Pear Cake with Salted Caramel: WebstaurantEats Recipes
Warm up your holiday party this year with a cake that is sure to get attention. This spicy chocolate cake is packed with unique flavors! You'll catch hints of sweetness, some tartness, and savory notes with a bit of a kick right at the end. Your guests will be talking about your dessert from the moment you cut the cake to the moment when there isn't a single crumb left on the plate!
"Hot" Chocolate Pear Cake with Salted Caramel Recipe
Recipe by:
Ronne Day
WebstaurantStore Food Stylist
Serves: 8 – 10
Total Time: 2 – 3 hours
Ingredients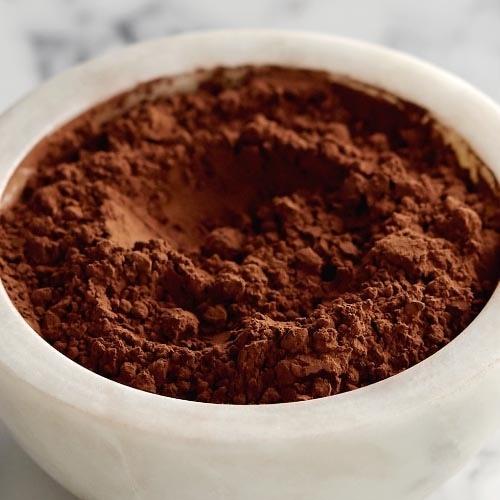 1/2 cup butter; Additional butter needed for greasing the pan
1/2 cup Dutch cocoa powder; Additional cocoa powder needed for dusting the pan
1 1/4 cups cake flour
3/4 tsp. baking powder
1/4 tsp. baking soda
1 1/4 tsp. Kosher salt
1 1/2 cups sugar
3/4 tsp. vanilla extract
1/4 tsp. freshly ground nutmeg
1 Tbsp. olive oil
2 eggs
1 cup buttermilk
1/2 cup finely chopped Mexican chocolate with chiles, such as Taza chocolate
3/4 to 1 lb. Seckel or small red Anjou pears, halved, cored, cut into quarters, then sliced into fans
4 cups water
2 cups white wine
3 Tbsp. lemon juice
3-1/2 oz. (7 Tbsp.) unsalted butter
1-3/4 cups packed dark brown sugar
3/4 cup whipping or heavy cream
1 tsp. flaky sea salt for finishing (kosher salt may be used instead)
Directions
For the Cake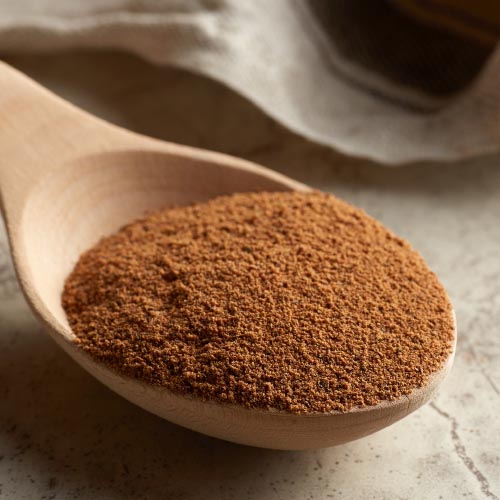 Butter a 9" springform pan and line the bottom and side with parchment paper.
Butter and dust the parchment on inside of the pan with cocoa powder.
Place a rack in the center of the oven and heat the oven to 325 degrees Fahrenheit.
Place a large sheet pan lined with parchment on a lower rack to catch any dripping.
In a medium bowl, sift or whisk the flour, cocoa powder, baking powder, baking soda, and 1/4 tsp. salt.
Using a paddle attachment on your stand mixer with a medium bowl, combine 1 cup sugar, 1/2 cup butter, vanilla, and nutmeg, and beat on low to combine.
Add the oil and beat on medium-low speed until thoroughly combined (about 1 minute).
Working alternately, add about 1/3 of the flour mixture, then about 1/3 of the buttermilk until both have been fully incorporated. Scrape the sides and bottom as necessary.
Add the eggs one at a time until fully incorporated.
Mix in the chocolate pieces.
Pour the batter into the springform pan and smooth the top with a small offset spatula or the back of a spoon.
Bake the cake for 30 minutes on the center rack, then rotate and continue to bake until a toothpick comes out clean (about 50 minutes to an hour).
For the Pears
While the cake is baking, combine 4 cups of water, wine, lemon juice, and remaining 1/2 cup of sugar in a large skillet and bring to a boil.
Reduce to medium low and add the pears. Poach the pieces until just tender (about 20 - 35 minutes).
Remove the pears from the poaching liquid and transfer them to a sheet pan lined with parchment. Set them aside.
For the Sauce
In a medium saucepan, combine the unsalted butter, dark brown sugar, cream, and 1 tsp. salt.
Bring to a boil over medium-high heat and reduce to a simmer.
Cook the sauce, stirring occasionally, until glossy and thick (about 6 to 8 minutes).
Allow to cool for at least 1 hour. The caramel thickens as it cools. You can make it a few hours ahead and keep it at room temperature; it can also be refrigerated for up to 1 week and gently reheated before serving.
Plating
When the cake is finished baking, transfer it to a cooling rack and allow it to cool for 20 minutes.
Remove the side of the springform pan and gently peel off the parchment.
Invert the cake onto a rack and remove the pan bottom and parchment.
Invert the cake onto a serving plate and arrange the poached pears on top.
Drizzle it with some of the caramel.
Finished Dish
Add the perfect finishing touch to your chocolate pear cake by sprinkling flaky sea salt on top. Serve your delicious cake with the remaining caramel sauce on the side for your guests to enjoy! You can find more recipes like this on the WebstaurantStore Instagram.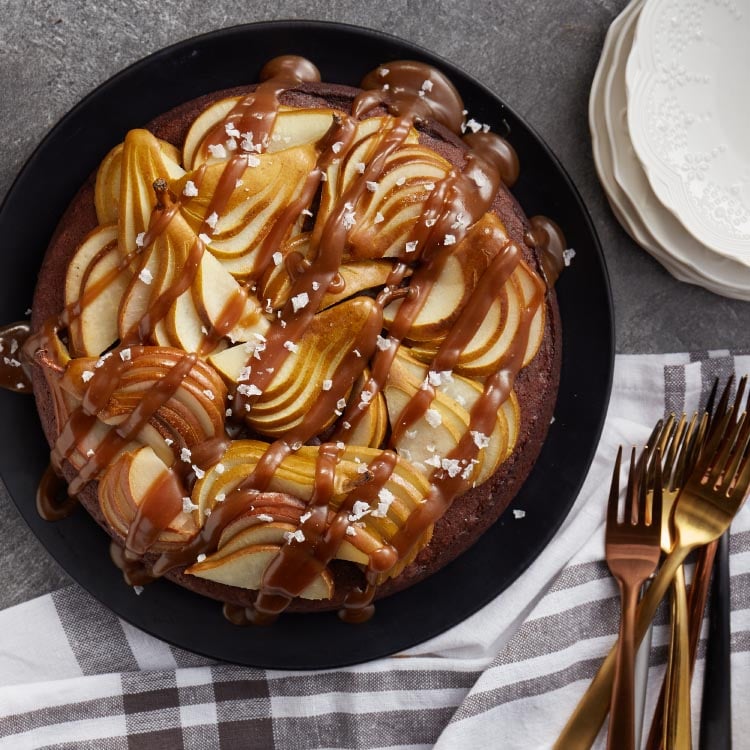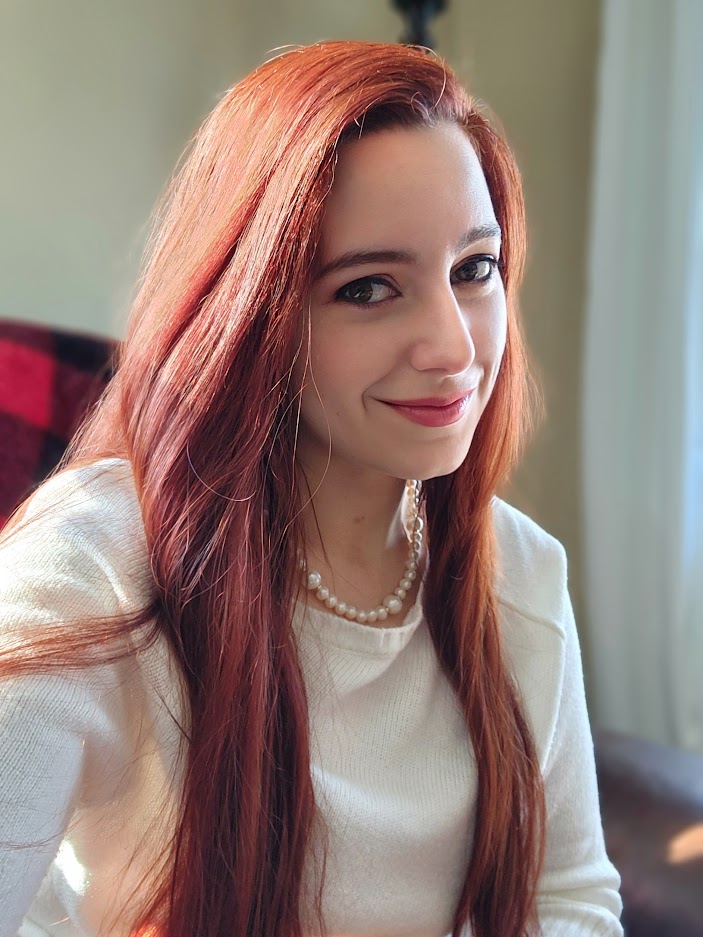 Posted in:
Recipes
|
By Janine Jones
The information provided on this website does not, and is not intended to, constitute legal advice. Please refer to our
Content Policy
for more details.