How to Make Cocktail Mixers and Bar Ingredients
If you are looking to open a bar, one way to personalize the cocktails on your menu is to use homemade ingredients. By making your own bar ingredients, you can save money for your bar and add a unique twist to simple drinks in order to help your business stand out from the competition. The most commonly used bar ingredients are bitters, simple syrup, grenadine, and maraschino cherries. Keep reading to learn how to make cocktail ingredients for the drinks being served at your bar.
If you want to skip ahead to a specific bar ingredient, click below:
1. How to Make Bitters
Bitters are one of the most popular bar ingredients to have on hand at any establishment that serves alcohol. Some cocktails that use bitters are the Old Fashioned, Manhattan, Sazerac, Champagne Cocktail, Pisco Sour, a Martini, or even a Daiquiri. These drinks are relatively easy to make as long as you have the right bar supplies. To make your own bitters, you only need a few ingredients, measuring spoons, and measuring cups.
Herbs and Spices for Bitters
Before you make your bitters, think of what kind of drinks you would like to add them to. This will help direct what kind of roots, herbs, and spices you should use to craft your bitters. If the end flavor is going to be fruity and fun, use vodka as your base alcohol with a combination (or all) of a fruit peel, chamomile, lavender, or lemongrass. If you would like to use bitters in a darker, more savory drink, use a type of whiskey as your base alcohol along with herbs and spices like sage, thyme, allspice, and cloves.
How to Make Bitters Video
Check out this video to learn how to make your own bitters:
Bitters Recipe
Follow our easy-to-use recipe to learn how to make bitters for your bar.
Ingredients and Materials:
A high-proof spirit (at least 100 proof or 50% ABV)
A small funnel
Herbs, spices, roots, and other flavorings of your choice
Measuring spoons
Sweetener (only if needed)
Distilled water (only if needed)
Directions:
Gather all of the spices, herbs, and flavorings you would like to use in your bitters. If you are looking to make multiple kinds of bitters that use a few of the same ingredients, it will be best to separate them into small jars during infusion and then later combine them in the dropper bottles. If not, you can infuse all of your ingredients together.
Next, pour your choice of alcohol into the jars and tightly secure the lids.
Label all of your jars with the date and the contents within.
Remember to shake your mixtures daily to distribute the flavors throughout the liquid. Test your mixtures every few days to see if they have reached maximum infusion. The mixture is ready when it smells just like the main ingredient(s).
Strain the contents of the jars through a cheesecloth and into a clean jar or jars (if separated).
Using your small funnel, pour your mixture into the storage bottle that has the eye dropper. If you separated your ingredients, choose which tinctures you would like to combine and pour them into the storage bottle.
If you taste your bitters and think they are too strong, you can add a sweetener or use distilled water to soften the taste.
Many bitters are made to be strong and only need to be added to drinks a few drops at a time to achieve a prominent taste. Have fun experimenting with many different kinds of herbs to develop a perfect concoction and enjoy crafting drinks around the flavors you create.
How to Infuse Bitters
As a common rule of thumb, use 4 ounces of alcohol for every teaspoon of herbs, spices, or roots that you want to infuse. Once combined, the entire infusion process will take about 2 weeks (give or take depending on your ingredients) to come to completion.
---
2. How to Make Simple Syrup
Like bitters, simple syrup is another main ingredient used behind the bar. Simple syrup is used in drinks like the Lemon Drop, Whiskey Sour, Daiquiris, and Mojitos. Just like the name implies, simple syrup is very simple to make and requires only two ingredients and a few minutes of time. Read on to find out how to create an easy simple syrup that will sweeten up your drinks.
Simple Syrup Recipe Video
Learn how to prepare simple syrup with the help of this video:
Simple Syrup Recipe
You can use the following recipe to make your own simple syrup.
Ingredients and Materials:
1 cup granulated sugar
1 cup water
A sauce pan and spoon
A medium sized bottle for storage
Directions:
Pour water into a sauce pan and bring it to a boil.
Add sugar and reduce heat.
Stir sugar continuously until dissolved.
Allow syrup to cool and then transfer to a bottle that can be sealed tightly.
For a more flavorful simple syrup, add in raspberry crumbles, lemon or lime zest, or a few dashes of ginger or cinnamon. These little additions will give your simple syrup a unique edge and bring your drinks to life. Refrigerating your simple syrup will help it keep for about a month.
---
3. How to Make Grenadine
Instead of giving your customers a dose of red food coloring and high fructose corn syrup in their drinks, delight them with the natural sweetness of homemade grenadine! Learn how to make grenadine for your bar with this recipe.
How to Make Grenadine Video
Use the following video to learn how to prepare grenadine for your cocktails:
Homemade Grenadine Recipe
Brew up the vibrant and delicious cocktail mixer by following our grenadine recipe.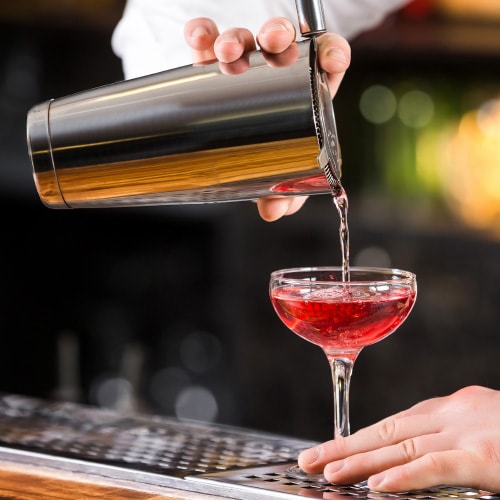 Ingredients and Materials:
1 cup of sugar
1 cups of 100% unsweetened pomegranate juice
1/2 oz. of lemon juice or to taste (optional)
A saucepan and spoon
A small funnel
A jar for storage
Directions:
Pour juice and sugar into your sauce pan.
Over medium heat, stir mixture to help dissolve the sugar and bring to a boil. Be careful not to over boil.
Turn the heat down and allow the liquid to thicken.
Allow everything to cool and slowly add a few drops of lemon juice.
Continue tasting and add more lemon juice if the syrup needs a little added tartness.
Pour mixture into the jar and screw the lid on tightly.
Enjoy putting this homemade grenadine in many alcohol beverages. Maraschino cherries are often paired with grenadine in drinks. Use our maraschino cherry recipe in the next section to impress your customers.
---
4. How to Make Maraschino Cherries
Top off your signature cocktails with homemade maraschino cherries! Maraschino cherries and grenadine are the perfect pair needed in many alcoholic beverages. Maraschino cherries may not be something you would first think of making on your own, but they are easy to make. We have the perfect recipe for you to make your restaurant's own maraschino cherries, which are perfect to use as a garnish on drinks like a Tequila Sunrise, a Shirley Temple, and a Cherry Smash.
How to Make Maraschino Cherries Video
Use the following video to learn how to prepare maraschino cherries for your bar or ice cream shop:
Maraschino Cherry Recipe
Prepare fresh maraschino cherries for your bar with the following recipe.
Ingredients and Materials:
Spoon for stirring
Large container with lid
Strainer
6 lb. of sweet cherries (pitted)
4 quarts of water
2 tablespoons of pickling salt
Large saucepan
9 lb. of sugar
6 cups of water
Juice from 2 lemons
2 ounces of almond extract
Red food coloring (optional)
Cinnamon stick (optional)
Mason jars for storage
Preparation:
Bring 4 quarts of water and pickling salt to a boil. Stir water until salt completely dissolves.
Remove from stove and allow to cool (about 30 minutes).
Place cherries in a large container and pour the salt water mixture over the cherries. Cover with lid and let sit for 12 hours.
Next, strain cherries and rinse with cold water to wash off any leftover brine.
Put cherries back in their large container.
Combine sugar, water, lemon juice, and food coloring (if using) in large saucepan. Over medium heat, bring to a boil, and stir until sugar is dissolved.
Remove from heat and allow to cool.
Pour over cherries, add the cinnamon stick (if you would like), seal container, and let them soak for 24 hours.
Drain cherries, but save the juice and put it back in your saucepan.
Bring the juice in the pan to a boil, remove from heat, and stir in the almond extract.
Ration cherries out into their jars, pour in juice (optional for added flavor), label, date, and store in the fridge.
These maraschino cherries will keep for up to 6 weeks when stored in the fridge. If you would prefer to preserve the cherries in jars by canning them, you can sterilize your jars before filling and seal them using a water bath.
---
Now that you have made four key ingredients to use behind your bar, try incorporating them into your menu to keep up with the latest bar trends! Your customers will be sure to love the homemade bitters, simple syrup, grenadine, and maraschino cherries that you offer. Making your own bar ingredients will not only make your customers happier, but it is also a great way to cut costs for your establishment. Enjoy many different drinks made with these DIY cocktail ingredients!
Posted in:
Bars & Breweries
|
Recipes
|
By Angalena Malavenda
The information provided on this website does not, and is not intended to, constitute legal advice. Please refer to our
Content Policy
for more details.