What Are Chiavari Chairs?
If you have been to a DIY wedding or extravagant catered event recently, you most likely have sat in a chiavari chair. This simple yet elegant piece of furniture has been appearing with greater frequency at upscale restaurants, award ceremonies, and nuptials.
But what makes this particular chair so popular? Read on to discover what makes chiavari chairs so appealing and why they may be the right fit for your establishment.
You may use the following links to jump to a particular section to learn more:
What Is a Chiavari Chair?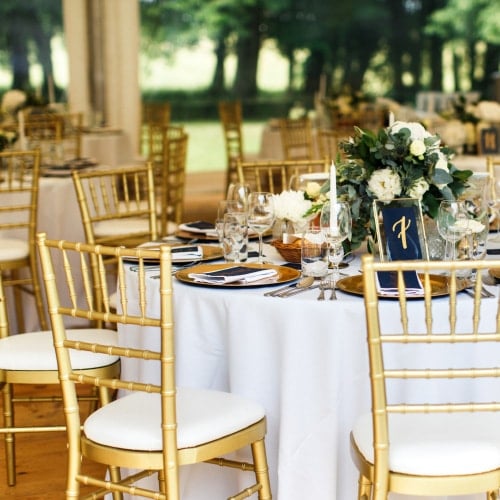 A chiavari chair is a light-weight chair that is distinguished by its signature bamboo-like joints that are carved into its frame. This iconic look has become synonymous with elegance, class, and sophistication. They may also be called "Tiffany Chairs." While the name is often misspelled as "chivari" or "chavari," the original name and correct spelling for this style is "chiavari."
Chiavari chairs rose to popularity after being used at John and Jackie Kennedy's wedding reception in 1953 for their 900 guests. Since then, the reputation of the chair style only grew in the public eye with the assistance of modern media using them to seat celebrities at the Oscars and Golden Globe award ceremonies.
The Origin of Chiavari Chairs
The chiavari chair, pronounced "ke-a-va're," was created in Chiavari, Italy and named after the city of its origin. It was designed and built by cabinetmaker Giuseppe Gaetano Descalzi in 1807 after the president of the Economic Society of Chiavari requested that he rework some chairs for their facility. The original design was a balloon-backed cherrywood chair that was both light and solid, as well as elegant. Chiavari chairs gained popularity so quickly that they were gifted to Pope Leo XIII in 1892 and later used to furnish dining halls in Queen Victoria's palace.
Back to Top
Why Are Chiavari Chairs so Popular?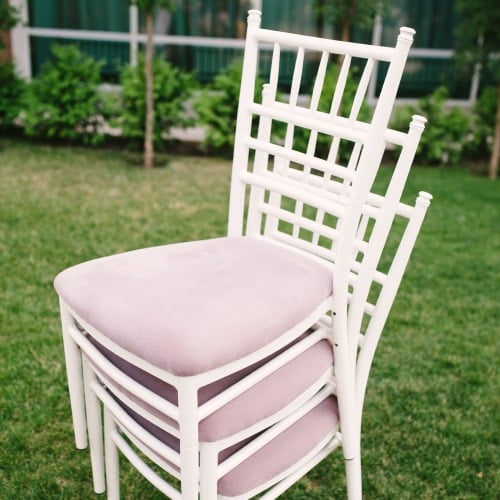 The chiavari chair popularity can be attributed to the many benefits provided by its physical design and features. Apart from its sophisticated appearance, the chair is also incredibly light-weight and can be easily stacked, making it convenient for maneuvering, transporting, and storing. Chiavari chairs can be stacked 6-8 chairs high without tipping or strain.They also have a relatively narrow footprint, generally only taking up a 16" x 24" area, allowing you to fit more people in a room and more chairs in storage.
Chiavari chairs are also made to be extremely versatile. They can be found in an array of colors and materials to match the aesthetics of a formal setting as well as a casual setting. The wide range of options, ease of maneuvering, and narrow profile makes this chair a valuable asset for catering halls, party rental companies, and even in restaurant dining room designs.
What Are Chiavari Chairs Made Of?
When it comes to furnishing a banquet hall, the material of the chair can make a huge impact on the event as a whole. Luckily, chiavari chairs are available in a few different material options to meet varying needs, preferences, and budgets.
Wood- Wooden chiavari chairs provide a natural and rustic look. They will generally be found at events and establishments with a more traditional or old-fashioned decor. Although there can be some variation in the stain between chairs, a wooden option can be easily refinished to cover up blemishes. Their weight capacity can be around 450-1,000 lbs depending on the construct.
Aluminum- Aluminum chiavari chairs are durable for repeated use and resistant to scratching. Depending on the construct of the chair, they will generally need a plywood-base cushion to keep the chair seat from warping over time. Their weight capacity can be around 1,000 lbs.
Resin- Resin chiavari chairs are extremely strong and highly durable against impact and strain. They are the most popular material option but will also be sold at the highest price point. Because the material is colored throughout, scratches and blemishes are naturally hidden by the product if they occur. Their weight capacity can be around 1,000 lbs.
Regardless of the material, factory assembled chairs will be stronger than knockdown chairs that require assembly, as they are made with heavier duty hardware. However, knockdown chairs will be available at a lower price point, while sacrificing some strength.
Chiavari Chair Decor
Part of the appeal of chiavari chairs is that they can easily be dressed up for different occasions and themes. They can be paired with removable seat cushions that are available in a variety of colors to match the color scheme of any event or party. Event coordinators may also choose to add sashes, lacing, bows, or chair covers for an extra bit of decor. The versatility of chiavari chairs, either bare or decorated, is what makes customers and party planners choose them again and again.
Back to Top
Chiavari chairs have been around for over 200 years and have set a standard for elegance in that time. So, if you're planning your very own eco-friendly barn wedding or preparing for an important gala, chiavari chairs may help you seat your guests in style.

Posted in:
Catering Tips
|
Facility Design & Decor
| By Janine Jones