WebstaurantStore / Food Service Resources / Blog
Plastic and Styrofoam Bans
Many cities and states are cracking down on the use of styrofoam, plastic bags, and plastic straws in foodservice applications. If your restaurant has started offering delivery services as a result of the current coronavirus restrictions on businesses, you should familiarize yourself with the current bans on certain types of food packaging. Keep reading to find out if your state is affected by plastic and styrofoam bans and learn about environmentally friendly packaging alternatives.
Plastic Bag Bans
There are several different types of legislation that have passed at the state, city, and county level regarding the distribution of single-use plastic bags. Some restrictions ban the use of all plastic bags completely, some simply place a tax on plastic bags, and some ban plastic bags based on their thickness in millimeters.
The landscape of plastic bag bans is a complex issue that has become even more complicated due to the coronavirus pandemic. Many believe that single-use plastic bags are a sanitary method of packaging goods and are less likely to cause cross-contamination. Some states, like New York, have amended or reversed their bans so that businesses can use plastic bags during this time. Contact your local government for the most up to date information on plastic bag bans and whether they are being halted in your area.
What States Have Banned Plastic Bags?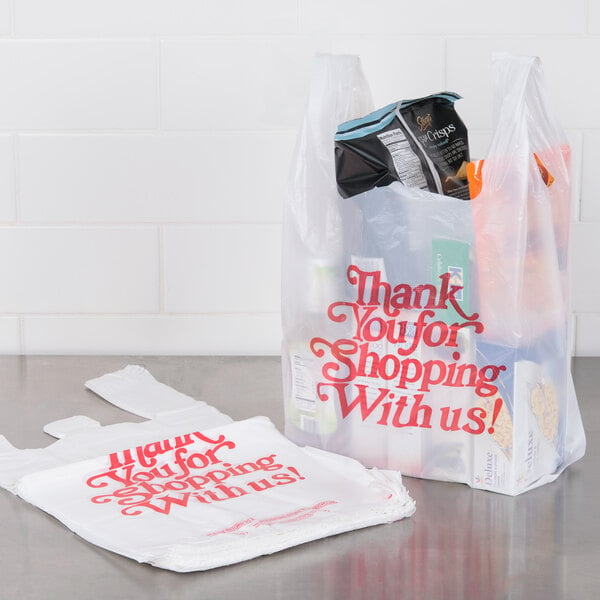 The following states have passed state-wide legislation regarding plastic bags:
California (ban on hold in San Francisco)
Connecticut
Delaware
Maine
New York (ban on hold)
Oregon (ban on hold)
Vermont (goes into affect July 1, 2020)
These states have passed legislation regarding plastic bags in at least one city or county:
Alaska
Colorado (ban on hold)
Florida
Hawaii
Illinois (ban on hold)
Massachusetts (ban on hold)
Maryland (ban on hold)
Michigan
Minnesota
New Jersey
New Mexico (ban on hold in Albuquerque)
North Carolina
Ohio
Pennsylvania
Rhode Island
South Carolina
Utah
Washington (ban on hold in Seattle)
Wyoming
Washington D.C.
Plastic Bag Alternatives
Paper Bags - Paper bags offer a convenient way to package takeout orders safely and abide restrictions on single-use plastic.
Reusable Bags - Reusable bags are considered the most environmentally friendly method of packaging goods. Make sure to check your state's current position on the use of reusable bags during the pandemic. It's always advisable to wash reusable bags after use to eliminate the risk of cross-contamination.
Food Boxes - Try skipping the bag altogether and using large takeout boxes with handles to package smaller items.
Styrofoam Bans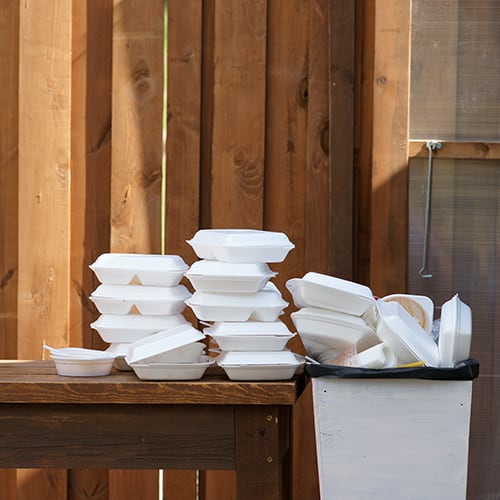 If your business offers food to go, whether it's in the form of take-out, delivery, or simply packing up a customer's leftovers, chances are you're familiar with Styrofoam. This widely used material is known for its durable, yet disposable properties which make it a staple among food trucks, delivery chains, caterers, and restaurants alike. Read on to learn why its convenience is being contested and if your city may be affected by recent bans.
Styrofoam vs Polystyrene
Styrofoam is a trademarked name by the Dow Chemical Company to describe their closed-cell extruded polystyrene foam. It is often used interchangeably with expanded polystyrene (EPS) foam.
Polystyrene is a non-biodegradable hard plastic. Styrofoam and EPS foam are typically used in to-go applications including take-out containers, disposable utensils, and coffee cups.
Is Styrofoam Recyclable?
Yes. Polystyrene products are marked with a recyclable symbol featuring the number "6." However, there are very few recycling centers across the country that accept and recycle Styrofoam.
Those that do accept this number 6 plastic typically need it to be cleaned and dried before being dropped off. Instead, the majority of America's Styrofoam products are placed in landfills where the non-biodegradable material does not break down.
What States Have Banned Styrofoam Containers?
So far, two states have passed statewide bans on the sale and distribution of expanded polystyrene products. Maine was the first state to pass a bill enacting a styrofoam ban, which will go into effect on January 1, 2021. Maryland was the second state to pass a similar bill but will be the first state to implement a statewide styrofoam ban on July 1, 2020. These could be the first of many states putting a ban into place. Statewide bans are currently being proposed in New York, Virginia, and Colorado.
Legislation banning Styrofoam has passed at the city level in the following areas. If you live in one of these states, contact your local government to find out if your city has been affected by these bans.
California
Florida
Hawaii
Maine
Maryland
Massachusetts
Minnesota
New Jersey
New York
Oregon
Texas
Washington
Washington, D.C.
Styrofoam Alternatives
If you live in an area currently affected by a Styrofoam ban, there are plenty of alternatives available to keep your take-out service running smoothly. Try any of these more environmentally friendly alternatives if you're looking to comply with local regulations or get ahead of the curve in your city.
Plastic Straw Bans
Plastic straw bans began popping up in Massachusetts in 2015 but didn't become mainstream news until Seattle became the largest US city to enact a straw ban in 2018. Supporters of plastic straw bans argue that single-use straws have a negative environmental impact, but those opposed to a ban on plastic straws argue that more expensive alternatives will hurt their business's bottom line.
What States Have Banned Plastic Straws?
So far, California is the first and only state to enact a state-wide ban on plastic straws. The details of the ban state that sit-down restaurants are prohibited from providing a single-use plastic straw to a dine-in customer unless it is requested.
Several other states have plastic straw bans that affect cities and even national parks. If you live in one of the states below, check with your local government to find out if your business is affected.
Arizona
California
Colorado
Florida
Montana
New Jersey
New York
Nevada
Oregon
South Carolina
Utah
Virginia
Washington
Washington D.C.
Plastic Straw Alternatives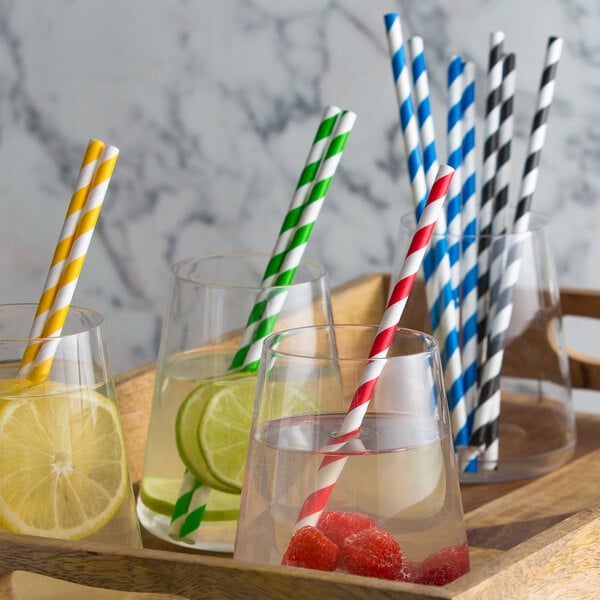 If your food truck, banquet hall, catering business, or cafe currently operates in any of the affected areas mentioned above, it's important to consider a few cost-effective alternatives to single-serve plastic straws. Whether you're complying with local regulations or making an environmentally friendly switch on your own, here are a few plastic straw alternatives you can try:
PLA Plastic Straws - These PLA plastic (aka corn plastic) straws are compostable.
Paper Straws - These festive paper straws are ideal for catered events or special occasions, and they break down easily after use.
Reusable Straws - Not only can these straws be washed and reused, they also provide an upselling opportunity. Try offering eco-friendly reusable straws as an add-on item to your beverage menu.
When it comes to operating your foodservice business, it's important to stay on top of possible legislative action that may affect your operational costs. Styrofoam and plastic are both big parts of take-out and delivery services, so finding an environmentally friendly option that complies with regulations without compromising your bottom line is imperative.

Posted in:
Eco-Friendly Tips
| By Rachel Jenkins