WebstaurantStore / Food Service Resources / Blog
Top 8 Amusement Park Restaurants
Let's be honest. Amusement parks aren't often known for their memorable food options. The phrase "amusement park food" alone brings up images of deep fryers bubbling with fried and greasy food. However, there are some parks with restaurants that are just as alluring as their wild attractions. Check out our list of the top eight amusement park restaurants to find out where the best culinary attractions are located.
8. Nathan's Famous Hot Dogs
Boardwalk, Coney Island, New York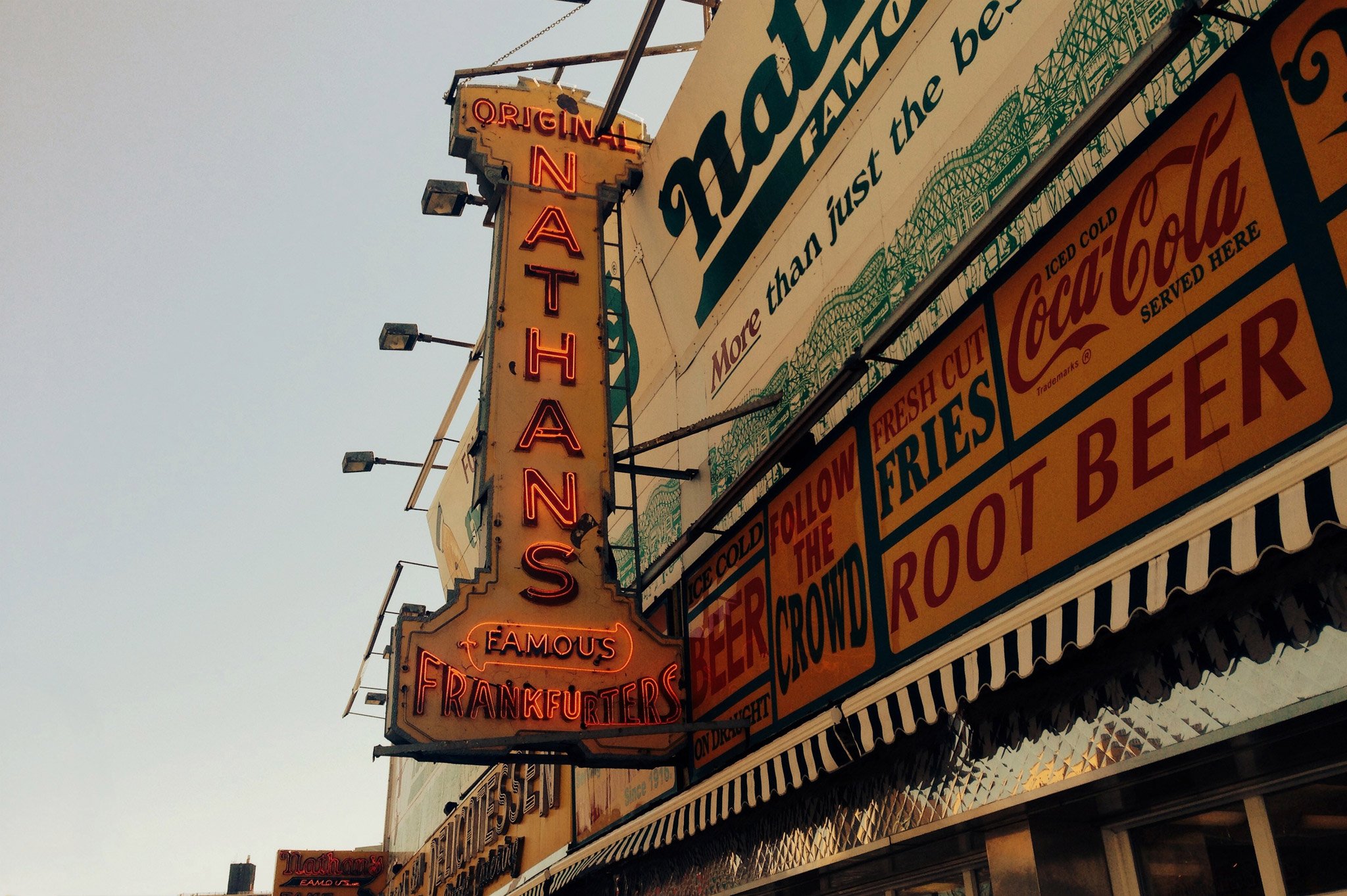 While Nathan's Famous hot dogs are widely accessible, some people will tell you that the best way to experience these all beef dogs is at the original Nathan's location on Coney Island. Maybe it has something to do with the air, heavy with the scent of salt water, or perhaps it's the nostalgia of eating at the original Nathan's restaurant. Whatever the reason is, stopping at this stand is a must for anyone spending the day exploring the attractions at Coney Island's Luna Park. Not to mention, Nathan's offers other delicious food options, like Krispy chicken sandwiches, juicy burgers, and fries loaded with toppings.
7. Mrs. Knott's Chicken Dinner Restaurant
Knott's Berry Farm, Buena Park, California
The food at Mrs. Knott's Chicken Dinner Restaurant is so good that the amusement park was built to entertain the long line of guests waiting to get a seat in the restaurant. Back in the 1920's, Knott's Berry Farm was exactly what it sounded like: a simple berry farm. In 1934, the family decided to open up a five table tea room that sold fried chicken, biscuits, and boysenberry pie. Over time, the meals at Mrs. Knott's restaurant became so popular that the family decided to build shops and attractions for guests while they waited for a seat. Today, the restaurant has expanded in size and offers both indoor and outdoor seating, along with a full-service bar, not to mention a massive amusement park.
6. The Alamo
Knoebels Amusement Park, Elysburg, Pennsylvania
While Knoebels is primarily known for its odd spelling (pronounced kuh-no-bels) and abundance of rides, this amusement park is also a destination for some tasty eats. The Alamo, named after the historic Alamo Mission in Texas, is a full-service restaurant that has been in operation since 1926. The menu here offers a little something for everybody: chicken and waffles, broiled New England whitefish, and even gnocchi. If their menu listings don't sound appealing, maybe the fact that Knoebels has won the Golden Ticket's "Best Food" award 12 years in a row will draw you in to see what all the hype is about.
5. Hungry Dutchman Cafe
Nelis' Dutch Village, Holland, Michigan
Nelis' Dutch Village is a destination within a destination. Not only does this park boast fields filled with colorful tulips, but it is also designed to represent the different villages of the Nelis family's home country, Holland. However, the best part of this amusement park is that you can try food from the Netherlands without having to leave the country. Located within the 10 sprawling acres of Dutch Village lies the Hungry Dutchman Cafe. It's here that you can try traditional, and mouthwatering, meals from Holland, like pork sausage baked in flaky pastry dough with a side of Dutch apple pie.
4. Boma - Flavors of Africa
Walt Disney World Resort, Orlando, Florida
With as many dining options as Disney World has to offer, it's no surprise that one of their restaurants landed a spot on our list. Much like the Hungry Dutchman Cafe, Boma provides guests a wide variety of flavors from other countries without having to spend money on the airfare. Located within Disney's Animal Kingdom, this restaurant offers delicious and unique entrees, sides, and desserts from over 50 African countries, like Harira soup, Pap and Chakalaka, and Tunisian couscous salad. The building itself is even designed to resemble a bustling African marketplace. Boma also offers more kid-friendly meal options such as corn dog nuggets, mac and cheese, and grilled chicken.
3. Three Broomsticks
Universal Orlando Resort, Orlando, Florida and Universal Studios Hollywood, Universal City, California
Transforming the fictional world of Harry Potter into an interactive theme park isn't an easy task. But, it's something Universal Studios has done not once, but twice. Besides offering all the fan favorites like Honeydukes and Wiseacre's Wizarding Equipment, the snowy, magical town of Hogsmeade also has a festive place to dine, the Three Broomsticks restaurant. While the menu mostly features dishes native to England, like shepherd's pie, fish and chips, and bangers and mash, this restaurant also offers the great feast platter that allows visitors to dine like a wizard returning to Hogwarts. Guests can even sip on Butterbeer, available in both alcoholic and non-alcoholic options.
2. Aunt Granny's All You Care to Eat Buffet
Dollywood, Pigeon Forge, Tennessee
Tucked away in the Great Smoky Mountains, tourists can find Aunt Granny's All You Care to Eat Buffet, the perfect place to try a wide, and endless, array of classic Southern comfort foods. While the name may seem to come from an older member of the Parton family, 'Aunt Granny' is actually a nickname given to Dolly herself from her nieces and nephews. Dollywood also offers other quality restaurants, like Backstage and Granny Ogle's Ham n' Beans, where guests can feast on sides and entrees like fried green tomatoes, banana pudding, and meatloaf.
1. Mythos Restaurant
Universal Orlando Resort, Orlando, Florida
Take a break from all the hustle and bustle of Universal Studios by unwinding and dining in the otherworldly Mythos Restaurant. Designed inside and out to look like a grotto carved by the gods, this 5-star, sit down restaurant is renowned by both foodies and amusement park goers for having some of the best food around. Their menu boasts a variety of options like spanakopita dip, pad thai, and pressed porchetta panini. They also offer a kid's menu that features simpler dishes, like chicken fingers and cheese pizza. If their wide range of tasty dishes isn't impressive enough, they've also been declared the world's best amusement park restaurant six years in a row by Theme Park Insider.
Not only can you find thrilling attractions behind the walls of amusement parks, but you can also discover mouthwatering meals. So, forget about the notion that all amusement park food is greasy and fried, and check out the delicious dishes these restaurants are serving up.

Posted in:
Foodservice Trends
|
Seasonal
| By Emily Hepner