WebstaurantStore / Food Service Resources / Blog
Best Restaurants in Lancaster Pennsylvania as Voted On by WebstaurantStore Employees
It's no surprise that as employees of a restaurant supply company, we all have a healthy appetite for delicious food. Luckily for us, we're nestled in Lancaster County, Pennsylvania, which is (believe it or not) home to an abundance of delicious food options. From spicy Indian meals and zesty Peruvian dishes to bountiful burgers and ooey-gooey pizzas, our neck of the woods offers plenty of options to satisfy any (and all) food cravings. So, we've compiled a list of our top 10 employee-voted best restaurants that gives you a little taste of what our area has to offer.
10. Lancaster Dispensing Company
Lancaster Dispensing Company, known among locals as "DipCo", is located right in the heart of downtown Lancaster city. This cozy bar and restaurant offers guests an array of light appetizers, hearty meals, a great selection of local and imported brews, and live entertainment.
" 'Dipco' is hands down the best restaurant in Lancaster County. The menu is extensive and able to satisfy any craving you may have. Not only that, but the food is delicious and the prices are reasonable as well. They have great weekly specials, too!" - Katie Rund, Platinum Account Manager
9. The Horse Inn
Renovated from horse stalls into a stylish prohibition-era-themed gastropub, The Horse Inn boasts "infamous" tenderloin tips and one-of-a-kind cocktails. Since the owners strive to only use local and fresh ingredients, their menu is always changing with the seasons.
"The Horse Inn features an atmosphere reminiscent of a prohibition-era speakeasy. The varying menu and excellent drinks make this a great establishment to either grab dinner or after-work drinks with co-workers." - Mike Good, Smallwares Content Manager
8. Iron Hill Brewery
Iron Hill Brewery not only offers handcrafted beers, but they also have signature dishes that both vegetarians and carnivores will love. Best of all, they have 12 locations throughout Pennsylvania, New Jersey, and Delaware, so there may be one near you.
"The atmosphere is very comfortable and relaxed. The service has always been friendly and the waitstaff usually provides excellent recommendations for beer or food. Their pizzas are delicious and I like to get their sweet potato fries with a variety of dipping sauces as an appetizer." - Michelle Martin, Logistics Liaison
7. Rachel's Café and Creperie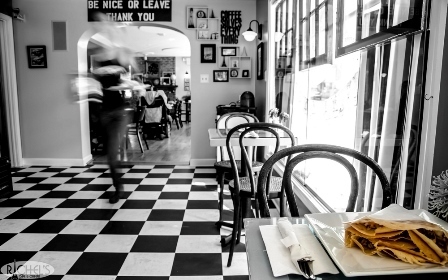 Thanks to their individually prepared sweet and savory crepe options, Rachel's Café and Creperie is the place to go for any meal. Not to mention, they also offer an assortment of delicious warm and cool beverages that pair perfectly with any crepe.
"To start, Rachel's has great coffee and specialty hot drinks. However, when I go there to eat, I am mostly looking forward to eating a delicious crepe. The large list of dinner crepes on the menu provides plenty of options for guests' preferences, which is an obvious point of interest for a restaurant. Not to mention, if you aren't hungry for dinner Rachel's also has plenty of sweet crepe options for dessert. The service is extremely helpful, punctual, and friendly." - Neal Mummau, Application Tester
6. The Belvedere Inn
Located in the former mansion of a tobacco plantation owner, The Belvedere Inn offers an elegant dining experience with an array of wine and spirit options. This trendy establishment also has a full-service piano bar and lounge located right above their dining area, known as Crazy Shirley's.
"Their food is impeccable and their service is incredible. They are so attentive to your needs and it's more than just a great meal, it's a family that greets you with warmth and kindness and makes every visit a fabulous experience!" - JP Welliver, Customer Solutions Specialist
5. Ma(i)son
The owners of Ma(i)son practice an approach to food that is "rooted in the soulful culinary traditions and techniques of the old world". This "urban cookery" uses fresh and local ingredients and blends them with French and Italian cooking styles.
"Described as "an intimate, farm-driven, urban cookery". Everything is handmade using local ingredients from Lancaster County and the Susquehanna River Valley. The owners live above the restaurant and think of the restaurant as an extension of their home. It is always a warm and inviting experience, where the quality of the food matches the quality of the people."- Kylie Brubaker, Drop Shipment Support Manager
4. El Serrano
For over 20 years, El Serrano has been the place to dine for anyone who loves Peruvian and Latin-American cuisine. Their newer location in Lancaster County is designed to enhance your dining experience by making it feel as if you've been transported to Peru.
"It's a great place to go with a group of friends or family - the atmosphere is very upbeat and exciting. The food and margaritas are to die for. I would highly recommend visiting when there is live music!" - Olivia Retterer, Customer Solutions Training Specialist
3. Aussie and the Fox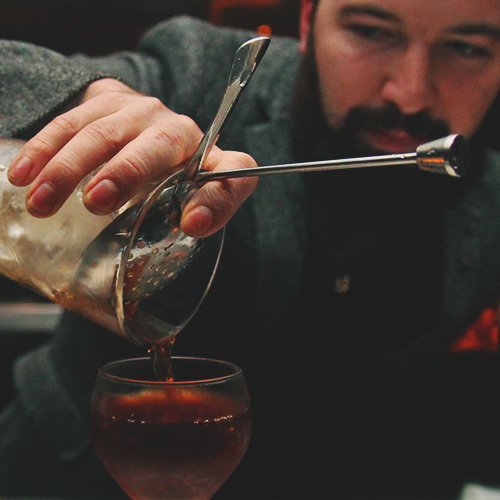 Travel to the land down under with the help of Aussie and the Fox's innovative blend of Australian and American cuisine. This family owned restaurant and bar brings the personality of the playful Aussie general manager, Colin Morrell, and mixes it with the sophistication of the proprietor, Frank Fox.
"Unbeatable cocktails, an innovative menu that offers modern twists on local classics, a beautiful dining space, and great service!" - Andy Keim, Site Maintenance Manager
2. Rice and Noodles
After Hurricane Katrina destroyed their successful Vietnamese restaurant in New Orleans, the owners of Rice and Noodles were forced to evacuate and stay with family in Lancaster. In 2006, they opened their restaurant in Lancaster where they use fresh and local ingredients to create traditional and delicious Vietnamese dishes.
"This modernized viet food joint serves a lot of the old country in a new format." - Vang Pha, Systems Administrator
1. Himalayan Curry and Grill
Whether you're a vegan, vegetarian, or a meat-loving carnivore, Himalayan Curry and Grill offers a little something for everyone (which explains why it's our number one employee-voted best restaurant). This Nepalese and Indian restaurant boasts flavorful and spicy appetizers and entrees, as well as sweet desserts and yogurt drinks.
"I go there about once a week to get my fix of wonderful Nepali food. The people are very friendly and the service is great. Since we are there so often, they know our names as well as the dishes we typically order which really gives it a neighborhood feel. The place is always packed, so reservations are pretty much a must. Being a "BYOB" place also helps the wallet. The governor was there with the mayor last week while we were dining, so you know they are serving up some of the best food in town." - Marla Stauffer, Director of Logistics
Honorable Mentions: Fenz Restaurant and Latenight, Flora's Restaurant, Ginza Sushi, Hunger N Thirst, Mad Chef Craft Brewing, On Orange, Roburritos, Silantra, Sukhothai Restaurant, Trattoria Fratelli, and Wasabi.

Posted in:
Company Information
| By Emily Hepner