With so many options out there, shopping for restaurant flatware can be a challenge – that's why we've created this handy guide.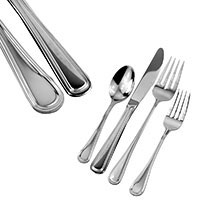 In this flatware buying guide, you'll learn about some common terms related to commercial flatware to help you make an educated decision in choosing the right flatware that's best suited for your establishment. It's important to know the differences between the various styles, because, with all the different types of flatware available in the market, the decision making process can become extremely overwhelming! We've even made it easier by including a comparison guide so you can view each pattern we offer, and compare it in style to similar patterns from other manufacturers to ensure your new flatware matches your existing collection.
Flatware Quality: 18/10 Vs. 18/0
Stainless steel flatware is available in two qualities: 18/0 or 18/10. You may come across another one called 18/8, but this is virtually identical to 18/10 stainless steel. These designations refer to the percentages of chromium and nickel in the stainless steel alloy. The "18" refers to 18% chromium which is added to the steel mix to give it stainless properties and strength. The "10" refers to nickel, which gives a soft, silvery sheen and increases the rust-resistance of the alloy. A "0" indicates that nickel is not a part of the stainless steel alloy.
18/0 flatware is magnetic, which makes it a good choice if you use magnetic flatware retrievers at your business.

Keep in mind that these numbers do not refer to the physical weight or thickness of the stainless.
The Difference Between 18/10 and 18/0 Stainless Steel
Flatware Weight: Understanding the Terms
Medium Weight Flatware: Medium weight flatware is the lightest flatware that we carry. This is primarily called medium weight flatware in the industry but it can also be called economy weight, and is commonly sought by the value minded buyer. Medium weight flatware is often bendable in your hand and commonly found in cafeterias, schools, and other institutional settings.

Heavy Weight Flatware: Heavy weight flatware is more durable than medium weight flatware, not easily bent, and makes for a nice presentation. As a definitive step up in quality from medium weight, it is commonly used in fast casual dining establishments and many other mid-level eateries.

Extra Heavy Weight Flatware: As our premium grade of flatware, extra heavy weight flatware exudes a level of quality that you will see at most finer restaurants and hotels. It feels very sturdy in your hand and is very difficult to bend, compared to medium or even heavy weight flatware.

Now that you understand quality and weight, the process of choosing flatware should be much simpler, right? The next step is to actually recognize the types of flatware and what meal or food each is used for. There are multiple sizes and styles of spoons, forks, and knives; and the chart below will walk you through each type we have available!
| Style | Description | |
| --- | --- | --- |
| Teaspoon | The classic teaspoon is part of most traditional place settings. It is used for a wide variety of items from coffee and tea, to desserts, cereal, and soup. It is what most people envision when they think of a spoon. | |
| Dessert Spoon | A dessert spoon is similar in size and shape to a soup spoon (often larger than a teaspoon, too). It has a wide, deep, oval-shaped bowl. | |
| Tablespoon | A tablespoon resembles a traditional teaspoon in shape, but is much larger. Tablespoons are mainly used as serving utensils for bowls placed in the middle of the table. | |
| Soup Spoon | A soup spoon has a wider and deeper oval-shaped bowl than a tablespoon, so it can hold more liquid. It has a similar overall shape. | |
| Demitasse Spoon | A demitasse spoon is similar in shape to a standard teaspoon, but generally has a longer handle and a slightly smaller bowl. It's designed to stir coffee drinks served in small quantities such as espresso or cappuccino. | |
| Bouillon Spoon | A bouillon spoon is another type of soup spoon. Bouillon spoons are generally smaller than a regular soup spoon and have a round bowl. | |
| Iced Tea Spoon / Soda Spoon | This spoon generally has a long, thin handle and a small, oval-shaped bowl. It's great for stirring tall drinks, milk shakes, and root beer floats. | |
| Grapefruit spoon/Citrus Spoon | A grapefruit spoon is similar in design to a teaspoon, but features an elongated bowl and a rigid serrated edge to easily separate the fruit from the rind. This spoon can also be used for other fruits such as oranges and melons. | |
| Dinner Fork | The all-purpose dinner fork is part of almost all traditional place settings. It is usually used for the main course. In many casual or quick-serve restaurants, this may be the only fork used. Most dinner forks have four tines, but some only have three, depending on the pattern. | |
| Cocktail / Oyster Fork | This small fork is suitable for small appetizers such as cheese cubes, olives, and oysters. | |
| Dessert Fork | A dessert fork and a salad fork are sometimes used interchangeably, even though true dessert forks are slightly smaller and thinner than a salad fork. It is mainly used for eating desserts such as cake or pie. | |
| Salad Fork | A salad fork is smaller than a traditional dinner fork, and is most often used for eating salads or smaller items such as sliced fruit. It may also be used as a dessert fork, even though a true dessert fork is even smaller and more thinly-built. | |
| European Dinner Fork | A European dinner fork is generally larger and heavier than a traditional dinner fork. It is usually used during formal occasions and can be found in many higher-end restaurants. | |
| Snail fork | A snail fork traditionally features two long, pointed tines and is used to gently pry the meat from the snail shell. | |
| European Dinner Knife | A European dinner knife is nearly a third larger and heavier than a traditional dinner knife. It is most often used in formal occasions and is found in many higher-end restaurants. | |
| Dinner Knife | A dinner knife traditionally has a rounded tip and slightly longer blade than the butter knife. It is used for cutting slightly rougher foods such as vegetables and soft meats, and is one of the more common pieces of flatware on the dinner table. | |
| Butter Knife | A butter knife typically has a dull edge with a rounded point. This design makes it suitable for spreading jam or butter onto soft foods like rolls, muffins, or toast. | |
| Butter spreader | A butter spreader is typically the smallest knife in a set of flatware, and features a rounded tip and flat blade. It is used to spread butter, jelly and other toppings. | |
Stainless Steel Flatware Care
Stainless steel flatware will last longer and look better if you keep the following tips in mind:

Remove all food remnants from your flatware as soon as possible.
Sort and handle properly. It's a good idea to sort the tines, blades and bowls down if you transport and wash flatware in the same cylinders. When washing in the flatware cylinders, it's a good idea to mix up the flatware so forks and spoons don't "nest", and wash with the business end up.
Presoak for approximately 20 minutes. Noble Chemical's Silva Soak Presoak Powder is a great choice for presoaking your stainless steel flatware. This concentrated powder (a little goes a long way) penetrates and saturates soils for more effective removal in your wash cycle.
Don't forget to change your soaking solution after a few cycles; otherwise chemicals and food particles will accumulate and reduce its effectiveness.
Like all stainless steel, hard water and detergents high in chlorides will eventually break down the protective film. As long as you follow proper presoaking and drying procedures and your dish machine is rinsing correctly, any high quality detergent and sanitizer should not harm your flatware.
To ensure your flatware always looks its best, be sure to polish immediately with a microfiber cloth or mitt, eliminating any water spots or smudges.
With the convenient comparison chart below, you are able to find the perfect flatware pattern to suit your establishment's needs, or to match your existing flatware to other similar manufacturers' lines. Simply click through the patterns, and check out all the different styles for yourself!