Find the Best Non-Stick Fry Pans for Your Business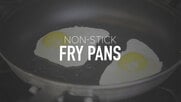 Because they keep foods from clinging to their interior, non-stick fry pans are a smart choice for any restaurant, diner, or upscale bistro. These easy-to-clean products are constructed of durable materials like stainless steel, aluminum, and carbon steel, and can also be purchased in a variety of sizes to suit the needs of any business. You can choose from entry or mid level models, and we also sell high end fry pans that are perfect for high-volume restaurants or buffets. Additionally, our inventory includes products with coatings like CeramiGuard II, PTFE Non-Stick, and PowerCoat2, all of which offer a variety of non-stick benefits. Some of these items are also induction ready, oven safe, and NSF Listed, so they're easy to heat and can be deep cleaned after use. No matter what kind of business you own, non-stick fry pans are the perfect addition to your inventory of cookware. To learn more about the differences between these products, explore the tabs above and the filters on the left side of the page.
Non-stick frying pans are good for cooking so many foods, which is why it's important to have a sturdy option available when making meals in your commercial kitchen. Our pans are made of different metals, so you can pick one for durability, heat conductivity, or a combination of both. You can also choose between riveted and welded handles. For additional products to go with your pans, check out our fry pan servers, sauce pots, and pan brushes. If you're wondering where to buy non-stick fry pans, we have a large selection of non-stick fry pans for sale at the lowest prices.