How to Make a Coronarita
If you're looking for a refreshing cocktail to celebrate Cinco de Mayo, the Coronarita is a perfect choice. Coronaritas are simple to prepare and only require a few bar supplies to make, allowing your staff to quickly crank out drinks during happy hour. Whether you own a Mexican restaurant, tequila bar, or tropical cafe, this Coronarita recipe is an excellent addition to your menu.
With many customers choosing to celebrate Cinco de Mayo at home due to the coronavirus, you can utilize marketing strategies to stay engaged with them. One effective strategy is to create cocktail kits with all the necessary ingredients for a Coronarita that customers can pick up from your bar. This way, they can make this classic Cinco de Mayo drink at home!
How to Drink a Coronarita
The Coronarita is a drink that seems to defy gravity. You would expect that, when you flip the beer upside down in your cocktail, the mixture would overflow and spill all over the place. But curiously, it all stays in place.
The secret to the Coronarita has to do with pressure. If you flipped a bottle of Corona upside down normally, the beer would fall out and be replaced inside the bottle by air. But, in a Coronarita, the mouth of the bottle is surrounded by liquid, which prevents air from entering the bottle. The air inside the bottle creates pressure that keeps the beer from spilling out into the margarita. However, when you sip on the margarita with a straw, the liquid level in the glass will go down, and the beer inside the bottle will then flow into the glass to make up for the missing liquid.
Coronarita Recipe Video
Check out our video for a step-by-step Coronarita tutorial!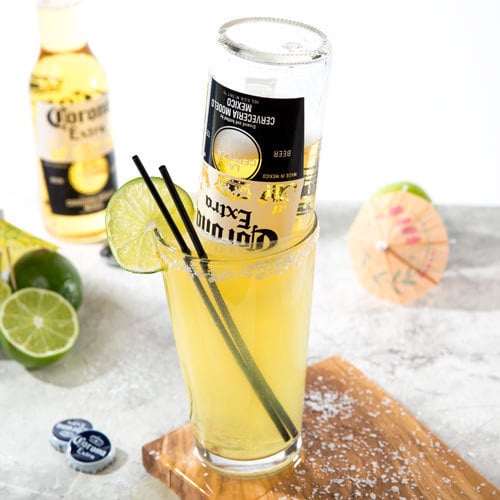 Coronarita Ingredients
Ice cubes
Rimming salt
1 1/2 oz. silver tequila
3/4 oz. triple sec
3 oz. lime sour mix
(1) 12 oz. bottle of Corona, Dos Equis, Pacifico, Tecate, Carta Blanca, Modelo, or any Mexican beer
How to Make a Coronarita
Pour ice cubes, tequila, triple sec, and lime sour mix into a cocktail shaker.
Shake the mixture and strain it into a salted pint glass.
Quickly flip the beer upside down and place it into the drink, so it dispenses slowly as you drink your delicious Coronarita from a straw.
---
Whether you call it a Coronarita, a Mexican Bulldog Margarita, or a Mexican Car Crash, this tequila-inspired Mexican drink recipe will be a hit with your customers. Though this drink is not always served in a traditional margarita glass, it still delivers on the familiar and refreshing flavors of two classic beverages. Make sure to stock up on cocktail supplies for Cinco de Mayo here:

Posted in:
Recipes
|
Bars & Breweries
| By Richard Traylor