What Is Whipped Coffee?
Whipped coffee, or dalgona coffee, is a Korean coffee trend that became popularized through the social media platform TikTok. The highly photographable beverage consists of a thick layer of fluffy coffee floating on top of iced milk, and it's made with four ingredients: instant coffee, sugar, water, and milk.
This coffee trend picked up steam during the quarantines caused by the coronavirus, earning it the nickname of quarantine coffee. Learn how to make this frothy coffee by following the directions below and see if it should join the coffee drinks on your cafe menu.
How to Make Dalgona Coffee
To make whipped coffee, you will need a whisk or mixer and a bowl to bring the coffee to a frothy consistency. The whipped instant coffee mixture is then dolloped on top of chilled or warm milk to make a visually appealing presentation.
Dalgona Coffee Recipe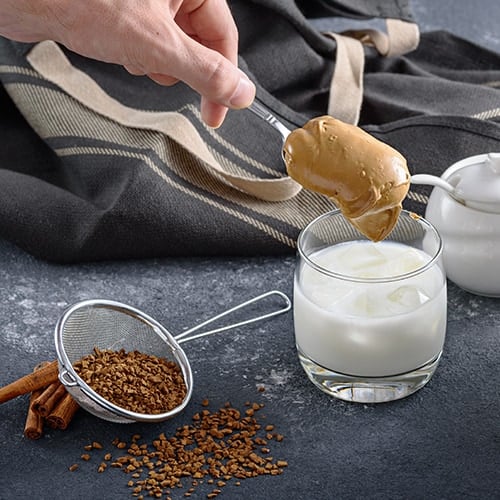 The following whipped coffee recipe makes 1 to 2 servings.
Ingredients
2 Tbsp. instant coffee
2 Tbsp. granulated sugar
2 Tbsp. water
1 cup milk
Ice for serving (optional)
Directions
Add the instant coffee and sugar to a medium-sized bowl.
Heat water to boiling and immediately pour over ingredients. Stir to dissolve.
Mix the ingredients using a hand mixer for 2-4 minutes or until it forms stiff peaks. (You can whisk the mixture by hand but this may take around 8-12 minutes and require upper arm strength and endurance.)
In a separate cup, add the milk, either hot or over ice.
Scoop the whipped coffee mixture and dollop it on top of the milk.
Stir with a straw or spoon and enjoy!
Whipped Coffee Video
Use the following video to learn how to make whipped coffee:
---
Whipped Coffee Making FAQs
With this coffee trend growing in popularity, many questions about the preparation process and substitutions come with it. Below we clear up some curiosities you may have about dalgona coffee.
Can You Make Whipped Coffee From Ground Coffee Beans?
No, dalgona coffee cannot be made from ground coffee, regardless of whether it is pre-ground or freshly ground. The emulsifiers, such as soy lecithin, in instant coffee that create the frothing effect for dalgona coffee are not present in ground coffee.
Can You Make Whipped Coffee With a Coffee Pod?
No, dalgona coffee cannot be made from single serve coffee pods or K-Cups®. They also lack the emulsifying agent that instant coffee contains, which will prevent it from whipping up for dalgona coffee.
Can You Make Whipped Coffee With Instant Espresso?
Yes, instant espresso will froth up in the same way as instant coffee and can be used as a substitute for dalgona coffee. It will contain a higher concentration of caffeine, so it is advised to start with 1 Tbsp. of instant espresso instead of 2 like the instant coffee recipe calls for.
Can I Use Sugar Substitutes for Whipped Coffee?
Yes, you may use other granular sugar alternatives instead of white sugar to make your dalgona coffee. Many coffee enthusiasts have used light or brown sugar, as well as coconut sugar, as substitutes in dalgona coffee. It's important to keep in mind that the whipped coffee may not froth up as easily as it would with white sugar and may require more whipping time.
Can You Make Whipped Coffee With Non-Dairy Milk?
Yes, you can place the whipped coffee mixture over any non-dairy milk option you would like to make a dalgona coffee. Some popular options include oat milk, nut milk, and coconut milk.
---
How to Store Dalgona Coffee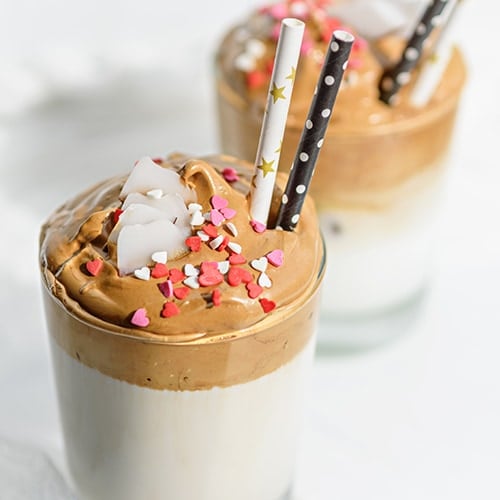 If you make more whipped coffee than you are able to use in one sitting, you can easily store the whipped mixture without milk in an airtight container and place it in the refrigerator for approximately 2-3 days. The mixture may deflate a little and need more whipping before it can be used again.
What Does Dalgona Coffee Taste Like?
Dalgona coffee is creamy in texture and mildly sweet in flavor. Many have described it to taste similar to coffee ice cream or a Starbucks frappuccino. The sweetness and caffeine can be adjusted by changing the ratios of the recipe or choosing a flavored milk-base.
How to Drink Dalgona Coffee
Because of the thick foamy top layer, whipped coffee doesn't remain in two distinct layers for very long. After preparing the drink, it is recommended to mix the foam into the milk and drink it with a straw to get a good blend of topping and milk. If you choose to dive straight in without mixing, be prepared for a foamy mustache and maybe some on your nose.
---
Dalgona Coffee Origin
The coronavirus quarantines boosted the popularity of dalgona coffee as many were confined to their homes, looking for something to do. It was first publicly mentioned in early 2020 when a Korean TV host shared a story about finding a whipped coffee that resembled a Korean honeycomb candy called dalgona.
The coffee trend spread throughout South Korea and found its way onto social media through a TikTok challenge. The video provided a tutorial and a call to action for influencers to give it a try. By the end of March 2020, dalgona coffee was trending on various social media platforms.
Whipped Coffee Variations
Dalogna coffee has taken on different variations since it first appeared on the social media scene. You can try some of these dalgona variations to boost your cafe drink menu.
Matcha Tea Dalgona - Matcha powder, heavy cream, sugar, and vanilla extract over iced coconut milk
Whipped Chocolate Dalgona - Cocoa powder, sugar, milk whipped and served over iced milk
Boozy Bailey's Dalgona - Instant coffee, sugar, hot water whipped and served over milk with Baileys Irish Cream and ice
Dirty Chai Dalgona - Instant coffee, sugar, hot water whipped and served over steeped chai tea with milk
Whipped Strawberry Dalgona - Strawberry Nesquik, heavy whipping cream whipped and served over milk with ice
If you are looking to add a fun new recipe to improve your restaurant's coffee service, try your hand at a dalgona recipe. We expect to see more whipped coffee variations hitting coffee shop menus in the near future.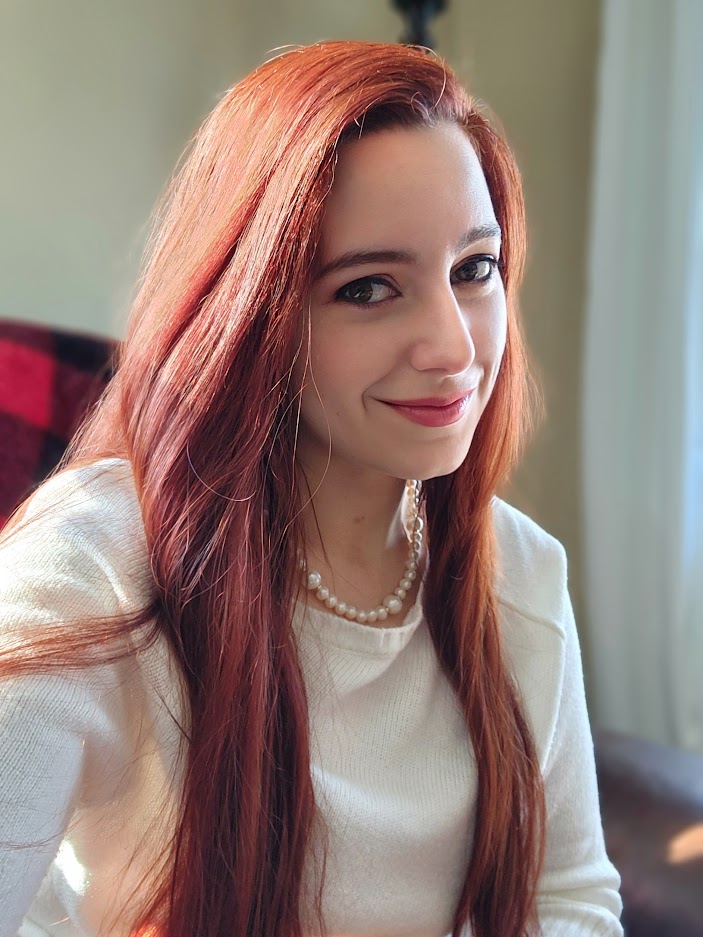 Posted in:
Coffee & Tea
|
By Janine Jones
The information provided on this website does not, and is not intended to, constitute legal advice. Please refer to our
Content Policy
for more details.