Burrata Salad with Fig and Crispy Prosciutto Recipe: WebstaurantEats Recipes
If you're looking for a refreshing appetizer, flavorful lunch, or mouth-watering side dish, we have the perfect recipe for you. This burrata salad features fig, crispy prosciutto, and brown sugar vinaigrette for a dynamic dish that your guests will remember.
Burrata is an Italian cheese with a solid Mozzarella outer shell and a soft inside of cream and cheese curd. The creamy texture and mild flavor of burratta contrasts with the sweet figs and savory prosciutto to create a rich, delectable salad. Finished off with a brown sugar vinaigrette, this fig salad is a perfect addition to any banquet, restaurant, or party menu.
Burrata Salad with Fig, Crispy Prosciutto, and Brown Sugar Vinaigrette
Recipe by:
Ronne Day
WebstaurantStore Food Stylist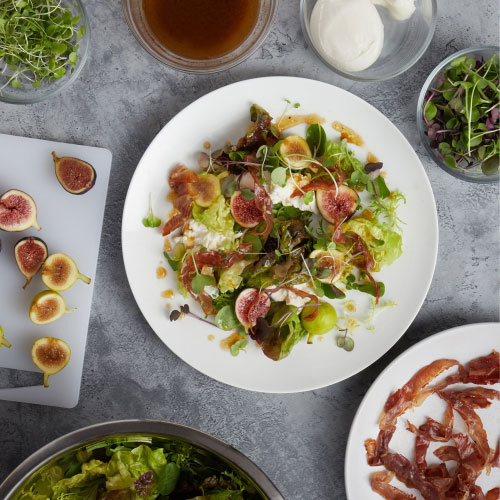 Serves: 4 - 6
Total time: 30 minutes
Ingredients:
1 Tbsp. olive oil
4 oz. prosciutto, cut into ½-inch strips lengthwise
2 Tbsp. balsamic vinegar
2 Tbsp. lemon juice
1 ½ Tbsp. dark brown sugar
¼ tsp. ground cinnamon
1/2 tsp Kosher salt
1/4 tsp freshly ground black pepper

¼ cup extra virgin olive oil
10 figs, preferably at least two different varieties, cut in half
1 ½ lb. burrata, in three balls, each ball torn into 4 pieces
4 cups combined small Bibb or Boston lettuce leaves, frisee and watercress, preferably upland
A variety of microgreens, for garnish
Directions
In a medium nonstick skillet, heat the olive oil over medium high heat until simmering.
Working in batches, add the prosciutto and cook until crisp, about 1 - 2 minutes.

Transfer to a plate lined with a paper towel.
In a small saucepan, combine the lemon juice, vinegar, brown sugar, cinnamon, salt, and pepper.
Cook over medium heat, stirring until the sugar dissolves.
Remove from the heat, and slowly whisk in the olive oil.
Divide some lettuce leaves and cress between four plates. Arrange the burrata, figs, and prosciutto on and around the lettuce.
Drizzle the salad with some of the brown sugar vinaigrette. Finish with the microgreens and serve.
Finish Product
You can find this burrata salad and more on WebstaurantStore's Instagram page.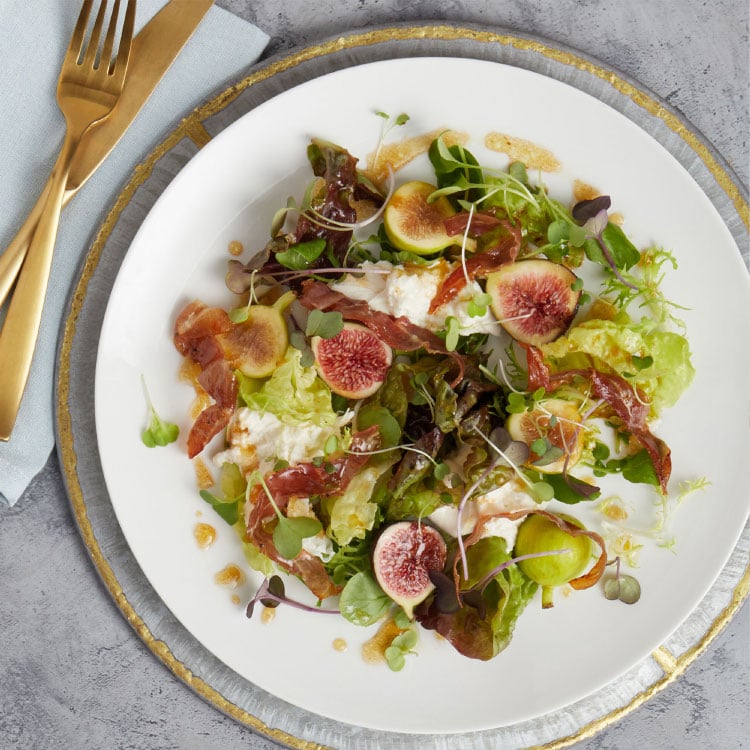 Posted in:
Recipes
| By Hannah Herrera