What is Semolina?
Semolina is a course, pale yellow flour that is made from "durum" wheat. Durum wheat is the hardest species of wheat, meaning it is has a high protein and gluten content and is highly resistant to milling. The milling process of durum wheat results in coarse wheat middlings, known as semolina flour.
What Does Semolina Flour Taste Like?
Semolina flour has a slightly nutty, sweet taste and a coarse texture that is similar to cornmeal.
Durum vs Semolina
A bi-product of the milling process to create semolina is durum flour, an even finer flour. Durum flour may be milled multiple times once separated from the coarse wheat middlings (semolina). Durum flour is quite fine and resembles more traditional baking flour, whereas semolina flour is much coarser. However, both flours still have high gluten and protein contents. Both semolina flour and durum flour are used to make pastas and bread, though durum flour maybe be used more often for bread-making.
What to Use as a Semolina Flour Substitute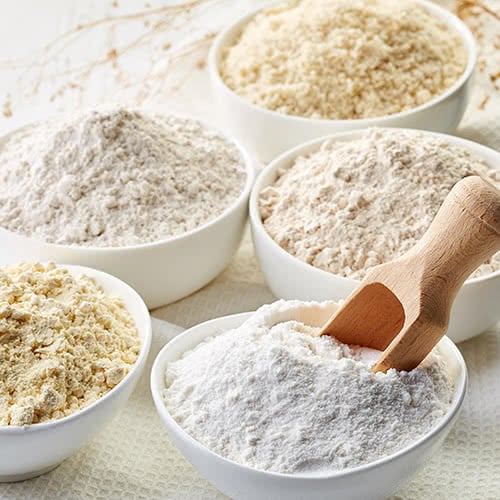 Below is a list of different types of flours that can be used to substitute semolina flour. Several of the below options are gluten-free to accommodate guests with dietary restrictions and preferences.
Durum flour – best for pasta, noodles, couscous, and breads
All-Purpose Flour – best for pancakes, cookies, waffles, and other fluffy baked goods; pasta will be softer
Spelt Flour – best for bread, cookies, muffins, and waffles
Kamut Flour – best for bread, muffins, and scones
Rice flour – best for pasta, noodles, and to thicken soups and stews; also good in delicate food products like cakes and pastries; is gluten-free
Amaranth Flour – best for pasta, baking, and as a thickener; is gluten-free
Quinoa Flour – best for pastas and baked food items, like cookies; is gluten-free
Garbanzo Flour – best for pasta or bakery products; is gluten-free
Corn Semolina – best to emulate the texture of semolina; dish will taste like corn; is gluten-free
You can always combine different types of flours to find the right flavor and texture of your preference.
Semolina Flour Uses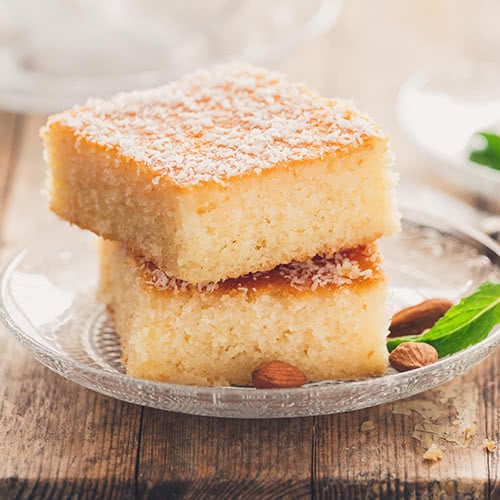 Semolina is used to make a variety of different types of dishes. The high protein and gluten content of semolina flour means it is uniquely ideal for pasta-making, as these properties help to shape the pasta and maintain its shape when cooked. Semolina flour can also add a crispy crunch to pizzas and bread and yields dense, grainy, and nutty desserts. Below are some common uses for semolina flour.
Sooji upma, a thick porridge and traditional Indian breakfast dish
Semolina cake, like namoura, basbousa, and harisseh
Semolina pudding or hot cereal: semolina simmered in milk or water with sugar and toppings of choice
Pasta, such as Italian varieties
Couscous
Bulgur
Gnocchi
Coated on a baking surface to prevent sticking
Sprinkled on potatoes for extra crunch
Coated on fish before pan frying for a crispy coating
Added to bread dough for crusty, tasty texture and crust
Semolina flour adds a unique flavor, dense structure, or coarse texture to baked goods, pizza, pasta, bread, and much more.

Posted in:
Kitchen & Cooking Tips
|
Bakeries
| By Hannah Herrera