How to Increase Your Profits with Popcorn
Did you know that you don't have to own a movie theater or concession stand to profit from popcorn? From classic seasonings like salt and butter to gourmet flavorings, popcorn is making its way into pubs, bars, and catered events throughout the food service industry. Popcorn is a nostalgic and delicious treat for customers that can boast profit margins of 80 to 90 percent. Read below to learn how to transform this movie theater staple into an irresistible treat customers will love.
Shop All Popcorn Machines
What Supplies Do You Need to Sell Popcorn?
Because popcorn has such high profit margins, pricing your popcorn right can help to cover the cost of equipment and supplies in a short amount of time. It requires very little labor involvement, making it an easy addition to your menu.
Here are the supplies needed to produce popcorn:
Popcorn machine
Popcorn kernels
Oils and salts
Additional seasonings and toppings for gourmet popcorn (optional)
What Is Gourmet Popcorn?
While regular popcorn is enjoyed with classic seasonings such as salt and butter, gourmet popcorn is flavored with additional seasonings to create savory or sweet flavors.
Gourmet popcorn allows your chef to get creative in the kitchen with various toppings, add-ins, herbs, and spices. It's important to consider adding gourmet popcorn to your menu because it can often increase your profit margin. The low cost of popcorn combined with the low cost of seasonings and spices makes gourmet popcorn an inexpensive addition to your menu. But because of its mass appeal and upscale feel, you can charge a premium for gourmet popcorn. Thanks to the perceived value of flavored popcorn, guests are willing to pay more for it.
Ways to Make a Profit with Popcorn
If you're looking to profit from popcorn, there are several simple ways to incorporate and capitalize on this trendy snack favorite. From rustic gastropubs to high-end catered events, here are a few ways to start selling popcorn in your commercial business.
Incorporate Popcorn into Your Appetizer Menu
Since popcorn is a classic snack food, it makes sense to include it on your appetizer menu. How you dress the popcorn up or down will determine how well it fits into your bar or restaurant's core concept. For a high-end trendy bistro, popcorn dressed with truffle oil, salt, and herbs would make a perfect addition to your selection of small plates. And if you're looking to keep it casual, stick with simpler flavors such as cheese or caramel.
Here are a few popcorn flavoring concepts to add to your appetizer menu:
Chili lime
Buffalo sauce
Parmesan rosemary
Thai curry
Salt and vinegar
Offer Popcorn as a Promotional Incentive
Because of its low cost and high profit margin, popcorn can be used as a smart and rewarding promotional tool at your concession stand or special event. Create combination bundles such as popcorn and a large soda, candy and a small popcorn, or buy one get one free for medium popcorns. Offering free popcorn for children is another effective incentive to draw parents or family members in who may not otherwise make a purchase.
Create Popcorn Stations at Catered Events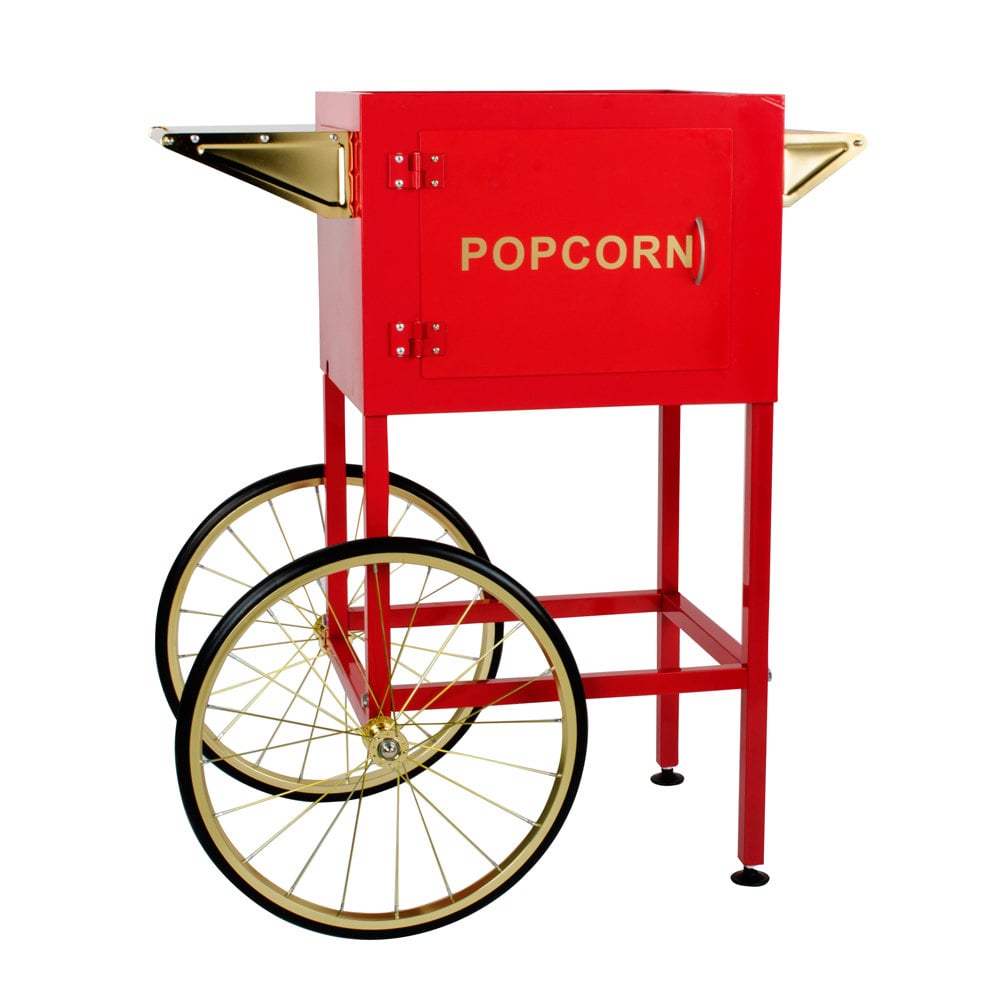 Not only is popcorn easy to prepare before your next catered event, but it can provide a great way to get guests involved. This diverse treat can serve as a light snack during cocktail hour or the perfect attraction at a carnival-themed fundraiser. If you're short on staff or looking to get guests involved, set up a popcorn bar with plenty of toppings and seasonings. Offer up both sweet and savory options to give guests the ability to customize their snack.
Using vintage popcorn carts and display stands in a front-of-house application adds nostalgia to your snack service. It offers a theme-enhancing visual display that can entice guests and boost impulse sales at special events and parties.
Here are a few sweet popcorn ideas to try out at your next catered event:
Peanut butter and chocolate
Cinnamon sugar
Cookies and cream
Maple pecan
Mixed berry
Serve Creative Dishes Made with Popcorn
As mentioned above, since popcorn can have a neutral flavor, it allows you to get creative. For example, you can add various toppings including nuts, sprinkles, and candy. This also makes it an ideal addition to baked goods because it provides a salty, crunchy taste to balance out sweet flavors.
Offer granola bars full of crunchy popcorn and sweet berries bound together with honey and oats at your concession stand or convenience store. Or for an upscale application, substitute croutons and crackers for seasoned popcorn atop your fresh soup of the day. You can even add a layer of crunch to fudgy brownies and decadent donuts.
While popcorn may be the perfect pairing at the movies or a carnival, using these tips and recipe ideas can provide you with an opportunity to show guests your culinary creativity. Turn cocktail hour into a nostalgic affair as guests enjoy flavoring freshly popped popcorn. Or, add a salty treat to your bar's small plates menu. No matter what type of business you own, popcorn can be a delicious and profitable addition to any menu.

Posted in:
Food Trucks & Concessions
|
Kitchen & Cooking Tips
|
By Rachel Jenkins
The information provided on this website does not, and is not intended to, constitute legal advice. Please refer to our
Content Policy
for more details.