7 Easy Ways to Update Your Restaurant's Decor
The restaurant industry has changed drastically over the past few decades, and there are new trends and styles that are constantly changing and evolving. Many restaurants find themselves with outdated decor because they're unable to keep up with changing tastes. Restaurant owners may also be overwhelmed or intimidated by costly, time-consuming, and large renovation projects. Fortunately, updating your decor doesn't have to be difficult, and making a few small changes can radically change how customers perceive your restaurant and its overall look. Here are 7 easy things you can do to update your restaurant's decor:
1. Implement a New Color Scheme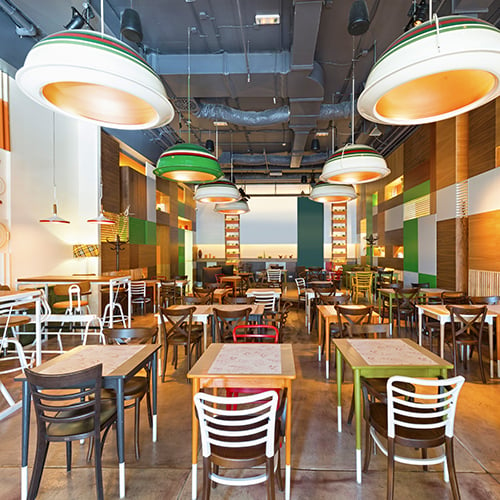 Painting is one of the easiest and most affordable ways to change the look of your dining area. And changing the colors on your walls can give your customers an entirely different dining experience. Painting is also a quick DIY project, so you can cut down on your renovation time. But, before you start painting, you should first choose a color scheme that complements your concept or brand. Additionally, rather than painting your entire dining space, you can use an accent wall to enhance one particular wall and create contrast with the other neutral colored walls. An accent wall is when you paint one wall with a bright color or pattern that stands out from the others to draw attention, and it gives your restaurant a more modern look.
2. Add Plants to Your Dining Space
If used correctly, adding plants to your dining space can bring life and a splash of color to your front-of-house area. But, you shouldn't use real plants because they are costly to maintain, can trigger customers' allergies, and create smells that can clash with the aromas of your food. If you want to use real plants, cacti and succulents are excellent options because they are easy to care for and don't give off any odor. Additionally, there are plenty of realistic-looking fake plants that you can use to decorate your space.
3. Hang Artwork on Your Walls
If you're going for an artsy and contemporary look, hanging artwork in your dining space is an excellent idea. The artwork you use can be anything, ranging from photographs, to paintings, to 3D art and sculptures. Additionally, you can put up local artists' work in your establishment and give customers the option to buy it. That way, you get beautiful art to hang in your restaurant, and you also help the local art community. For restaurants that offer ethnic cuisine, displaying photographs and paintings of famous landscapes and landmarks in that region is a great way to give your restaurant a sense of authenticity.
4. Skip the Tablecloths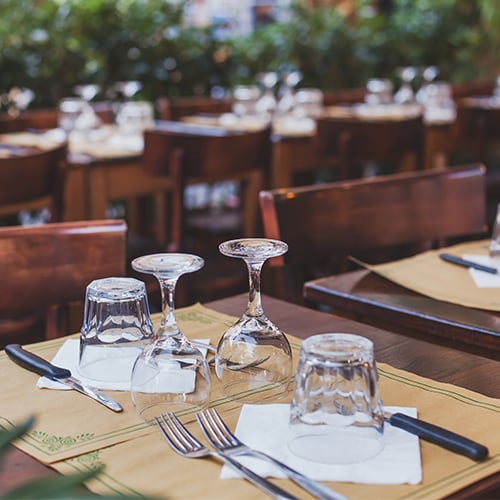 In years past, tablecloths gave customers the impression of fine dining and elegance. Nowadays though, many restaurants are trading in their tablecloths for bare wooden tables, which fits with the minimalist aesthetic that has become popular on social media. Tablecloths are also costly to upkeep because they need to be constantly washed and replaced. If you want to give your customers a similar feeling of elegance, you can use cloth napkins. Additionally, table mats can help protect the surface of your tables from scratches and stains caused by dinnerware or flatware.
5. Use Light Creatively
Changing the lighting and amount of light in your restaurant can have a huge impact on the ambience. More light gives your establishment a bright and welcoming atmosphere, and a dimmer dining space creates a more intimate and romantic feel. There are different ways that you can change the amount of light in your establishment. Mood lighting, recessed lights, and pendant lamps create a soft and diffused light, and candles help accentuate the romantic atmosphere. You can also adjust the natural light coming to your dining area with curtains and blinds. Not only can curtains change the amount of light coming into your restaurant, but they can also provide a splash of color and decorative flair that you can use to match with your color scheme and concept.
6. Re-Design Your Menu
Your menu may be one of the last things that you consider when updating your restaurant's decor, but it can have a huge impact on how your customers perceive your establishment. Old-fashioned menus with fraying menu covers can give the impression that your operation is shabby and cheap. So, rather than print your menu on pre-designed menu paper, you can create your own unique design on the computer using free design software. If you want a more professional-looking menu that reflects your restaurant's concept, you can also hire a local graphic designer to create one for you. Then, pair your new and improved menu with a stylish menu cover to complete the look and protect the paper from spills and stains.
7. Update Your Servingware and Tableware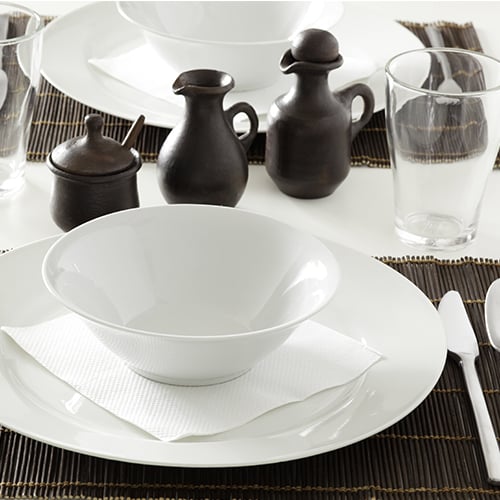 The pieces that you serve your food on can also affect the customers' perception of your restaurant. For example, if you're using old porcelain plates that have scratches and chips on the surface, it's going to reflect poorly on your operation. Many restaurants may be reluctant to change out their dinnerware and servingware because they think it's expensive, but there are affordable options. Melamine is durable and cost effective, and it can mimic more upscale types of dinnerware, which makes it an excellent option for casual establishments that want to maintain a sophisticated look.
Many restaurant owners put off updating their decor because they think that it involves difficult and costly renovations, but by simply changing a few small things in your restaurant, you can drastically change how customers see your restaurant. For example, painting your walls with a brighter color or adding new curtains can bring in more light and vibrancy to your dining room, which influences your customers and how they feel. Or, new servingware and menus can give your establishment a fresh look. So, if you keep these seven tips in mind, you can drastically improve the look and design of your restaurant.

Posted in:
Facility Design & Decor
| By Richard Traylor