Making a Tom Collins with The Horse Inn
Formerly known as the official drink of summer, a Tom Collins offers a refreshing lemon flavor that is sure to keep your guests cool. Even though summer may be winding down, it's never too late to add this classic cocktail to your bar menu. To learn how to make a Tom Collins, we met with Benjamin Hash, bar manager of Lancaster, PA's Horse Inn, a Prohibition-themed bar and restaurant. Check out our instructional video and step-by-step directions below, so you can start serving your guests this refreshing summer drink.
Shop All Bartending Supplies
History of the Tom Collins
During the summer of 1874, a simple joke began in America. A stranger would pick a friend, or even a random person off the street, and tell them that someone named Tom Collins was spreading lies about them at the local bar. The person, confused and enraged with the mysterious Collins, would rush to the bar to confront him, only to find that he had made his way to another bar across town. Then, the person would rush to that bar only to be told that Mr. Collins had left for another location.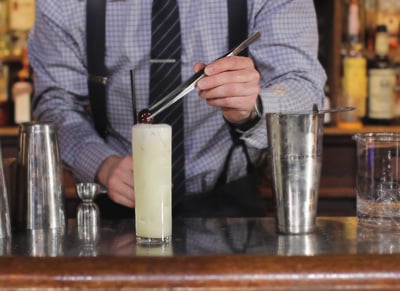 Eventually, the practical joker would reveal that there was no Tom Collins and that they had made it all up. In some bars, the person on the hunt would walk into a bar and ask, "Where is Tom Collins?" The bartender would then serve them the now famous cocktail. This hoax became so popular across the nation that even newspapers began reporting Tom Collins sightings.
While that story is certainly fun to tell, it's not the authentic story behind the Tom Collins. The real history of this sour cocktail dates back to mid-17th century London in a popular hotel and coffee house called Limmer's Old House. It was here the drink, a combination of lemon juice, club soda, powdered sugar, and Old Tom gin, was named after their headwaiter, John Collins. Even though Collins did not craft this mixed drink himself, he was so beloved by the patrons that they named it in honor of him. However, it's believed that the name was eventually changed to Tom Collins because of the use of Old Tom gin.
Benjamin Hash of Horse Inn shows us how to make a classic Tom Collins, a delicious beverage known for the refreshing flavors of gin, lemon, and honey and the frothy texture of shaken egg whites.
How to Make a Tom Collins
Ingredients
1 1/2 oz. Old Tom gin
1 oz. lemon juice
1 oz. honey simple syrup
1 oz. egg whites
1/2 oz. club soda
1 brandied cherry
Directions
Ice the Collins glass you'll be serving your Tom Collins in.
Measure and add the Old Tom gin, lemon juice, honey simple syrup, and egg whites to a cocktail shaker.
Shake the ingredients together.
Add a few scoops of ice to your cocktail shaker. Again, shake your ingredients together.
Add the club soda to your mixed ingredients.
Pour your mixed ingredients into the Collins glass using a cocktail strainer.
Garnish your finished drink with the brandied cherry and serve.
Why Use Egg Whites in Your Cocktail?
While not every cocktail recipe will feature egg whites, adding them to your cocktails helps to add a frothy, smooth finish that is sure to impress your guests. Since egg whites just affect the texture of your mixed drinks and cocktails, you don't have to worry about them hindering the delicious flavors of your finished product. Besides a Tom Collins, egg whites are also a great addition in whiskey sours, Clover Clubs, and Ramos Gin Fizzes.

Posted in:
Bars & Breweries
|
Recipes
|
By Emily Hepner
The information provided on this website does not, and is not intended to, constitute legal advice. Please refer to our
Content Policy
for more details.