Okay so what types of food are you primarily using the oven for? Basically we do wraps and flat bread sandwiches are the main things we use the oven for. And would you say that you're pleased with the speed of the oven? Yes, absolutely. We haven't had any issues with it, and it works as it's supposed to. And, how important is speed to your business. Very much so. We like to have food out within 4 minutes, so having the speed of the oven is pretty important. And would you say that you're satisfied with the overall cooking performance, such as like browning? Yes, it toasts everything up really nice and melts the cheese well, so yes. And so how would you rate the overall ease of use? Is it easy to teach employees? Yea, it's very simple. We basically just have the one of three settings, so I would rate it like an eight. Okay, and what has the cleaning experience been like? Is it, how long would you say it takes? I think having the liners in there will help things a lot because it means we actually shut the oven down at night and clean it in the morning, and we generally like to clean it when it's about 200 degrees, so I think having the liners will be easier just to wipe things off and go with it that way. And do you feel like the oven's size is a good size for your workplace? Yea, definitely. Okay, and what types of cookware and accessories are you using with the oven? Basically we just have those trays, the mesh trays that we put the food on and then pull everything out, but basically that's the only thing we use in there.
In this video, you will hear from a real owner of an AXP20 oven about the benefits it provides to his business, Tropical Smoothie.
Related Videos Buffet Enhancements ClearBlock: How to Fill
Fill your Buffet Enhancements ClearBlock ice block machine with these simple steps! Once frozen, you can remove it and begin carving or creating ice displays.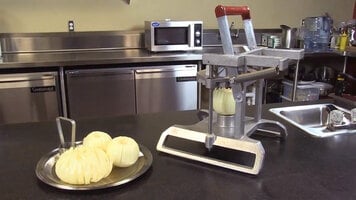 Vollrath Redco Instabloom
Make prepping your blooming onions quicker and easier with this Vollrath Instabloom. Check out this video to learn what give Vollrath a competitive edge over other blooming onion machines!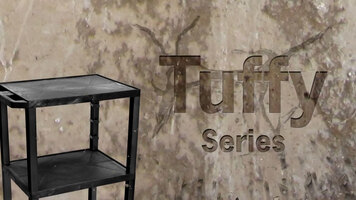 Luxor H. Wilson Tuffy Series Shelves
Check out this video on Luxor H. Wilson's line of Tuffy shelves! Learn more about how these shelves are made, as well as what additional options are available for these products.