Choosing the right types of dinnerware for your foodservice operation can save you money and lots of headaches. From size and shape to color and composition, the possibilities for chinaware seem endless and can be overwhelming. Read this buying guide to learn more about your options and the choices you will have to make when determining what dinnerware to purchase.
Type of Operation
Are you a casual, high-volume establishment, or an upscale, fine-dining restaurant that seats 30? Your dinnerware needs will differ based on how many your restaurant seats and what type of dining environment you offer. Refer to our China Requirements Guide for guidelines on seating and table settings.
The Importance of China Selection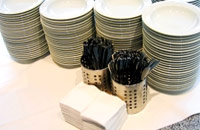 Front of the House
China assists in defining a restaurant's personality; it sets the mood and can reinforce the theme of the venue.
Aside from the food itself, table settings greatly influence how customers will evaluate their dining experience.
China acts as a canvas for a chef's culinary presentation. Attention to detail when plating can make a big difference next to your competition.
Back of the House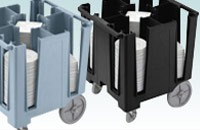 Sanitation: A 100% vitrified product is important to prevent crazing and cracking which can accumulate bacteria. Food safety matters!
Durability/Ovenability: A durable product is important to withstand the rigors of commercial foodservice use.
Storage and Stacking: Choosing stackable dinnerware can be beneficial to saving space in the kitchen.
Compare Dinnerware
Dinnerware Style Comparison Tool
Select a style to learn more
Chinaware Colors
The following spectrum shows the most common chinaware colors. It is always best to get a sample before placing chinaware orders because colors may vary depending on manufacturer.
Type of Dinnerware
The majority of ceramic and porcelain chinaware fall into these categories:
Material
Features
Stoneware

Hard and dense
Somewhat vitrified
Chip and scratch resistant
Not recommended for food service

Earthenware

Excellent heat conduction
Lightweight
Durable
Resists rust and corrosion
Inexpensive

China / Porcelain

Vitreous
Delicate, smooth appearance
Kaolin clay
High strength and durability

Bone China

25% bone ash
High white
Lighter in weight
Less brittle
Most expensive
Cost & Availability
Dinnerware is not a fixed cost. With constant use and commercial washing, dinnerware will eventually need to be replaced.
You can keep the initial and future costs of buying dinnerware low if the company you purchase from stocks the items you're looking for. We stock all of our Choice brand chinaware, and some of our other top-selling brands like white Tuxton China. If a company says they will stock a new pattern just for you, customers often pay a premium for that service. Buying a stock pattern from WebstaurantStore allows you to take advantage of our purchasing volume and stay in full control of your dinnerware costs.
WebstaurantStore ships most orders within one day and currently reaches 75% of the United States within two business days. You can save extra on shipping costs by putting through larger case orders. Because WebstaurantStore specializes in getting large orders to businesses as quickly as possible, the more your business orders, the better your shipping cost will be per case. Check out our Time and Money Saving Shopping Tips for more information!
Durability
How can you tell if the chinaware you're about to purchase is durable enough for your needs? Ask questions: there is no industry standard on durability. Every manufacturer is different and the guarantees on dinnerware vary widely.
Does your dinnerware pattern come with a chip warranty?
Does your china have a high alumina content?
Alumina is a durable compound that acts as a partial replacement for silica and increases the whiteness of the finished product. A high-alumina body offers a variety of benefits such as increased strength and chip or breakage resistance as well as improved thermal conductivity, helping food to stay warm for longer periods of time. China from Homer Laughlin and Hall China have high alumina content. Look at these lines from Tuxton for more high alumina options: Tuxton AlumaTux Specialty Items, Tuxton Modena AlumaTux, Tuxton San Marino AlumaTux.
Is your dinnerware fully vitrified?
Fully vitrified means that your dinnerware is non-porous. Fully vitrified dinnerware, like china from Homer Laughlin, Hall China, Tuxton, American Metalcraft, and CAC China, is stronger and thinner than ware fired at lower temperatures. A fully vitrified product does not absorb water, leading to less internal stress from expanding and contracting. This helps to prevent breakage and ensures a long life for your china with normal use. CAC China, Tuxton, Hall China, and Homer Laughlin offer fully vitrified products. These serving bowls, appetizer dishes, and platters from American Metalcraft are also fully vitrified.
Does your dinnerware stack rim to rim?
Rim-to-rim stacking china is designed for plates to rest on the outer rims, rather than the unglazed bottom of a plate resting on top of a glazed surface. This type of stacking, which can be found in CAC China and 10 Strawberry Street, prevents scratching and other damage to the surface of your valuable china.
Care, Maintenance, and Storage
As the saying goes, "Dishes don't break…they are broken." It's important to take good care of your chinaware to keep your replacement costs low.
Please remember to always follow the manufacturer's care, maintenance and storage instructions for best results.