Complement any Foodservice Environment with the Vast Selection of Restaurant China Dinnerware
From the everyday, casual bar to fine dining, white tablecloth establishments, china dinnerware is a foodservice industry favorite! Available in a wide range of color, shape, and design options, china dinnerware is extremely versatile and complementary to virtually any décor of your restaurant, bar, catering service, or cafeteria. Depending on your establishment, we can also help you decide which color of restaurant china dinnerware is most appropriate for you! Browse our various shades of white china dinnerware, including bone white, ivory, white, and bright white. Or go with a vibrant red, blue, or yellow for your themed restaurant or event.
Whether you're shopping plates for entrées, lunch specials, desserts, and side salads, bowls for soup and pasta, or any other accessory piece such as ramekins, creamers, vases, and teapots, there's an option for every menu item. With mugs and bowls in almost any capacity and plates of various diameters, you can accommodate any meal, small or large.
Our restaurant china dinnerware also features many different rim styles, including wide and narrow to best suit your chef's preference. Wide rimmed plates are great for presentation purposes, and narrow rim plates make portions look more filling. Regardless of how casual or upscale you want to go, china dinnerware is an ideal option for adding a welcoming touch to any table setting!
Shop by Color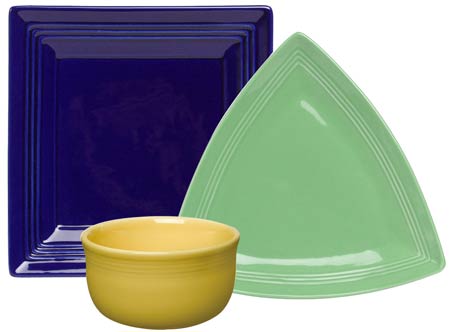 Colorful Dinnerware
Our selection of colorful dinnerware includes a variety of dish types in both traditional and abstract shapes.
Browse
Colorful Collections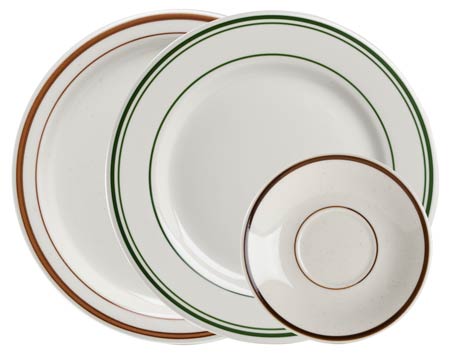 Featured Collections
Our featured collections of china dinnerware are ideal for your restaurant, dining hall, hotel, banquet hall, or other foodservice establishment. These collections have distinct features, including scalloped edges, narrow rims, and embossed surfaces, so you're sure to find a set that complements your dining room's decor.

China Dinnerware by Type
We organize our china dinnerware by type, so you can easily find the plates, bowls, platters, trays, cups, mugs, and saucers you need for your restaurant, cafe, lounge, or other establishment. Choose from dinnerware products of various shapes, sizes, and capacities to find the best items for your serving needs.

Porcelain Dinnerware by Type
Shop porcelain dinnerware by type, so you can stock up on all the essentials you need for meal service in your establishment. Whether you're looking for plates and bowls for serving individual entrees, or you need platters and trays for your catered event, we have you covered. Plus, thanks to each item's porcelain construction, it has a lustrous shine that is sure to impress your guests.

Bone China Dinnerware by Type
Browse our bone china dinnerware by type to find the servingware items you need for your upscale establishment. All of these items feature durable constructions, but are lightweight for easy everyday handling. Plus, each product is made from at least 30 percent bone ash, which gives it a darker color and a more translucent appearance.

Stoneware Dinnerware by Type
We also have a wide variety of stoneware dinnerware, which have a similar elegant appearance to china. Our selection includes stylish plates, platters, and trays that are great for offering guests appetizers during cocktail hour or plating your signature entrees. Stoneware dinnerware is even available in an assortment of fun colors and shapes, so you're sure to find the best one to match your color scheme and atmosphere.
Top Products
In addition to being visually appealing, this restaurant china dinnerware is also constructed from high-quality materials for durability. Additionally, thanks to the material constructions of these plates, mugs, bowls, and other items, most of them can be safely washed in your commercial dishwasher for quick and easy cleanup. Select items are even safe for use in the microwave and oven for fast and convenient reheating. To complete your dining room table setup, be sure to check out our flatware, cloth table covers, and bud vases. If you're wondering where to buy china dinnerware, we have a large selection available at the lowest prices.