What's In A Name? - Choosing A Name For Your Restaurant
By Ryan Loose
First impressions make a huge impact on your business. For a new restaurant owner, your restaurant's name is the first impression you'll make. A creatively catchy and memorable name will help tantalize customers and make them open your door or call in a reservation, rather than checking out the next eatery down the block or flipping to the next page in the phone book. It also helps build your reputation through word of mouth, which is one of the biggest assets to a restaurant. So, to start off on the right foot and make your eatery the most popular place in town, here are a few things to keep in mind when choosing the perfect name for your restaurant.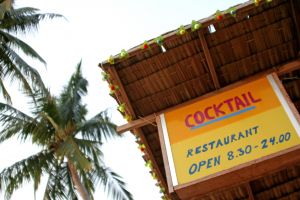 Make It Catchy - Remember, your restaurant's name is your brand. Start building your brand right off the bat with a name that's fluid, catchy, funny, meaningful, and most of all, easy to pronounce. I'm a word nerd, so I like flowery language. For example, names that use rhyme (Crabby Jack's Crab Shack) or alliteration (Johnstown Java Joint) tend to stick with me, and make the name easy to remember. Humor is always a great asset, so use it if it fits your restaurant's theme. Play on location too. If your building used to be an old shoe shop, names like Cobbler's Corner make it easy for customers to remember the locale, "oh yeah, at the old shoe shop." A memorable name makes it easy for customers to recall when chatting with friends. The last thing you want is a customer saying, "Barb and I ate at this great Italian place last night, man what was the name again. Shoot, well, it had great calzone though." That's one new customer lost. And two repeat customers possibly lost too.
Keep It Creative, But Simple - An unusual, or quirky name is sometimes a great way to go. It's original, fresh, vibrant, and can just be down right fun to say. I've heard of a great Asian theme fusion restaurant called Sashi. The name is a play on words, combining sushi and sashimi into one really catchy name. It's also easy to remember and fun to say. Sashi. If you have a creative idea for a name, make sure it's easy to spell, like Sashi. An easy to spell and pronounce name makes it easier for would-be customers to find your restaurant on the web, or look you up in the phone book.
Don't Be A Copycat - Make sure your name isn't trademarked or already in use before you start printing off the menus and hanging signs. The Trademark Electronic Search System (TESS) is a great place to start checking if part of your restaurant's name is federally trademarked. To register your business's name in your area, you'll need to contact the Secretary of State's office and request the necessary forms. You can also check with the Secretary of State's office to find out how to search for state trademarks, to see if all or part of your restaurant's name is already registered.