Fastnacht Day 2010
It's no secret that I am very serious about Pennsylvania Dutch cuisine. From shoo-fly pie and whoopie pie, to chicken pot pie and chicken corn soup, if it's not prepared the Pennsylvania Dutch way, it's not worth preparing in my book.
Tradition plays a large role in the Pennsylvania Dutch way of life. In fact, every year, on Shrove Tuesday, the Tuesday before Ash Wednesday, Pennsylvania Dutch folk celebrate one of my favorite holidays of the year, Fastnacht Day.
Fastnacht Day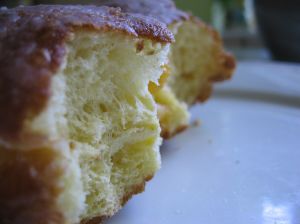 Fastnacht Day bears the German word for "before the fast." Tradition holds that on this day, households use up all the fat in the house before Lent begins, making heavy, yeast-raised potato doughnuts that have come to be known as "fastnachts."
As I was preparing to write about this tasty holiday, I realized that many people (even locals) do not know what a true fastnacht is in comparison to an everyday doughnut. (I also discovered that, contrary to all my beliefs, Fastnacht Day is NOT a national holiday…who knew?). At any rate, let me clear up some common Fastnacht Day misconceptions:
Doughnuts are round, fastnachts are NOT. Fastnachts should be square- or triangular- shaped. Going into the Lenten season, square-shaped fastnachts represent the four gospels of the Bible, whereas a triangular-shaped fastnacht represents the Holy Trinity. Either one is acceptable for a true fastnacht; if it's round, it's an imposter.
Fastnachts do NOT have holes in them. Why? Let me explain. The proper way to eat a fastnacht is to slice it crosswise (like you would a bagel), spread it with butter (optional), and then pour on the table syrup. Replace the top, and enjoy! If your fastnacht had a hole in it, all of the syrup would fall out. Clearly a doughnut with a hole in it cannot be considered a true fastnacht.
Fastnachts are NOT light and fluffy treats. True fastnachts use heavy ingredients such as potatoes and lard to give them their thick consistency. The goal of Fastnacht Day is to use up the fat, lard, and sugars in the household before the Lenten fast from sweets. If your fastnacht is labeled as having any health benefits, it's a fraud.
So there you have it. The in's and out's of fastnachts. Want to make some? Here is a great recipe for making traditional "Dutch Doughnuts," or fastnachts, from the book, "Pennsylvania Dutch Cookery," written in 1936 by J. George Frederick. Enjoy!
Fastnacht Recipe
Boil and mash 3 or 4 large potatoes in water enough to make 3 cups. To this add 1/4 teaspoon salt, 1 yeast cake dissolved, 1 cup of sugar, 1/2 cup of lard, enough flour to make a stiff batter. Cover well, keep in warm place over night. In the morning add 2 eggs, work into a soft dough, let rise, cut into cakes, let rise again, fry in deep fat.