WebstaurantStore / Food Service Resources / Blog
Celebrate National Cooking Month with Five Underrated Cooking Methods
Here at WebstaurantStore, it's no secret that we take our cooking seriously. Whether we're in a kitchen or out around a firepit, there's nothing like making our favorite foods with fresh ingredients. That's why — with Spring finally here — we're celebrating National Cooking Month with some of the least-used cooking methods. From creative takes on classic ideas to exotic techniques from other cultures, these are just a few of the most fun ways to celebrate a month of food!
Indirect Grilling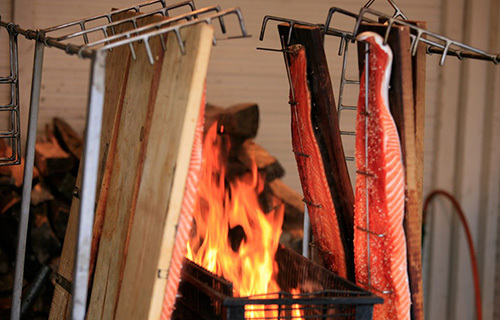 Indirect grilling is the slow-roasting, long-term alternative to traditional grilling that heats food from the sides. The biggest advantage is that indirect grilling prepares your foods especially well for smoking and marinades.
You can indirectly grill food in a number of ways, including setting up a charcoal pit or using your own cooking range. For a pit, slide the coals to one side, hang the food from nearby hooks, and light the fire from the side. To use your own range, simply turn on one side of your burners and place your food close to the flame, but not overtop.
What to Make
Indirect grilling can cook the same foods as traditional grilling. Beer can chicken, salmon steaks, bacon, and kebabs are some of the more popular choices, as they respond especially well to slow-cooking and smoking.
Thermal Cooking
Designed to maximize heat retention and minimize fuel use, thermal cooking is one of the most affordable alternatives to traditional food preparation. Simply bring your food up to temperature, place it inside the cooker, seal the lid, and wait.
The biggest advantage of thermal cooking is its near-zero fuel usage, saving money at the cost of long cook times. Thermal cookers are also versatile by the nature of their design, allowing users to bake confections and other delicacies, and they're conveniently portable.
What to Make
Thermal cookers work especially well with pastas, proteins, and vegetables. In addition, you can bake muffins, cupcakes, and other small confections.
Sous Vide
Sous vide is one of the slowest cooking methods, but it's also one of the most consistent. This cooking technique works by using a vacuum sealer to seal ingredients into bags, placing the bags in a water bath, and activating a heated circulator. The circulator heats the water to cooking temperatures and holds it there to fully cook your food. As a bonus, the water and sealed bags make it impossible to burn, scorch, or overcook ingredients.
Because sous vide can take days to fully cook food, it is frequently used to prepare ingredients far in advance. It's also great for cooking meats to a succulent, medium-rare quality and saturating vegetables with moisture to keep them tender.
What to Make
If you're preparing food for a large party, you can cook and hold all of your ingredients in one location until serving. For steak enthusiasts, sous vide is also one of the best ways to prepare a tender, flavorful, and moist filet mignon.
Chaunk
Chaunk — also known by baghaar, popu, and other names — fuses cooking oils and spices to produce strong, aromatic flavors. The spices are often used whole or minced to obtain the best-tasting results, while the oil coats and soaks into the food itself.
Chaunk revolves around frying spices in oil. Simply add cooking oil to a fry pan, bring it to simmer, and add the spices you want to use, like garlic, cumin, ginger, or curry . In moments, you have rich, flavorful oil for your foods.
What to Make
You can prepare a variety of foods using chaunk, though curry is one of the most common. Because the most frequently-used spices in this method are some of the strongest, chaunk is a great way to add heavy flavors without using high-calorie ingredients.
Hängi
Hängi is a combination of grilling and steaming that yields piping-hot, tender, and moist entrees rich with flavor. Because food can be exposed to 24 hours of consistent heat, some vegetables can even develop unique flavors, textures, and aftertastes.
Cooking with hängi includes digging a shallow hole, firing stones to white-hot temperatures, encasing your food in soaked cloth, and placing the cloth on the grill. The hot stones slowly grill your foods to help them retain their natural flavors, and the soaked cloth prevents foods from drying out. Altogether, you grill and steam food at the same time for unique, full-flavored results.
What to Make
Hängi can cook anything that you would also prepare on a grill, including kebabs, steaks, burgers, fish, and more, and it can also be used to steam clams and other seafood. The only real limit is your imagination.
Tell us your favorite cooking methods via Twitter, Facebook, or Google Plus with the hashtag #nationalcookingmonth!