WebstaurantStore / Food Service Resources / Blog
Vintage Recipe Series: Spring Rhapsody Cake with Seven-Minute Frosting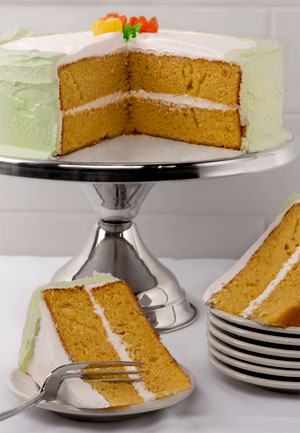 Spring has finally begun to show its face here in Lititz, PA, home of The WEBstaurant Store. And while this season brings us more sunshine, soft green grass and colorful flowers, it also brings out traditional spring-time recipes that are reminiscent of simpler times. Chocolate eggs and marshmallow peeps aside, spring-time recipes bring out vibrant colors, fresh flavors and a lightness that our typical winter recipes lacked.
Just in time for Easter, this season's vintage recipe is a dessert that has all of the above, and some added sugary flare. Spring rhapsody cake with seven-minute frosting is, in its simplicity, incredibly easy to make and beautiful to present. The key here is the frosting – light, fluffy, and almost like marshmallow, it brings new dimension to your regular yellow cake mix. For a fresh twist on an old standard, add this cake to your spring-time dessert menus.
Ingredients:
Instructions:
Bake yellow cake mix into two layers (box instructions will do), using two 9" round cake pans.
While the cakes bake, combine the sugar, water, egg whites, corn syrup or cream of tartar, and the pinch of salt in the top of a double boiler.
Beat with an electric mixer set at low speed for 30 seconds, then set the pan over boiling water (the pan shouldn't touch the water).
Beat at high speed for about 7 minutes, or until the frosting is stiff and glossy. Remove it from the heat, add the vanilla, and beat an additional 2 minutes.
Separate the frosting into two bowls. Leave one bowl of frosting white, and tint the remaining frosting a delicate green using a few drops of green food coloring.
Create tulips out of gumdrops by slicing each gumdrop in half and snipping two triangular-shaped pieces out of each half. To make leaves, thinly slice gumdrops and then cut each slice in half at an angle. Once the cakes have cooled, use a serrated knife to level off the top of each layer.
Using an icing spatula, spread the white frosting between layers and on top of the cake. Frost the sides of cake with the green frosting and garnish your frosted cake with the gumdrop tulips and green gumdrop leaves.