Hyper-Local Restaurants: Growing Produce in Your Own Backyard
As one of the newest trends, hyper-local sourcing is taking the food service industry by storm. Restaurants are taking the idea of buying local, sustainably-sourced foods to the next level by growing produce right in their own backyards. If you're interested in hyper-local sourcing, read below to learn more about opening or transitioning your business into a hyper-local restaurant.
What Is a Hyper-Local Restaurant?
Essentially, a hyper-local restaurant is a foodservice business that grows produce on their own property, usually in the form of a backyard or rooftop garden.
The concept of hyper-local food sourcing grows from the desire for vertical integration, which is achieved when a business controls the raw material, production, and sale of a product from start to finish.
What Is Hyper-Local Farming?
The development of hyper-local restaurants was influenced by hyper-local farming, which refers to small-scale subsistence agriculture. In this type of farming, individuals produce only enough produce for themselves without the use of fossil fuel machines or the addition of preservatives or pesticides. By employing similar tactics, restaurants have less waste and spend less money on produce, leading to increased revenue.
How Do You Become a Hyper-Local Restaurant?
Hyper-local restaurants generally use soil-less gardens, although some employ traditional gardening methods as well. Many also use hydroponic or aquaponic cultivation, which incorporates mineral nutrient solutions in water without the use of soil and is great for areas without the land or climate required for traditional farming and gardening techniques.
For city dwellers, rooftop gardens can be the perfect place to grow and cultivate herbs, produce, and vegetables. Restaurants with more space can experiment with backyard, culinary gardens as well. Here are a few tips for utilizing these spaces.
Ensure Your Roof Is Structurally Sound

This often overlooked step is an important part of setting up a rooftop garden. If you plan on using soil, it can be heavier than you think. This could lead to sagging, dents, or cause the roof to collapse when paired with high-volume foot traffic. Before you plant anything, have a structural engineer check your building for any red flags.

Create a Schedule and Plan Ahead

Whether it's monthly or quarterly, it's important to plan ahead what you'd like to grow each season. All produce takes different amounts of time to grow while thriving in different seasons. This may take some experimenting and research, but should get easier year after year.

Be Patient and Experiment

If you're new to gardening, whether on the roof or in the backyard, it can be hard to have patience. For rooftop gardens, it's important to do some research and learn what produce grows best in shallow containers with full sun. Give yourself a summer of trial and error to learn what flourishes and what should be avoided in the future.

Hire or Partner with Experts

If you're running a restaurant, you may not have the time or know-how to create a garden from scratch. Save yourself the guesswork and partner with a third party company or local expert. Alternatively, hire a chef with similar, hyper-local ideals who has experience planting and cultivating their own fresh ingredients. Whether they're in charge of maintenance or not, it is important to keep your chefs involved with what's being grown and how they can incorporate these items into their menu.

Incorporate Fresh Ingredients in Cocktails and Tasting Menus First

Chances are, most rooftop gardens won't initially yield enough produce to make these fresh ingredients the star of the show. This is especially true if you're just beginning to transition to hyper-local sourcing. Instead of creating a menu based entirely around your garden, utilize your fresh herbs in cocktails, and add plants or produce to small tasting dishes or incorporate them as garnishes on entrees.

Produce Expensive Plants

If possible, plant produce that you're otherwise paying a premium for. If it grows well in your garden, you can keep your sourcing hyper-local while saving big bucks on garnishes, fruits, and vegetables.
Origins of Hyper-Local Restaurants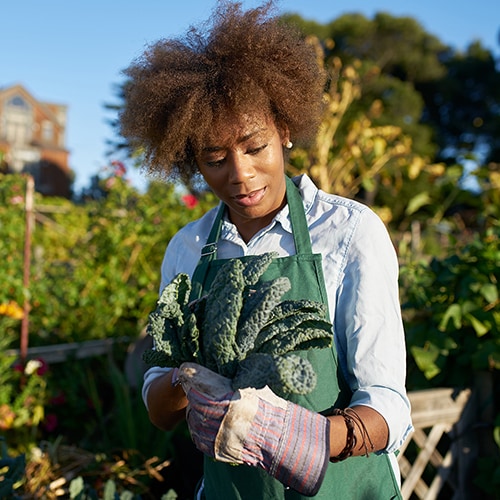 The term "locavore," coined in 2007 by locals in the San Francisco Bay Area, refers to a diet consisting of foods grown or cultivated within 100 miles. With the rise of this lifestyle came the idea of hyper-local restaurants looking to appease consumers.
The growth and expansion of hyper-local restaurants was fueled by a desire among customers for fresher and more sustainable foods. As more establishments looked to incorporate principles of sustainable development, which stresses the equal importance of economic growth and environmental responsibility, they found that hyper-local restaurants fit the bill.
Hyper-Local vs. Buying Local
While buying local is an environmentally and socially responsible choice, you should always keep in mind that not all local food is created equal.
Governing local foods can be tough, seeing as it must be sourced within 400 miles to qualify as "local." Because "local" produce can come from several states away, it's likely your fruits and vegetables could still have been treated with pesticides or chemicals to preserve freshness.
As a restaurateur, it is your responsibility to know the origins, treatment, and freshness of the food you serve. One of the largest benefits of hyper-local farming is that it guarantees you and your staff will be able to accurately answer food-related questions from customers. Additionally, your chef will be able to create more unique and delicious dishes due to an expert understanding of each ingredient and where it came from.
While opening or transitioning into a hyper-local restaurant might not be the right choice for every foodservice establishment, any movement towards sustainably and responsibly sourced foods is always a step in the right direction. With a little patience and experimentation, you can transform unused space into a functional and money-saving endeavor resulting in fresh foods locavores will love.

Posted in:
Eco-Friendly Tips
|
Management & Operation
| By Rachel Jenkins