Pasta Tips for National Pasta Month
Are you ready to celebrate National Pasta Month? In October, everyone gets a pass on counting carbs, so it's the perfect time to update your menu with this beloved dish. Stick to crowd-pleasing classics like spaghetti or lasagna bolognese, or experiment with less familiar pasta dishes like cacio e pepe or homemade gnocchi. With so many different types of pasta to choose from, the possibilities are endless.
Ready to start cooking some pasta? Click below.
Shop Bulk Pasta
When Is National Pasta Month?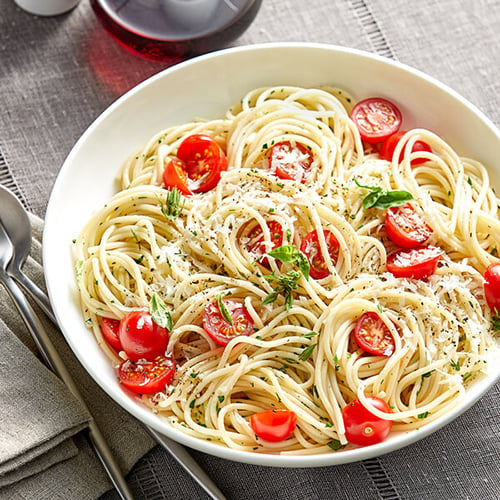 National Pasta Month is October 2023. Everyone knows pasta is popular any time of year, but in October, it's the star of the show. Take advantage of this national food holiday to promote your tastiest pasta dishes!
How to Celebrate National Pasta Month
Create a fancy prix fixe pasta menu, offer a tasting menu, or add a build-your-own pasta bowl so guests can mix and match their favorite pasta noodles and sauces. If you've always wanted to make your own fresh pasta, there's no better time than National Pasta Month! There are manual and electric pasta machines that make it easy to produce artisan pasta noodles from scratch.
---
Pasta Cooking Tips
One of the reasons pasta is so popular is because it's simple for anyone to make. Before you celebrate pasta month, check out our tips for cooking the best pasta:
1. Salt the Water
Don't skip the salt! The purpose of adding salt to your pasta water is to season each noodle from within. Pasta is made from flour and water, so it doesn't have much flavor on its own. When you add salt to the pasta water, the noodles absorb the flavor and it makes your dishes taste better.
For every pound of pasta, try adding 1 to 2 tablespoons of table salt to the water. If you're using a coarse grain salt, increase the amount to 4 tablespoons. The water should be as salty as the sea! Just avoid using iodized salt because it has a bitter taste.
2. Don't Break the Pasta
Many of us are guilty of breaking up long pasta noodles so they fit in the pot. This is a big no-no! Pasta noodles like spaghetti and linguini are meant to be twirled around your fork with bits of delicious sauce. If you break up the noodles, they won't twirl together, and the sauce doesn't stick to each mouthful like it should.
The easiest way to make sure your long pasta noodles fit in the pot is to choose the right type of cookware. Use a pot with tall sides and gently push down any protruding noodles as they cook. If you prepare pasta every day, consider investing in a commercial pasta cooker.
3. Make it Al Dente
Perfectly cooked pasta should be slightly firm with an "al dente" texture. Al dente translates to "to the tooth" in Italian. When you bite into al dente pasta, there should be some resistance.
The best way to achieve this texture is to cut back your cooking times by 2 or 3 minutes, then taste-test the pasta. This prevents the noodles from becoming mushy or overcooked when you add sauce or finish the pasta in a pan. It also makes the pasta springy enough to hold its shape under heavy cream-based sauces.
4. Don't Rinse the Pasta
Cooked pasta is covered with a starchy film that gets washed away if you rinse the noodles after draining. Keeping the starchiness is beneficial for pasta dishes served with warmed sauce, so don't rinse your noodles before spooning out marinara, bolognese, or pesto sauce. The sticky, starchy noodles meld with the sauce and become evenly coated.
If you're serving cold noodles or cooking Asian-style noodles for a stir-fry, it's actually beneficial to rinse them. The cold water stops the cooking process to keep them from becoming mushy. It also prevents the noodles from clinging together.
5. Save Some Pasta Water
As pasta cooks, it releases starches into the water. This cloudy pasta water is the secret to making expert-level pasta dishes! Always reserve some pasta water and save it for the next step.
When you're ready to add sauce to your pasta, include some of the reserved pasta water. Just like the film that coats the pasta, the starches in the water help the sauce and noodles to bind to each other. It also helps to add more flavor and body to your dish.
---
Our pasta cooking tips aren't just for National Pasta Month! You can use these tricks all year long to elevate your pasta dishes and give them the authentic flavor your guests will love. Add an extra special touch to your pasta menu by creating a wine list to coordinate with your dishes.

Posted in:
Kitchen & Cooking Tips
| By Michale LeRoy