Why Are Moscow Mules Served in Copper Mugs?
Copper mugs are the barware of choice for serving the Moscow Mule cocktail. Have you ever wondered why copper mugs are so special? Moscow mules are served in copper mugs to enhance the presentation, chill the drink to a frosty temperature, and some believe it even affects the flavors. Keep reading to learn more about the history of copper mugs and why they go hand-in-hand with Moscow Mules.
Shop All Moscow Mule Mugs
What Is a Moscow Mule?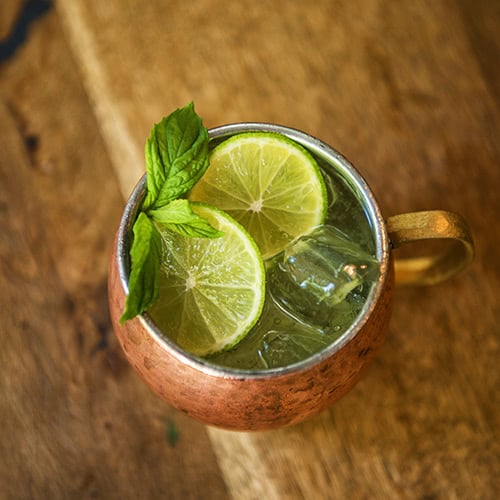 The Moscow Mule is a classic cocktail made with vodka, ginger beer, lime juice, and mint. It's traditionally served in a copper mug. Ready to make one? Jump to our Moscow Mule recipe below.
What Does a Moscow Mule Taste Like?
A Moscow Mule cocktail is sweet and tart with a touch of mint. If it's well-mixed, the flavor of the vodka should be very mild. But don't overdo it when you're drinking Moscow Mules! Even if you can't taste it, the vodka packs a punch because of its high ABV.
Why Is it Called a Moscow Mule?
The exact origin of the name is a little fuzzy, but we know one thing for sure. Despite its name, the Moscow Mule originated in America and did not come from Russia. The name is a reference to the two main ingredients - vodka and ginger beer. Vodka is associated with Russia, and the ginger beer has a kick "like a mule". You might also hear the Moscow Mule called a vodka buck.
Why Use Copper Mugs for Moscow Mules?
The story behind the copper mug and the Moscow Mule is rooted in history, science, and popular opinion. Keep reading to learn the reasons why the Moscow Mule is served in a copper cup.
1. Moscow Mule History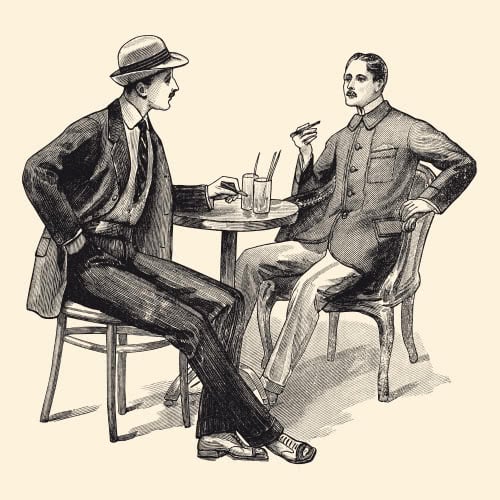 In the 1940s, three entrepreneurs from Los Angeles devised a plan to create the Moscow Mule. Jack Morgan, the owner of the Cock 'n' Bull bar, was sitting on a cellar full of unsold ginger beer. John Martin had recently purchased Smirnoff vodka but was having trouble with sales. The final piece of the puzzle came from Sophie Berezinski, a Russian immigrant selling copper mugs. All three came together to create a drink that helped each of them sell their products. Wes Price, the bartender at the Cock 'n' Bull, is attributed with creating the final recipe.
Long before the invention of social media, you could say that the Moscow Mule went viral. John Martin took his new drink on the road and used it to sell Smirnoff vodka to bars across America. He snapped polaroid pictures of customers posing with the copper mug and left a copy behind at every bar. Is this legend 100 percent true? We can't say for sure, but it adds to the mystique of this popular drink.
2. Drink Temperature
Copper mugs help to keep the temperature of the Moscow Mule nice and frosty. There's some science behind this. Copper is a conductive material, which means it heats and cools very quickly. When you fill a copper mug with ice and liquid ingredients, it becomes chilled and helps the drink to hold its temperature. Moscow Mules are a refreshing drink on a hot day, and the copper mug keeps the ice from melting and watering down the drink.
Unlined copper mugs provide the best temperature control, but their safety is often called into question because of copper toxicity. The levels of copper in a few cocktails are considered safe, but many copper mugs are lined with nickel to prevent any issues.
3. Taste
There's a debate over whether copper mugs affect the taste of the drink. Some die-hard fans claim that cold copper reacts with the lime juice and fizzy ginger beer to intensify the flavors and carbonation. Since many copper mugs are now lined, there is no actual contact between the drink ingredients and the copper. It's probably more true that the cold temperature of the drink makes it seem more crisp and fizzy.
4. Presentation
The best reason to serve the Moscow Mule in a copper mug is simply that it enhances the presentation. The barware you choose for your drinks factors into the drinking experience for your guests. If they expect a copper mug, you should give it to them! You don't even have to go with the traditional hammered mug. Today, you can choose from many copper mug styles that will make your Moscow Mule stand out from the competition.
---
Moscow Mule Recipe
Watch our video to learn how to make the classic Moscow Mule in a copper mug:
Moscow Mules were originally served in copper mugs as a way to sell more vodka, ginger beer, and mugs! The marketing technique worked because copper mugs are still linked with the popular drink today. One thing to note, copper mugs do require special care. To keep them in prime condition, wash and dry them carefully to avoid scratching the copper material.

Posted in:
Bars & Breweries
|
By Michale LeRoy
The information provided on this website does not, and is not intended to, constitute legal advice. Please refer to our
Content Policy
for more details.