WebstaurantStore / Food Service Resources / Blog
What Is a Jelly Roll Pan?
Have you ever prepared ingredients for a rolled cake, only to realize that you don't have the jelly roll pan that the recipe calls for? Keeping your commercial kitchen stocked with the right types of cake pans can be tricky when there are dozens of varieties available. You may be tempted to substitute the required jelly roll pan for another option that is already in your stock, but most recipes call for specific pans to help your baked goods turn out as delicious as possible. To find out what a jelly roll pan is, what it's used for, and how it got its name, keep reading.
What Is a Jelly Roll Pan, and What Can I Use It For?
A jelly roll pan is a type of sheet pan that is designed to make thin sponge or sheet cakes that are sturdy enough to coat with creme, jelly, or other fillings and roll into a cylinder shape. They are often used in recipes for popular cakes like pumpkin rolls, yule logs, and their namesake, jelly rolls.These pans can be made from a variety of materials, but you can most commonly find aluminum or aluminized steel jelly roll pans.
What Are the Dimensions of a Jelly Roll Pan?
Most 1/4 size jelly roll pans measure approximately 9" by 13" and 1" deep. Additionally, some 1/2 size jelly roll pans can be 12" by 17" and 1" deep. They are usually a bit smaller than half sheet pans, which tend to be 13" by 18" and around 1" deep.
What Can I Use as a Jelly Roll Pan Substitute?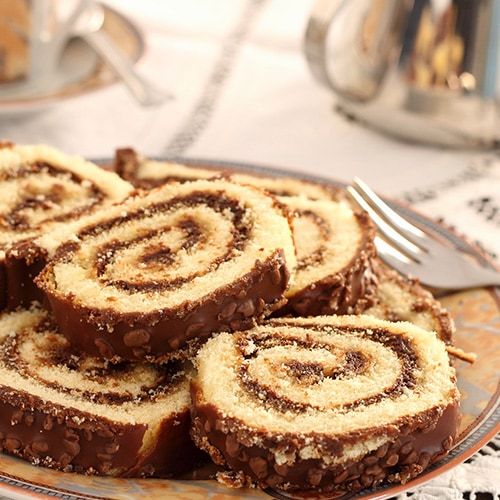 While it is best to use a jelly roll pan if your recipe calls for it, a half sheet pan is a similar option. This being said, the size of a jelly roll pan is ideal for rolled cake recipes because its length and width are narrower than a half sheet pan, but it is just as deep. In many cases, recipes instruct you to fill your jelly roll pan almost to its brim with batter. That way, your cake comes out just about an inch tall and will be substantial enough to hold generous amounts of filling. Baking in a half sheet pan in place of a jelly roll pan could produce a thin cake that cracks when filled or even burns in the oven.
Using a Jelly Roll Pan vs. a Cookie Sheet
Cookie sheets are not suitable for baking jelly roll cakes because they do not have a rolled edge to contain the batter for your cake. Cookie sheets are designed without edges to promote even baking of cookies all over their surface. Often, the term "cookie sheet" is mistakenly used when referring to a sheet pan. And because not all sheet pans have the narrow length and width of jelly roll pans, your finished product may turn out thinner and drier than expected if you use a sheet pan to make a jelly roll cake.
What Else Can I Use a Jelly Roll Pan for?
Jelly roll pans are not only useful for making rolled cakes. Their lipped edge makes them great for roasting vegetables, and they can even be used for baking cookies. Because they are smaller than half sheet pans, they are also easier to put in your dishwasher and store when you are finished.
While jelly roll pans look similar to baking sheets, using a half sheet pan instead of a jelly roll pan could ruin your cake. A jelly roll pan's unique dimensions are perfect for giving your sponge or sheet cakes the structural integrity they need in order to stay together after filling and rolling. With a jelly roll pan on hand, you can make its namesake treat without worrying about cracking, crumbling, or burning.

Posted in:
Kitchen & Cooking Tips
|
Bakeries
| By Christine Potts