Spicy Cilantro-Lime Chicken Kebabs Recipe
Kebabs are beloved around the world for their smoky meats, savory roasted vegetables, and portable design. Lime and spice marinated chicken kebabs are a smart addition to any menu, and their flavors will transport your guests to northern Africa and the Mediterranean. Whether you serve kebabs on skewers, in a pita, or on top of couscous, this exotic dish is inexpensive to make and is sure to raise your restaurant's profits.
How to Make Lime and Spice Marinated Chicken Kebabs
While there are a wide range of kebabs out there, we chose to make lime and spice marinated chicken shish kebabs. This recipe features traditional African and Mediterranean ingredients like yogurt, paprika, and coriander, but also incorporates herbs like cilantro and parsley that aren't often found in that part of the world. Additionally, we spiced these skewers up by replacing bell peppers with Mexican poblano chili peppers. Wondering how to cook chicken kebabs at your restaurant? Check out the video and recipe below to learn more!
Ingredients
Yield: 4 kebabs
1/4 cup plain nonfat yogurt
Juice from 1 lime (save zest for garnish)
1 tbsp. extra virgin olive oil
3 tbsp. chopped cilantro (save 1 tbsp. for garnish)
2 tbsp. chopped parsley
1 tbsp. minced garlic
1/2 tbsp. minced ginger
2 tsp. smoked paprika
1 tsp. ground cumin
1 tsp. ground coriander
1 tsp. kosher salt
1 tsp. black pepper
12 cherry tomatoes
1 lb. boneless skinless chicken breast cut into 1" cubes
1 yellow squash cut into 1 1/2" pieces
2 poblano peppers cut into 1 1/2" pieces
Step by Step Instructions: How to Make Lime and Spice Marinated Chicken Kebabs
1.

Cut the raw chicken into 1" cubes.

2.

Place the chicken into a mixing bowl and add 1 tbsp. of extra virgin olive oil.

3.

Add 1/4 cup of plain nonfat yogurt.

4.

Squeeze the juice of one lime into the mixture.

5.

Add fresh herbs.

6.

Add dried spices.

7.

Stir all of the ingredients in the bowl together until they're fully combined.

8.

Build your skewers by alternately spearing the chicken, cherry tomatoes, squash, and peppers.

9.

Place the skewers onto the grill and cook them until the chicken reaches an internal temperature of 165 degrees Fahrenheit.

10.

Serve the skewers over couscous and garnish with chopped cilantro and lime zest.
Cost Breakdown of Lime and Spice Marinated Chicken Kebabs
TOTAL COST: $7.74
Yogurt: $0.32
Herbs and Spices: $0.58
Chicken: $1.69
Vegetables: $4.21
Couscous: $0.82
Skewers: $0.12
MENU PRICE: $17
PROFIT PER ORDER: $9.26
What Are Kebabs?
Kebabs (or kabobs) are a Middle Eastern dish that's made by grilling different meats (usually chicken or lamb) on skewers over an open flame. The word "kebab" is derived from the Persian words for "grilling," "frying," and "burning," and this delicious meal is served in cuisines around the world. This dish is commonly prepared on a grill, but you can also bake kebabs in the oven.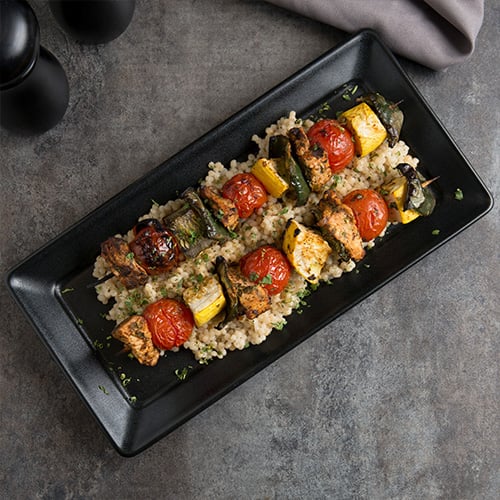 There are two main types of kebabs: shish kebabs and doner kebabs. The differences between the two are detailed below.
Shish kebabs are what we traditionally think of when we hear the word "kebab," as "shish" is the Turkish word for "skewer." These can be made with a variety of meats and vegetables.
Doner kebabs are also Turkish in origin and feature meat that's cooked on a vertical rotisserie. The outer layer is thinly sliced into shavings and usually served with sides or in a pita.
History of Kebabs
Kebabs have a long history that dates back to prehistoric times, when early humans discovered fire and began cooking meat on sticks. Ancient Greeks used skewers to prepare meat over open flames, and archaeologists have discovered crude skewers in Greece that date back to the 17th century BCE.
Turkish and medieval European soldiers used their swords to grill their dinner over small fires on the battlefields. Shish kebabs were also perfect for nomadic tribes in northern Africa and the Mediterranean, as they helped tenderize gamey meat and also improved its flavor. Additionally, traders and merchants who traveled from Europe to Asia loved kebabs because they were filling and easy to prepare on the road.
Whether you run a Middle Eastern bistro, food truck, or barbecue restaurant, chances are that shish kebabs are or have been on your menu. This dish is easy to prepare and perfectly portable, so it's sure to be a crowd favorite. If you don't want to use wooden skewers, you can also check out Bon Appetit's recommended metal skewer or shop all metal skewers here. No matter what you choose, lime and spice marinated chicken kebabs are a delicious meal to add to your establishment's repertoire.

Posted in:
Recipes
|
By Nora Fulmer
The information provided on this website does not, and is not intended to, constitute legal advice. Please refer to our
Content Policy
for more details.