WebstaurantStore / Food Service Resources / Blog
5 Unique Chocolate Chip Cookie Desserts
From the sweet smell they emit while baking to the delight of seeing those melted morsels, there's nothing better than a freshly baked chocolate chip cookie. While you may think that this classic dessert can only be enjoyed at home, it's time you thought differently. Not only is it easy to add chocolate chip cookies to your menu, but there are many ways to transform this sweet treat into a memorable dessert. Check out these 5 unique chocolate chip desserts that are perfect for any restaurant, bakery, cafe, or concession stand.
1. Skillet Chocolate Chip Cookie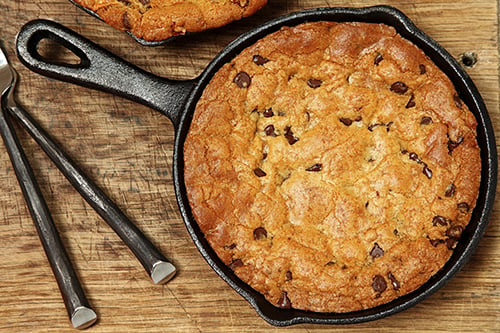 The skillet chocolate chip cookie is probably one of the easiest methods of incorporating chocolate chip cookies onto your menu. Made famous by Chili's and The Pioneer Woman, this dessert utilizes any chocolate chip cookie recipe (however you can use other kinds of cookies), a scoop of ice cream, and a few drizzle lines of chocolate syrup. Besides tasting delicious, the skillet chocolate chip cookie is genrally served in a cast iron skillet, which heightens the presentation of this decadent dessert and is sure to make guests feel right at home. Not to mention, your chocolate chip cookie dough can be frozen after it's made, making it easy to prep and cook.
2. Chocolate Chip Cookie Bowl
Besides being delicious, chocolate chip cookies can also be transformed into edible dinnerware. That sentence probably caused a combination of delight and confusion, but you read it correctly. By wrapping your cookie dough around the convex or concave side of your muffin or cupcake pan, you can create the inventive chocolate chip cookie bowl. These are perfect for mixing up the way you serve ice cream, frozen yogurt, or sundaes.
3. Chocolate Chip Cookie Ice Cream Sandwiches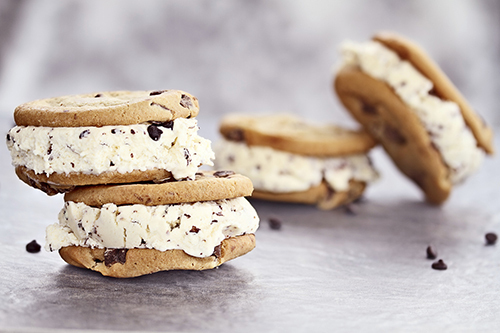 We're not sure whose idea is it was to bring together cookies and ice cream to make the most delicious sandwich, but we're definitely not complaining. Not only are chocolate chip cookie ice cream sandwiches an inventive dessert option, but they can also be easily altered to suit your guests preferences. If you don't have the time to add baking cookies onto your prep list, then you can easily purchase pre-made chocolate chip cookies and warm them up after your guests have ordered them.
4. Chocolate Chip Cookie Milkshakes
It seemed like there was nothing that could surpass the chocolate chip cookie ice cream sandwich. It's got everyone's favorite desserts combined together in delicious harmony that can't be topped. Then came along chocolate chip cookie milkshakes. Think of it as a blended version of the cookie ice cream sandwiches. While you can use homemade cookies in your shakes, this drink can also be made with pre-made cookies.
5. Deep Fried Chocolate Chip Cookie Dough
No matter how old you are, there's an element of excitement when it comes to eating cookie dough. Maybe it brings back memories of sneaking bits of dough while your mother or grandmother was baking. Maybe it's the combination of the soft dough with the hard chocolate chips. Whatever your reason is for loving cookie dough, there's a way you can serve it to your guests without it being plain balls of raw dough. Deep fried cookie dough combines a delicately crunchy outside with a perfectly gooey inside that is sure to have guests at your concession stand or restaurant coming back for more.