WebstaurantStore / Food Service Resources / Blog
5 Unique Chocolate Chip Cookie Desserts
Chocolate chip cookies are one of the most popular types of cookies, and the smell of freshly baked cookies and the sight of deliciously melted chocolate chips can bring out a nostalgic feeling in your customers. But, while this classic dessert is much loved, the recipe is simple and can be a bit boring compared to some other baked goods. We came up with a list of five ways that you can spice up your classic chocolate chip cookie recipes to create interesting and unique desserts that customers at your bakery, cafe, or restaurant will love.
1. Skillet Chocolate Chip Cookie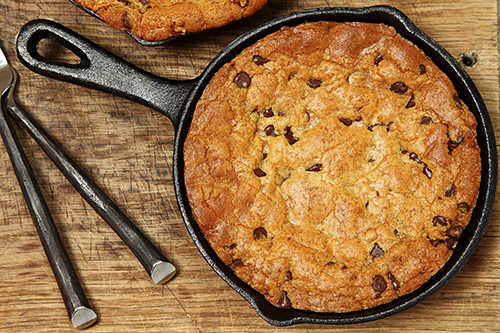 Skillet chocolate chip cookies are one of the most popular ways that you can dress up this classic recipe, and it was popularized by the chain restaurant Chili's. This dessert utilizes any chocolate chip cookie recipe (however you can use other kinds of cookies), a scoop of your favorite flavor of ice cream, and a few drizzles of chocolate syrup or caramel. This delicious dessert is prepared in a cast iron skillet, which helps crisp up the bottom of your cookie, resulting in a crunchy exterior and a soft, chewy, and gooey interior. Besides tasting fantastic, skillet chocolate chip cookies have a rustic presentation that is perfect for homestyle restaurants or establishments that want to evoke a comforting and nostalgic feeling.
2. Chocolate Chip Cookies with Fruit
There are many things that you can add to your chocolate chip cookie dough to make your cookies more interesting. For example, you can try adding peanut butter chips, salted caramel cubes, or fudge. But, our favorite addition to your cookie dough has to be fresh or dried fruit, especially raspberries and cranberries. Raspberries and cranberries both have lovely tartness that is an excellent complement to the dark and rich chocolate flavor. Plus, adding fruit to your chocolate chip cookie recipe can give it another texture that makes them more interesting to eat. And, because these cookies have fruit in them, it's safe to have an extra cookie or three.
3. Chocolate Chip Cookie Ice Cream Sandwiches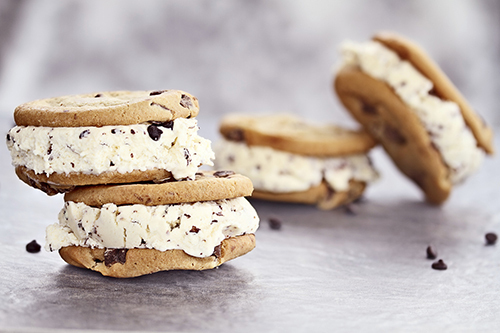 Chocolate chip cookies and ice cream go together very well, so these unique chocolate chip cookie ice cream sandwiches should definitely be on the menu at your ice cream parlor or restaurant. Not only are chocolate chip cookie ice cream sandwiches an inventive dessert option, but you can allow your customers to choose the flavor of ice cream or any additional toppings, which can also help boost your profits. You can take your chocolate chip cookie ice cream sandwiches to the next level by warming up your cookies before constructing the sandwich, so your customers get the warm and gooey flavor of the cookie matched with the cold and creamy ice cream.
4. Gluten-Free Chocolate Chip Cookies
Increasingly, there are more customers with alternative diets that are looking for gluten-free or vegan options on your menu. You can accommodate those customers while also appealing to their sweet tooth by offering them delicious gluten-free chocolate chip cookies. These cookies substitute flour for gluten-free flour and xanthan gum, which gives the cookies the same chewy texture but without the gluten. To make these cookies vegan-friendly as well, you can substitute milk chocolate chips for vegan dark chocolate.
5. Deep Fried Chocolate Chip Cookie Dough
No matter how old you are, there's an element of excitement when it comes to eating cookie dough. Maybe it brings back memories of sneaking bits of dough while your mother or grandmother was baking. Maybe it's the combination of the soft dough with the hard chocolate chips. Whatever your reason is for loving cookie dough, there's a way you can serve your guests more than plain balls of dough. Deep fried cookie dough combines a crisp outer crust with a perfectly gooey inside that is sure to have guests coming back for more. In addition to restaurants, deep fried chocolate chip cookie dough is perfect for adding to your concession stand menu.
Next time you want to spruce up your dessert menu, consider these new twists on a classic treat. Plus, you can also play around with your chocolate chip cookie recipe by adjusting the baking soda and baking powder and other ingredients to change the texture of your cookie.

Posted in:
Recipes
|
Menu Tips
| By Richard Traylor